College Hosts Summer Research Internship

Department of Basic Medical Sciences Offers Six-Week Research Internship Program
Nine high school students from the Phoenix area are participating in a six-week summer internship at the University of Arizona College of Medicine – Phoenix that provides students the opportunity to train in a laboratory setting and explore careers in research and medicine.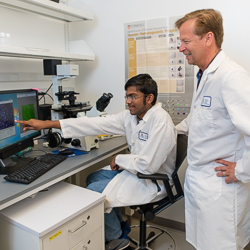 "Programs like this provide students with valuable experience performing hypothesis-based research," said Taben Hale, PhD, associate professor in the Department of Basic Medical Sciences, which sponsors the program. "It's important for young people to develop an appreciation for research and how scientific discoveries are made."
A committee of four BMS faculty — Amelia Gallitano, MD, PhD; Rayna Gonzales, PhD; Shalini Sharma, PhD, and Dr. Hale — started the program in 2014. Since then, 44 high school students have participated.
"My hope is that this experience will spark an interest that may lead to a future career in research for some of these students," Dr. Hale said. "In addition to the hands-on work they will do on their own projects, they will learn how to develop and test a hypothesis, analyze data and present their research to their peers."
Motivated senior high school students from diverse backgrounds are selected to participate and each are assigned a faculty member. Students interact with graduate students, postdoctoral associates and faculty. The program is free for the students.
Among those participating is Cynthia Ionova, who will be a senior at BASIS Phoenix in the fall.
"I thought an internship would give me real life experience in the lab," Ionova said. "It's one thing to learn it in class, but it's completely different to actually be able to do it and gain lab experience."
Ionova is working with Melissa Herbst-Kralovetz, PhD, an associate professor in the department. Ionova is being exposed to research related to improving women's health and is helping to work on new targets for measuring mucosal inflammation in model systems.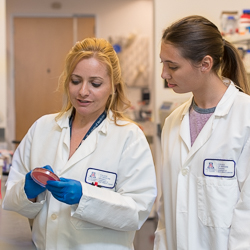 She's also learning how to perform hands-on research and employ bacteriology, cellular and molecular biology techniques.
"Mentoring is key to helping students at each level advance in their chosen career path, and early exposure to STEM research helps students make an informed decision on whether to pursue their path," Dr. Herbst-Kralovetz said. "In addition, internships like ours provide students with a positive experience that may influence their decision to pursue a career in STEM."
Pranati Guduru, who will be a senior at Anthem Prep, is passionate about science and medicine. Guduru hopes to become a surgeon and was excited for the opportunity to learn about neuroscience and traumatic brain injuries with her mentor Katharine Giordano, a clinical translational sciences graduate student in the laboratory of Jonathan Lifshitz, PhD.
"I hope to teach her how to ask questions and design studies around those questions," Giordano said. "When I was in high school, I didn't know what research was. This early exposure helps create better doctors and researchers."
The program concludes on July 13 with a mini-symposium in which students deliver poster presentations describing their research experience. 
About the College
Founded in 2007, the University of Arizona College of Medicine – Phoenix inspires and trains exemplary physicians, scientists and leaders to optimize health and health care in Arizona and beyond. By cultivating collaborative research locally and globally, the college accelerates discovery in a number of critical areas — including cancer, stroke, traumatic brain injury and cardiovascular disease. Championed as a student-centric campus, the college has graduated more than 800 physicians, all of whom received exceptional training from nine clinical partners and more than 2,700 diverse faculty members. As the anchor to the Phoenix Bioscience Core, which is projected to have an economic impact of $3.1 billion by 2025, the college prides itself on engaging with the community, fostering education, inclusion, access and advocacy.