College's ChArt Journal Hopes to Create a Campus Community that Celebrates Different Perspectives
Fifth Edition Unveiled at Gallery Celebration Featuring All of the Accepted Works
Images from the ChArt Gallery Event
We all have a story that is unique to us.
It is our narrative, our individual journey with its own distinctive twists and turns. Yet for many, those stories go unshared. Truly, that is a shame. The word "narrative" is derived from the Latin narrare — to tell — and so each year, the college encourages faculty, staff, students and affiliates of the campus to do just that, opening up little pieces of their lives through submissions to the Celebrating the Humanities through Arts (ChArt) Journal.
Jennifer Hartmark-Hill, MD, director of the Program for Narrative Medicine and Medical Humanities, whose goal is to bring together health care humanities programs and narrative perspectives, serves as the journal's editor-in-chief. Her mother was a nurse, and growing up, she "revered her patient stories." Those stories drove Dr. Hartmark-Hill to pursue medicine, so that she could provide care for people in a meaningful way.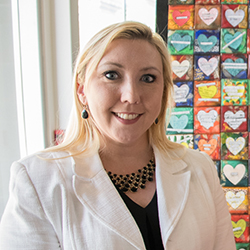 She continued this pursuit as a medical student at the UA College of Medicine – Tucson, where she worked as an editor for the humanities journal. Her work there opened her eyes to how powerful first-hand accounts from patients, nurses, attending physicians and students could be. "The important diversity of perspectives, alongside the shared core values of compassionate, humanistic patient care, played a strong role in my professional identity formation," she said.
The value of medical humanism was not something she'd soon forget, so when she arrived in Phoenix and saw that there was not yet a sister publication, the formation of one seemed natural. "I pitched the idea to colleagues and leadership, and was blessed with resounding support. Our founding editors were students, faculty and staff who were passionate about creating this opportunity for our campus community," she said.
There is so much a person can learn from simply listening to what someone else has been through. Dr. Hartmark-Hill stressed that with the journal, "Our mission is to create community, to be inclusive of everyone's voices and different perspectives."
We are all more than just our job titles or academic year, just as the journal is more than just a collection of works; it is a way for the campus community to share their insights and experiences with each other. This is accomplished through various mediums: The journal accepts works of poetry, prose, visual arts — as in, paintings, photographs or even sculptures — and motion media.
Started in 2012, the journal is in its fifth edition; the unveiling of which was celebrated at a gallery event in March where each submission was displayed for the entire campus to see, The exhibit provided a valuable opportunity for people, as Dr. Hartmark-Hill noted, "to absorb and reflect on them."
Dr. Hartmark-Hill said she is especially grateful that people are so willing to express themselves creatively. "It's really a joy for the editors and me to go through and review the submitted work and just be astounded and amazed at how creative and imaginative and caring and compassionate and wonderful our campus community is," she said.
Cheryl O'Malley, MD, interim vice dean of Academic Affairs, was the keynote speaker at this year's celebration. Her remarks, an earnest reflection on the heart of medicine — the innermost part, the love and even the heartbreak — underscored the journal's underlying purpose: to share.
"In medicine, heartbreak happens," she said. "Our patients and our loved ones are human," their bodies inevitably fail, "and if as physicians, we are used to measuring success as being perfect or flawless and always healing our patients, then we inevitably fail."
That imperfection can be heartbreaking, and its consequences are resulting in an epidemic of physicians who are burned out or overcome by the sadness that accompanies failure. So Dr. O'Malley posed the question, "How do we (ourselves) heal?" It all comes back to that word, "heART."
Through art, Dr. O'Malley created her own campaign with the UA College of Medicine – Phoenix resident and fellowship programs. When the National Academy of Medicine put out a call for reflections on physicians' well-being, she invited faculty, residents, fellows and staff to write on a small paper a thought of what keeps their hearts in medicine. The hearts were added to small art canvases, which were then combined and finished into one large art piece by Dr. O'Malley. Expressions ranged, but nearly all encompassed that connection with patients and being able to help them through difficult times.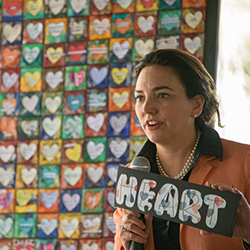 Dr. O'Malley, frame of hearts set behind her, ended her presentation with a quote from Elie Wiesel, the Holocaust survivor, author and advocate, that cautioned against the perils of indifference. Wiesel's quote was followed by Dr. O'Malley's own poignant closing: "Healing heartbreak in medicine isn't accomplished through developing indifference, building a wall or hardening our hearts, but rather from appreciating the art and imperfection of what we do every day with our practice — hearing our patients and ourselves as we experience this mysterious and transformative journey together," she said.
Research has shown that arts and humanities can bridge us to new perspectives and viewpoints. That exploration of humanity — our own, as well as that of others — can make a tremendous difference in our drive to be compassionate and altruistic. Characteristics such as these are not only the hallmarks of a truly great physician, but they are the cornerstones of building an inclusive and caring campus community where everyone feels welcome.
About the College
Founded in 2007, the University of Arizona College of Medicine – Phoenix inspires and trains exemplary physicians, scientists and leaders to optimize health and health care in Arizona and beyond. By cultivating collaborative research locally and globally, the college accelerates discovery in a number of critical areas — including cancer, stroke, traumatic brain injury and cardiovascular disease. Championed as a student-centric campus, the college has graduated 593 physicians, all of whom received exceptional training from nine clinical partners and more than 2,400 diverse faculty members. As the anchor to the Phoenix Biomedical Campus, which is projected to have an economic impact of $3.1 billion by 2025, the college prides itself on engaging with the community, fostering education, inclusion, access and advocacy.