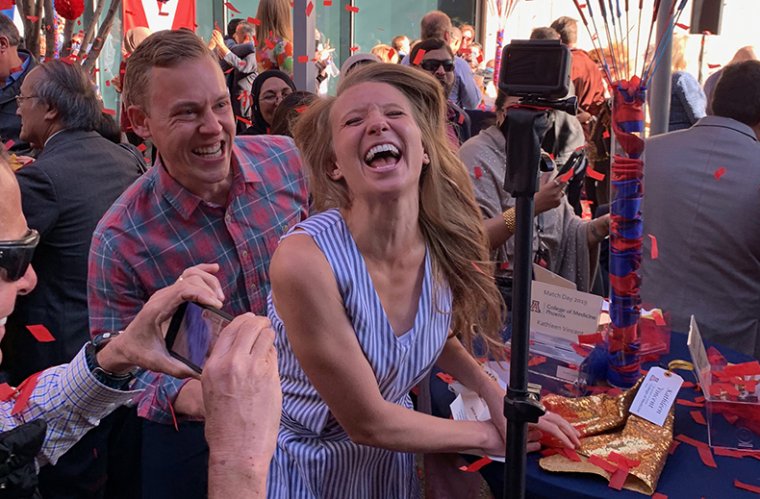 Commencement Profile: Kathleen Vincent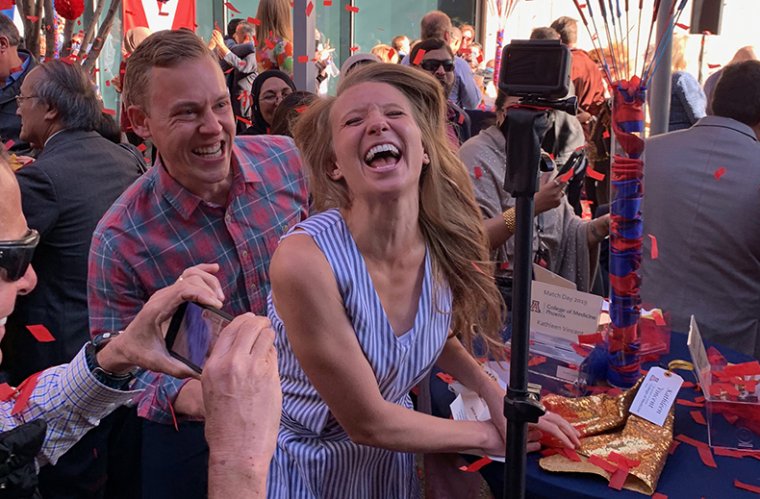 Despite the rigors of medical school, Kathleen Vincent has found time to treat patients in the Dominican Republic and Haiti, compete in the Boston Marathon, plan her wedding and spend time with her family.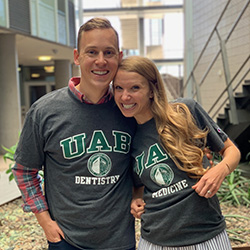 Vincent will graduate May 6 from the University of Arizona College of Medicine – Phoenix with a medical doctorate degree and a Certificate of Distinction in Global Health. After graduation, Vincent will begin the next step in her medical journey as a pediatric resident at the University of Alabama Medical Center in Birmingham.
"I'm so excited for residency," she said. "I cannot wait for this new adventure and all that comes with it. I can't believe I have the privilege of caring for people through medicine for the rest of my career. What an absolute blessing and joy."
Vincent, a Phoenix native and the youngest of four children, graduated from Horizon High School in Scottsdale. She received her bachelor's degree in psychology with minors in chemistry and religious students from the University of Arizona. She attended medical school at the College of Medicine – Phoenix, not just to continue as a Wildcat, but because the college made her feel at home and everyone treated each other as family, willing to do anything to help someone else succeed.
"I wanted to get into medicine to hear people's stories and meet them where they are at," Vincent said. "But just knowing people wasn't enough. I have a thirst for knowledge that only medicine seemed to quench, always asking 'why,' 'what's next' and 'how can we make it better?' I wanted to impact people in a way that was universal. The beauty of this field is that all humans reside in a body that needs tending to, and I get to be one of the many players that have a hand in tending to that lovely masterpiece."
During Vincent's first year of medical school she married her husband, Jeff. The couple will move to Birmingham this summer, and Jeff will continue his own journey in dentistry at the University of Alabama.
"I cannot imagine how I would have made it through this process without my wonderful and loving husband," she said. "He held me when I cried, celebrated every victory with me large and small, offered perspective and never stopped making me laugh."
Vincent's travel to the Dominican Republic and Haiti was through the college's Global Health Certificate of Distinction. She is one of seven students from the Class of 2019 who will graduate with the certificate.
Students traveling to the Dominican Republic treated about 500 patients in rural communities over the course of a week. Each day, they visited a remote village and set up a mobile medical clinic.
Vincent's biggest takeaway from her 2016 trip to the Dominican Republic was "the power and wonder of one's sense of sight. I know that sounds so simple, but it really jumped out at me. We brought eyeglasses for people, and those who needed them were given a pair. It was amazing to watch the expression on some of their faces when we gave them a pair of glasses. Many had not been able to see clearly for years. This ability is something we take for granted, but is such a privilege."
As part of the Global Health Certificate, students must complete a preceptorship abroad. Vincent completed a rotation in 2018 in Kenscoff, Haiti, in partnership with the organization Chances for Children. She was the first medical student to visit through the organization, and Vincent worked with a Haitian physician in an outpatient pediatric clinic.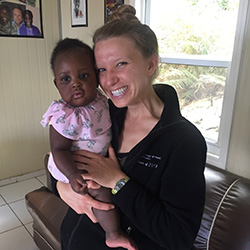 "Many of the patients we saw were similar to patients and families we see in the U.S.," she said. "Mothers were worried about their child's feeding, if they were experiencing pain or gaining weight or had a cough. Certainly the majority of visits reminded me that we are all cut from the same cloth; we have the same fears, concerns and anxieties. This was easily one of the most challenging and valuable experiences of my life."
Vincent was scheduled to be in Haiti for four weeks, but due to protests, she was only able to stay for three.
She said her global health experiences gave her a greater appreciation for humanity.
"We all want to be able to care for those we love, be treated with respect, know that someone cares and someone is listening, and believe we have power to make a change in this world and in our own lives. The sadness and brokenness I experienced while I was in Haiti really softened me. I am naturally quick to see someone else's struggle and encourage them to just pull themselves up by their bootstraps. Sometimes it's not that simple. Sometimes it's so much bigger than that. I need to be a person where people are allowed to not have to just power through and fix things. In order to be an exceptional provider, I must be a soft place for people to land when life is hard."
Vincent is excited for her next step into residency with a focus in pediatrics. She said the joy of children makes her soul smile unlike anything else and this specialty is woven into the fabric of her being. She is looking forward to caring for families and sees the opportunity as a privilege and blessing.
About the College
Founded in 2007, the University of Arizona College of Medicine – Phoenix inspires and trains exemplary physicians, scientists and leaders to optimize health and health care in Arizona and beyond. By cultivating collaborative research locally and globally, the college accelerates discovery in a number of critical areas — including cancer, stroke, traumatic brain injury and cardiovascular disease. Championed as a student-centric campus, the college has graduated 745 physicians, all of whom received exceptional training from nine clinical partners and more than 2,700 diverse faculty members. As the anchor to the Phoenix Bioscience Core, which is projected to have an economic impact of $3.1 billion by 2025, the college prides itself on engaging with the community, fostering education, inclusion, access and advocacy.