Essay on Vulnerabilities Wins Writing Award
Student Shares Her Experiences of First Year in Medical School.
Jenna Koblinski's essay on her journey through the first year of medical school received the Student Growth and Self-Reflection Writing Award in the annual Narrative Medicine Program competition open to all first-year medical students.
The essay discussed the challenges of medical school and first encounters with patients.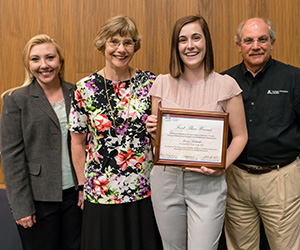 "I do not think of myself as a writer, and it was a little intimidating putting this out there," Koblinski said. "I feel very fortunate to have been chosen by the committee, and I have been overwhelmed with kind words about my reflection from fellow classmates, faculty and staff. We have such a supportive community."
Now a second-year medical student at the University of Arizona College of Medicine – Phoenix, Koblinski shared her story of overcoming anxiety and other life events in pursuing her dream of medicine.
The writing competition is meant for students to share their medical school experience. Jennifer Hartmark-Hill, MD, director of Capstones and Community Faculty Development, leads the program with David Beyda, MD, chair and professor of the Department of Bioethics and Medical Humanism, and Elaine Niggemann, MD, director of the Hematology/Cardiovascular Block.
"As cliché as it sounds, first-year really was a rollercoaster, and there were still feelings about the highs and the lows that I needed to sort through," Koblinski said. "When I read about the writing competition, I realized that this would be the perfect opportunity to sit down and really reflect on everything I had been through for the year."
Koblinski decided to enter the competition and share it with the community because she believes someone else might be able to relate to her experiences.
"Success in medical school doesn't equate to never having doubts or struggles. In terms of the positives I write about in the piece, I just wanted to make sure those are memories I never forget as they were so impactful to me," Koblinski said. "Medicine is truly an amazing thing, and getting to work with people at their most vulnerable is a blessing." 
Koblinski attended the University of Arizona for her undergraduate degree in physiology and minor in psychology. She graduated from Campo Verde High School in Gilbert, Arizona.
She chose to attend the College of Medicine – Phoenix because of the community and overall feel of the campus.
"At second look, you could see how happy the first-years were, and everyone was so open to questions and wanting to make us feel welcome," she said. "I knew at the College of Medicine – Phoenix I would receive the knowledge and training necessary to make me a successful and strong physician, but I really wanted to be somewhere where I would enjoy my time there and not just focus on the light at the end of the tunnel. After one year of medical school, I can tell you I made the right choice and am so lucky to be here."
About the College
Founded in 2007, the University of Arizona College of Medicine – Phoenix inspires and trains exemplary physicians, scientists and leaders to optimize health and health care in Arizona and beyond. By cultivating collaborative research locally and globally, the college accelerates discovery in a number of critical areas — including cancer, stroke, traumatic brain injury and cardiovascular disease. Championed as a student-centric campus, the college has graduated 593 physicians, all of whom received exceptional training from nine clinical partners and more than 2,400 diverse faculty members. As the anchor to the Phoenix Biomedical Campus, which is projected to have an economic impact of $3.1 billion by 2025, the college prides itself on engaging with the community, fostering education, inclusion, access and advocacy.