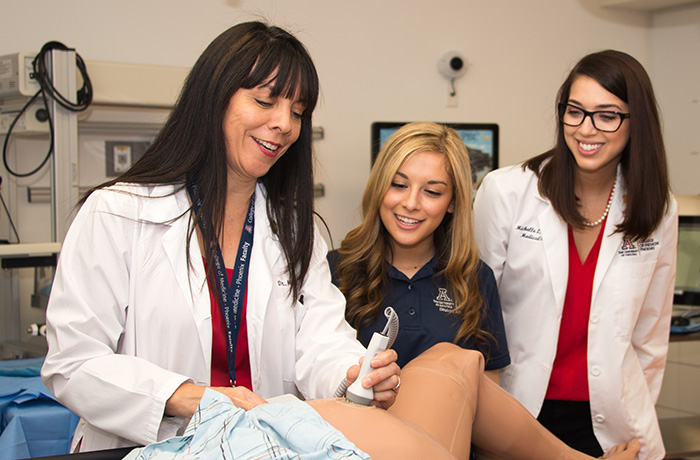 Faculty Spotlight: Maria Manriquez, MD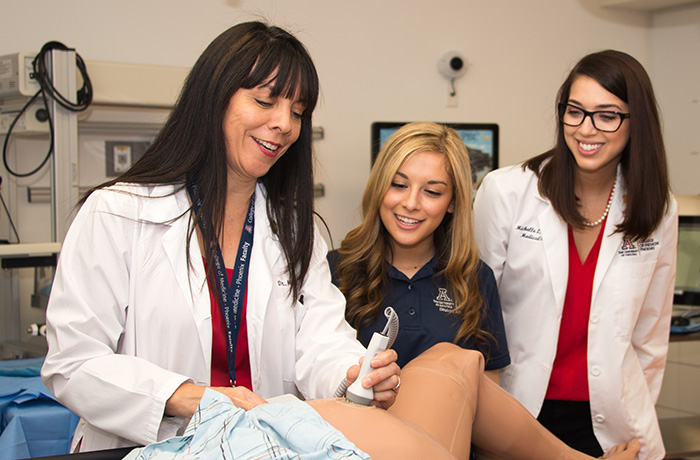 Physician Inspired by Passion for Women's Health, Faith and Family
"You have to have champions in your life that believe in you and that encourage you to believe in yourself," Maria Manriquez, MD, said. "I was lucky to be grounded. My first child grounded me quickly. I had people in my life that held that stick up high and did not let me crawl under it."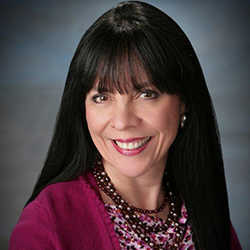 Dr. Manriquez grew up in the small town of Kearny, Arizona. She married at 16 and gave birth to her first daughter at the age of 17. She didn't let the responsibilities of a new family stop her from pursuing her dream, though, as she soon obtained her Registered Nursing degree. She has many years of expertise in Obstetrics, beginning in 1986 when she worked as a registered nurse in the labor and delivery department at Banner Desert Samaritan Hospital.
She loved her career in health care, especially dealing with patients, so Dr. Manriquez decided to "take the leap" and began pre-requisite courses for medical school. She was accepted into the University of Arizona College Of Medicine - Tucson. In her second-year of medical school, after her second child was born, she commuted daily from Phoenix to Tucson for her studies. Gratefully, she was able to do her entire third- and fourth-years of medical school training in Phoenix, when the campus first started in an office on Indian School Road.
After graduating, Dr. Manriquez completed her residency in 2002 at Banner Good Samaritan, now known as Banner – University Medical Center Phoenix. She joined the College of Medicine – Phoenix in 2004 as Obstetrics-Gynecology site director and as an assistant professor. She became director of the College's OB-GYN clerkship in 2009 and started the Pathway Scholars Program, with the first class beginning their studies in 2014. Dr. Manriquez also serves as the Cultural Competence theme director and is the interim associate dean of clinical curricular affairs.
The Pathway Scholars Program provides an opportunity for Arizona residents that may have experienced unusual educational challenges on their road to medical school. These applicants possess the attributes that would make them superb physicians, but may lack the necessary skills needed to succeed in medical school. Dr. Manriquez said she was inspired to establish the program to provide these applicants with the tools to achieve their dreams.
"What is most gratifying is watching people that maybe didn't think they had an opportunity to be all that they could be realize that opportunity," she said. "Getting into medical school is tough in general, and when you've had a lot of disadvantages in your life, being persistent and able to persevere through that and having a support system is very special. They are very appreciative and humble."
Dr. Manriquez said former College of Medicine – Phoenix Dean Stuart Flynn, MD, was one of her mentors, and he asked her to develop the Pathway program.
"I had sat on the student progress committee when I was a medical student and saw that some students didn't have the support system they needed to be successful in medical school," she said. "If we are going to recruit for diversity, and for physicians that come from backgrounds where vulnerable populations come from, we have to provide academic learning support, while maintaining high standards."
Outside of her roles within medicine, Dr. Manriquez said family is most important to her. She is married to Moses Sanchez and has three children. "I like to say I birthed my best friend," she said. Her daughter, Bernadine Sadauskas, is the department administrator for Frederic Zenhausern, PhD, MBA, and the Center for Applied NanoBioscience and Medicine, which Dr. Zenhausern directs.
"We live next door to each other," Dr. Manriquez said of her daughter. "We opened up the backyard between our houses. My three grandchildren live next door. We are well-rooted in our faith. Outside of that, I love to travel, and I like to write. I enjoy what I do in women's health and serve my patients at MIHS."
Dr. Manriquez is able to prescribe buprenorphine, a partial opioid agonist that is used to treat opioid addiction, and manages patients who need this care in pregnancy. She plans to sit for boards in Addiction Medicine this fall. She developed and is co-program director for Reentry into the Obstetrics and Gynecology Clinical Practice at Maricopa Integrated Health System.
She has been active in numerous leadership roles within and outside of the College, including the American College of Obstetricians and Gynecologists.
About the College
Founded in 2007, the University of Arizona College of Medicine – Phoenix inspires and trains exemplary physicians, scientists and leaders to optimize health and health care in Arizona and beyond. By cultivating collaborative research locally and globally, the college accelerates discovery in a number of critical areas — including cancer, stroke, traumatic brain injury and cardiovascular disease. Championed as a student-centric campus, the college has graduated more than 800 physicians, all of whom received exceptional training from nine clinical partners and more than 2,700 diverse faculty members. As the anchor to the Phoenix Bioscience Core, which is projected to have an economic impact of $3.1 billion by 2025, the college prides itself on engaging with the community, fostering education, inclusion, access and advocacy.