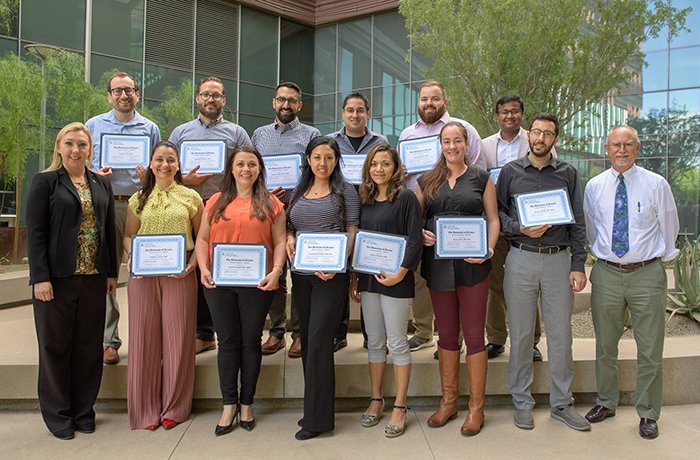 Fellowship Designed To Improve Clinical Teaching Graduates 14 Physicians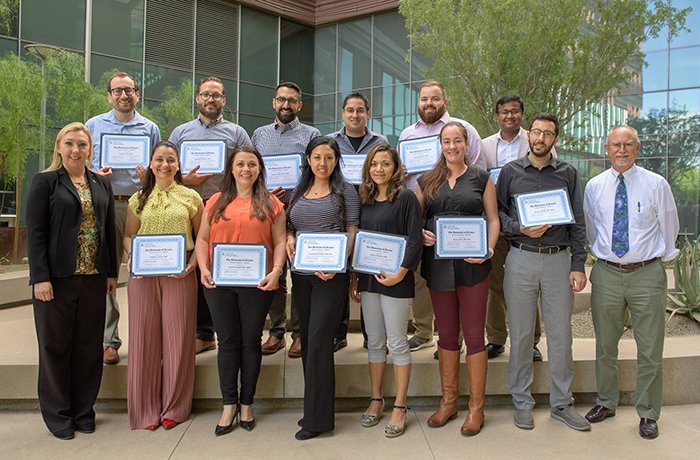 Program Provides Professional Development in Academic Leadership
Fourteen faculty members and senior residents from across Arizona graduated in May from a fellowship designed to support excellence in clinical teaching and leadership in primary care.
The University of Arizona College of Medicine – Phoenix's Primary Care Faculty Development Fellowship is the first-of-its-kind, bringing together family medicine physicians from as far away as Yuma to learn a wide range of academic concepts and skills.
"This fellowship provides professional development and education in academic leadership and management, team dynamics and communication approaches, optimal teaching and feedback strategies and educational theory not traditionally taught in medical school or resident physician training," said Jennifer Hartmark-Hill, MD, fellowship director and faculty in the department of Family, Community & Preventive Medicine.
Fellows are taught learning-theory and evidence-based teaching strategies, competency and EPA-based curriculum development leadership and advanced communication skills, administration of residency and medical school requirements. They also complete an Objective Standardized Teaching Evaluation with the college's doctoring faculty and receive mentoring and feedback on scholarly work.
Alethea Turner, DO, associate director of the HonorHealth Family Medicine Residency Program and a clinical assistant professor in Family, Community and Preventative Medicine, was among the fellows who graduated. Dr. Turner said that although she never considered herself a teacher, teaching has always been intertwined with her career.
"Whether it be tutoring in undergrad, serving as chief during residency, helping my patients better understand their health or working with residents and medical students in the field, education is fundamental in medicine," Dr. Turner said. "I became a full-time faculty member at a residency program two years ago, and I wanted to participate in the primary care faculty development fellowship to refine my skills and to meet others in the field."
Dr. Turner said the fellowship provided her with education on a number of topics, including time management, feedback styles, physician wellness and cultural competency. She said the most useful to her was learning and practicing a variety of precepting models, exploring different teaching styles and discovering how other residency programs address certain topics.
"In our profession, we have a duty to ourselves, our patients and students, as well as to the science and system of medicine, to continue to learn and improve our knowledge and practices," Dr. Turner said. "Academic medicine is not exempt from this evolution. Despite the specialty we are in, education is inherent to medicine and learning how to be a more effective educator is invaluable."
Dr. Turner said she would recommend the fellowship, and that it's a great opportunity to network and collaborate with others in the Arizona medical community.
Nada Alsaiegh, MD, a physician at Yuma Regional Medical Center and a clinical assistant professor in Family, Community and Preventive Medicine, also graduated from the fellowship and said the experience allowed her to grow in more than what she thought was possible. As a new family medicine faculty member, Dr. Alsaiegh said, it was essential to participate in the fellowship to adequately prepare her for educational excellence and leadership skills.
"The program helped me strengthen my leadership and management skills, clinical teaching and research and scholarly activity skills," Dr. Alsaiegh said. "I feel the need to continue to play an active role through clinic duties, precepting, mentoring and still have time for my scholarly activities to be a better role model to our students and residents."
This is the second year of the fellowship at the College of Medicine – Phoenix, which has graduated a total of 29 fellows. The program sustains a tradition of high-quality family medicine faculty enrichment at the University of Arizona, both in Phoenix and Tucson, that dates back over 30 years.
Kareem Raad, MD, a physician at Abrazo Health Network Family Medicine Residency, said that he joined the fellowship because of his love for teaching and learning. 
"I want to be an amazing teacher, a role model for students and someone who understands the medical literature and can contribute to it," Dr. Raad said. "This is the way to advance our profession. I'd absolutely recommend this program to others without reservation. If you get nothing else other than the opportunity to observe so many amazing role models and a network of peers interested in the same thing, those things alone make it worth attending."
The next group of fellows will start in September 2019.
About the College
Founded in 2007, the University of Arizona College of Medicine – Phoenix inspires and trains exemplary physicians, scientists and leaders to optimize health and health care in Arizona and beyond. By cultivating collaborative research locally and globally, the college accelerates discovery in a number of critical areas — including cancer, stroke, traumatic brain injury and cardiovascular disease. Championed as a student-centric campus, the college has graduated 500 physicians, all of whom received exceptional training from nine clinical partners and more than 2,000 diverse faculty members. As the anchor to the Phoenix Biomedical Campus, which is projected to have an economic impact of $3.1 billion by 2025, the college prides itself on engaging with the community, fostering education, inclusion, access and advocacy.