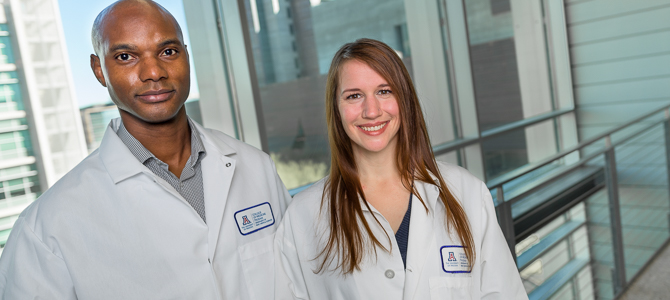 Graduate Student Awarded Scholarship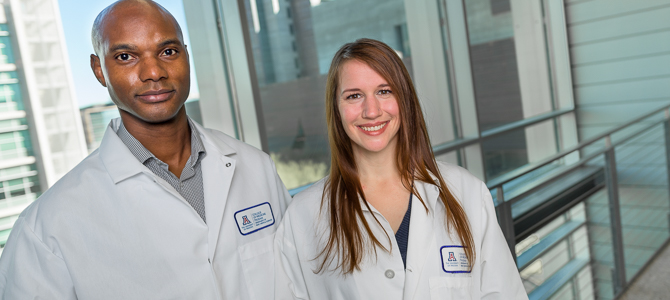 Student Researcher at UA Medical School Awarded Harry Lowell Swift Scholarship
A graduate student at the University of Arizona College of Medicine – Phoenix has been awarded a scholarship for her work linking stress to anxiety and depression.
Tanessa Call, a graduate student in the laboratory of Deveroux Ferguson, PhD, was selected to receive the Harry Lowell Swift Advancing Health Care Scholarship. Call is working towards her PhD in neuroscience at Arizona State University.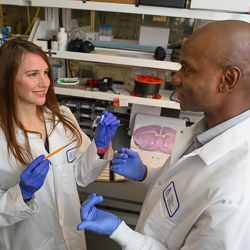 "I feel very honored and grateful to be a recipient of the Harry Lowell Swift Scholarship," Call said. "It is wonderful to know that the important research I and my laboratory colleagues conduct has been recognized, and this award will allow me to apply more time to these efforts. I am excited to continue working toward a more complete understanding of depression and hopefully discover medications better tailored to serve those who need them."
This scholarship is awarded to graduate students who are advancing health through biomedical or biotechnological research.
"This is an amazing accomplishment," said Dr. Ferguson, an assistant professor in the college's Department of Basic Medical Sciences. "Graduate students bring fresh ideas and provide a new look on old concepts, helping to progress research. It is wonderful that the research conducted by graduate students can be recognized in such an honorable way and surely inspires and motivates their progress."
Call's interest in neuroscience and depression began in an undergraduate abnormal psychology course. Her first research experience was studying schizophrenia in the laboratory of Ron Hammer, PhD, a professor in the department of Basic Medical Sciences. She volunteered in Dr. Hammer's lab for two years before joining Dr. Ferguson's lab in 2014.
"Tanessa has been a valuable member of my laboratory from the very beginning," Dr. Ferguson said. "I have had the honor of watching her progress and grow in her understanding of techniques and some quite complicated concepts involved in our research. She is a wonderful mentor to our volunteers and is always happy to teach others what she has learned. She is passionate about this research and this is obvious when listening to her talk about it with others and her dedication to her research projects."
Dr. Ferguson's laboratory researches the effects of stress on the development of anxiety and depressive-like illnesses. They have discovered that a specific protein, sirtuin 1 (SIRT1), is elevated following a chronic social defeat stress model. This elevation occurs in a brain region called the nucleus accumbens, a major reward processing center in the brain. Interestingly, this protein is only increased in a subset of chronically stressed animals, dividing the groups into stress "susceptible" and stress "resilient." Call's thesis work aims to elucidate physiological and morphological changes that occur following the manipulation of SIRT1.
"My passion for researching mental illness, specifically depression, stems from the fact that these illnesses hit close to home for me; members on both sides of my family, and within my immediate family itself, are afflicted with depression," Call said. "I have seen and experienced firsthand the devastating effects depression can have on not just the individual, but the entire family."
Call said she hopes one day her research will lead to development of novel antidepressants, perhaps someday leading to the development of more personalized medicine for sufferers.
About the College
Founded in 2007, the University of Arizona College of Medicine – Phoenix inspires and trains exemplary physicians, scientists and leaders to optimize health and health care in Arizona and beyond. By cultivating collaborative research locally and globally, the college accelerates discovery in a number of critical areas — including cancer, stroke, traumatic brain injury and cardiovascular disease. Championed as a student-centric campus, the college has graduated more than 800 physicians, all of whom received exceptional training from nine clinical partners and more than 2,700 diverse faculty members. As the anchor to the Phoenix Bioscience Core, which is projected to have an economic impact of $3.1 billion by 2025, the college prides itself on engaging with the community, fostering education, inclusion, access and advocacy.