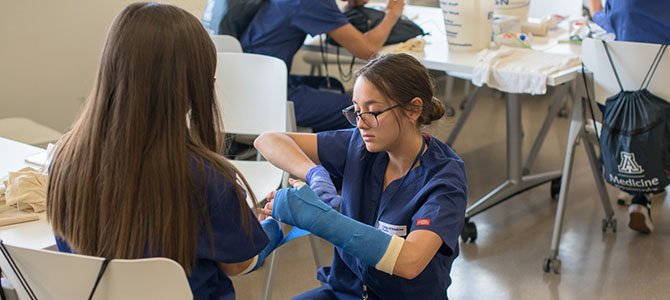 High School Students Scrub in this Summer at the College of Medicine – Phoenix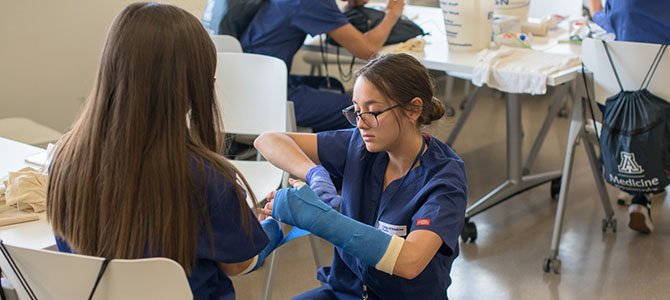 Summer Scrubs Program Offers Students the Opportunity to Explore Careers in Medicine
High school students from across Arizona and New Mexico spent a week of their summer learning the ins-and-outs of health care by attending lectures, health-related field trips and participating in hands-on lab activities during the Summer Scrubs program.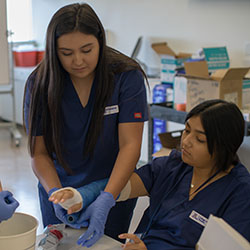 "We are trying to provide students with an opportunity to meet with doctors in different specialties, ask questions and interact with those specialists through hands-on activities," said Chip Young, coordinator of pipeline initiatives for the college.
The high school juniors got a taste of medical school by listening to lectures similar to those given to first-year medical students by faculty members. They heard presentations by learning specialists, emergency room surgeons, OB/GYN physicians, cardiologists and neurosurgeons on topics such as toxicology, forensic science, global health and physiology.
"This is an opportunity for these students to branch out and see what the field of medicine has to offer," Young said. "Students really have the chance to create their own path and interact with those who are following a similar path."
Among the students who attended Summer Scrubs was a student who traveled seven hours from Albuquerque, NM. Dominique Jasperse, a 17-year-old who attends the Native American Community Academy, heard about the program from her school counselor.
"I wanted to learn more about the medical field," she said. "I wanted more information on what kind of career path I could have. It's a program I would definitely recommend to anyone interested in the medical field."
About 24 pre-med counselors volunteered to help out. This provided counselors the opportunity to network within the field of medicine, and provided them the chance to help mentor students who will be considering applying to medical school.
"I'm here to give these kids an opportunity I didn't have," counselor Scott Austin said. "This is one of the best programs I've come across. I cannot think of a better way to help young students who are going to make a difference not only in health care, but the community."
Each of three one-week sessions offered June 11-29 accommodated 32 students. Sessions were led by medical students and physicians from the college's clinical partners including Banner – University Medical Center Phoenix, Maricopa Integrated Health Systems, Barrow Neurological Institute, Phoenix Children's Hospital and St. Joseph's Hospital and Medical Center. A new session included the importance of mentorship led by Guadalupe Federico, PhD, assistant dean of Faculty Affairs and Development.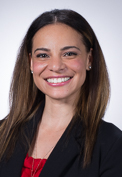 Dr. Federico met with students and their parents to discuss the importance of mentorship from teachers, peers, professors, family and friends. She said it's important in a student's quest for clarity in academic preparation, college persistence, career choice and ultimately, their career growth and satisfaction.
"Higher education research in the U.S. continues to remind us that parental and family involvement is the number one influence in high school students' predisposition to college attendance, which ultimately influences their academic achievement and career choices," Dr. Federico said. 
She represented the Office of Faculty Affairs and Career Development, which works with the Office of Diversity and Inclusion to ensure the college is committed to shaping and investing in future physician-faculty via early outreach in high schools.
"Given my own cultural background, I closely identify and share experiences with the participants and their families," she said. "Teachers and professors who have taken time to mentor me, I feel a desire to give back to the community that has given so much to me. I find it rewarding and fun to connect with teens making the transition from high school to college. High schools and the counselors appreciate the intervention of university and community college programs like Summer Scrubs in helping message the importance of career development and mentorship." 
About the College
Founded in 2007, the University of Arizona College of Medicine – Phoenix inspires and trains exemplary physicians, scientists and leaders to optimize health and health care in Arizona and beyond. By cultivating collaborative research locally and globally, the college accelerates discovery in a number of critical areas — including cancer, stroke, traumatic brain injury and cardiovascular disease. Championed as a student-centric campus, the college has graduated 665 physicians, all of whom received exceptional training from nine clinical partners and more than 2,500 diverse faculty members. As the anchor to the Phoenix Bioscience Core, which is projected to have an economic impact of $3.1 billion by 2025, the college prides itself on engaging with the community, fostering education, inclusion, access and advocacy.