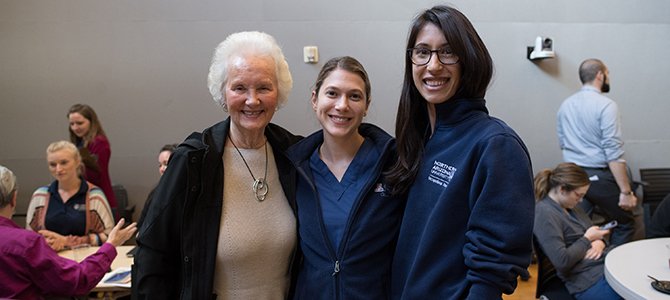 Interprofessional Health Program Celebrates Community Health Mentors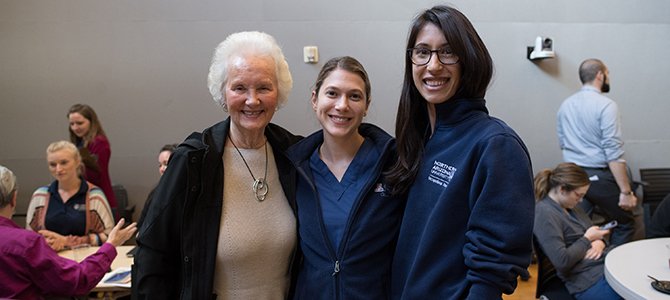 Community Health Mentor Program Teaches Students in Five Disciplines about Humanities and Health Care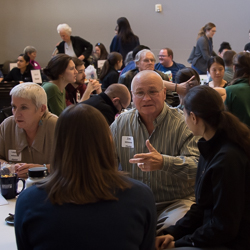 A unique program at the University of Arizona College of Medicine – Phoenix brings together students in five health care professions to learn from community health mentors and work as an interprofessional team.
In February, students and mentors gathered at the College of Medicine – Phoenix to celebrate the 52 community members who provided mentorship to graduate students at the University of Arizona, Northern Arizona University and Arizona State University.
Through the Community Health Mentors Program, approximately 225 students from NAU's Physician Assistant, Occupational Therapy and Physical Therapy programs, UA's Doctor of Medicine program and ASU's Nutrition program were placed in teams. Each team was assigned a community health mentor — an adult volunteer with a chronic medical condition or disability.
"Our mentors did more than teach us, they helped us survive medical school and gave us motivation along the way," fourth-year medical student Haig Aintablian said. "All in all, these mentors helped mold us from young medical students into full-fledged humanistic physicians with lessons on the real-world workings of health care that we will use in our practices forever and for that, we cannot be more thankful."
The students participated in meetings every six weeks to discuss a mentor's condition, nutrition and health care experience. For students, the program was an opportunity to learn from the mentor.
The medical students continue with their mentor for a second year to focus on topics such as health information, cultural bias and physician-patient communication. This summer, the second year of the program will be expanded to include students from ASU Social Work, UA Nursing and the UA Public Health colleges.
"Every time we have met, I have been so impressed with the students and their respect toward me, eagerness to learn from a patient's point of view and their affirmation and thanks for all they were learning," community mentor Bev Lehsten said. "We became good friends and at the end of each two years, it was hard to say goodbye. I felt privileged as an older woman that there would still be young people in my life that I had something valuable to share with."
Conditions of the mentors range from high blood pressure and arthritis to diabetes and Alzheimer's, allowing the students to see how different and broad the experiences are for patients. The teams do not provide medical care, but share health education and community resources.
"I'm honored to be involved with this program," community mentor Don Price said. "I know that we are supposed to be the mentor in this program, but I've learned so much. I hope you learned from us how to relate to people who have a condition or disability. I know that all of you will be great teachers, and I look forward to seeing you in the medical field having successful careers."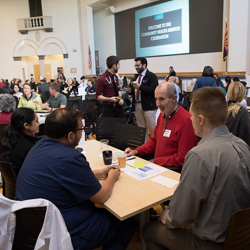 The Community Health Mentor Program is about to start its fourth year and is seeking individuals in the Phoenix area to volunteer their time to mentor students.
"I felt honored to have the opportunity to spend time with young people who were just starting in the medical field," Lehsten said. "As it was explained to me, I would have a chance to share things from a patient's point of view in ways that students would not learn in school. I highly recommend this program to other potential mentors."
*If you live in the Phoenix area, have at least one chronic medical condition and are interested in helping train the next generation of health care providers, please fill out the Community Health Mentor Interest Form.
About the College
Founded in 2007, the University of Arizona College of Medicine – Phoenix inspires and trains exemplary physicians, scientists and leaders to optimize health and health care in Arizona and beyond. By cultivating collaborative research locally and globally, the college accelerates discovery in a number of critical areas — including cancer, stroke, traumatic brain injury and cardiovascular disease. Championed as a student-centric campus, the college has graduated 665 physicians, all of whom received exceptional training from nine clinical partners and more than 2,500 diverse faculty members. As the anchor to the Phoenix Bioscience Core, which is projected to have an economic impact of $3.1 billion by 2025, the college prides itself on engaging with the community, fostering education, inclusion, access and advocacy.