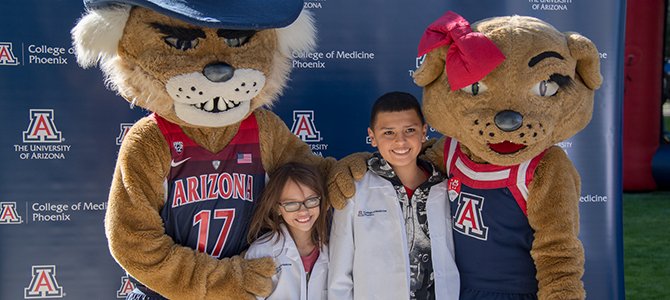 Largest STEM Event in Phoenix Returns January 27, 2018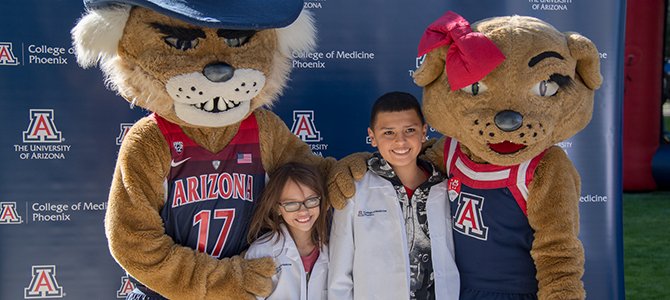 For the Fourth Straight Year, College to Hold Event to Expose Arizona Youth to the Wonders of STEM Education
Wonder — that childlike sense of discovery — it is what the UA College of Medicine – Phoenix aims to inspire when each year it hosts its annual Connect2STEM event. Connect2STEM, an event presented in partnership by the University of Arizona and Cox Communications and held on the college's campus in downtown Phoenix, is a celebration of everything related to science, technology, engineering, math and medicine. This January 27, it returns, and the fourth iteration promises to be even bigger, better and nerdier!
Serving as the kickoff for this year's Arizona SciTech Festival — a month-long campaign promoting science events across the state — Connect2STEM hopes to encourage local youth to pursue their interest in STEM by introducing them to varying hands-on STEM activities. Its outreach is important to the college; as Allison Otu, senior director of marketing and communications, notes "One of our pillars at the UA College of Medicine – Phoenix is Community, so this event falls in line with our mission of being a university for all."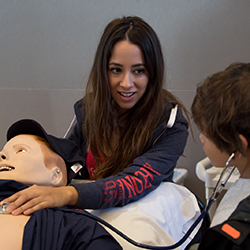 That is Connect2STEM's primary focus — introducing the youth of Arizona to the vast opportunities STEM can create for them not only now, but in the future — and it is why the college continues to push the boundaries of what was accomplished the year before.
January 2017's event featured 100+ different tables and exhibits. Many of which will return, including: "exploding" toothpaste experiments led by students from the UA College of Pharmacy; cow eye and pig heart dissections led by first-year medical students from the College of Medicine – Phoenix; as well as one of the last year's favorites the Wildcat Play Hospital — which is staffed by UA Nursing students and allows the youngest attendees to take stuffed animals for checkups in a mock hospital setting.
In addition to these aforementioned participants, 2018's event will boast over 50 more exhibitors, many new, a record for the event. Attendees will be able to hope aboard the STEM Revolution Mobile Lab, where they can fly drones and get lost in virtual reality; mix chemicals to make an oozing, growing foam gnome; explore the inner workings of a B-17 jet engine; test their operating skills on the da Vinci® Surgical System; or build-their-own models airplanes and send them into flight in a wind tunnel. Those are just a few of the exciting exhibits to be featured at 2018's event.
Other UA divisions and departments also set to return are the Lunar and Planetary Laboratory, the College of Architecture's Planning and Landscape Architecture, the College of Agriculture and Life Sciences, Maricopa Agricultural Center, Project WET, the Roosevelt Early Childhood Family Resource Center, the UA Police Department, the Office of Admissions, Eller College of Management and Arizona Athletics.
These will be joined by Arizona State University's Neuroscience School of Life Sciences and Northern Arizona University's Physical and Occupational Therapy programs.
Though many of its offerings are geared toward elementary-grade youth, it is not limited to just that.
Each year, the event organizes a schedule of speakers for Connect2Careers, an effort to expose students — in particular, high school students — to careers in STEM fields. In the years since the event began, attendees have had the opportunity to meet with police officers, nurses, physicians, engineers and researchers from various companies — such as APS, Intel, TGen and the University of Arizona.
This year, attendees can meet with a National Science Teacher of the Year who trained with NASA, a trainer with the UA football team and a graduate assistant and PhD candidate at the UA Lunar and Planetary Lab.
Connect2STEM truly is all about collaboration, opportunity, exploration, engagement and discovery. By collaborating with departments and people across the UA and Arizona at large, the college hopes to open the youth of Arizona's eyes to the immense opportunity STEM holds, as well as to encourage them to engage, explore and discover the wonders of STEM for themselves. When those possibilities are presented, the odds they may pursue a degree, and perhaps even an occupation, in a STEM-related field only grow.
Article by: Tom Kelly
*Including Cox Communications, the college would like to thank our other sponsors: the Arizona SciTech Festival, APS, the City of Phoenix Public Works Department, The Boyer Company, DPR Construction and Sundt Construction, Standard Parking and the USAA.
Register today for free, and you will be automatically entered into a post-event drawing to win an Apple iPad®.
And thanks to generous sponsors The Boyer Company and Standard Parking, those who register early will receive $5 parking ($10 off) in the Phoenix Biomedical Campus Garage.
About the College
Founded in 2007, the University of Arizona College of Medicine – Phoenix inspires and trains exemplary physicians, scientists and leaders to optimize health and health care in Arizona and beyond. By cultivating collaborative research locally and globally, the college accelerates discovery in a number of critical areas — including cancer, stroke, traumatic brain injury and cardiovascular disease. Championed as a student-centric campus, the college has graduated 593 physicians, all of whom received exceptional training from nine clinical partners and more than 2,400 diverse faculty members. As the anchor to the Phoenix Biomedical Campus, which is projected to have an economic impact of $3.1 billion by 2025, the college prides itself on engaging with the community, fostering education, inclusion, access and advocacy.