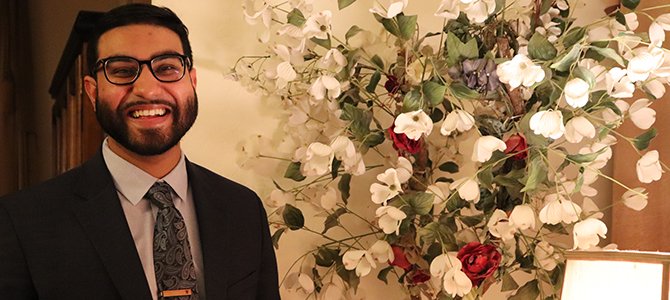 Match Day Student Profile: Omar Mohammad Hussain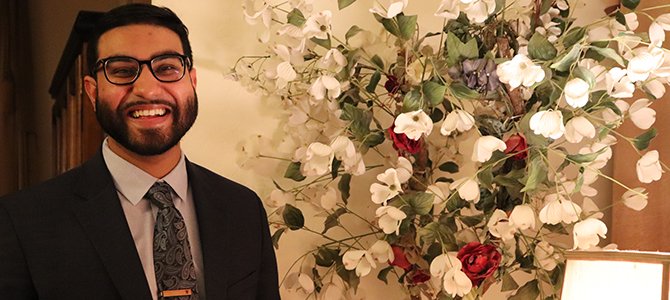 Medical Student Finds Calling in Neurosurgery
For four years, students at the University of Arizona College of Medicine – Phoenix have worked toward Match Day — the day students learn where they will spend the next several years as resident-physicians and a major step toward building their career in medicine. Match results are released nationally at Match Day ceremonies coordinated to occur at the exact same time across the country. Members of the Class of 2019 will receive letters showing where they will go for their residency training at 9:00 a.m. Friday, March 15. The UA College of Medicine – Phoenix is profiling several students in advance of Match Day 2019.
Meet Omar Mohammad Hussain 
Since a young age, Hussain always pictured his life as a physician. He wanted to help others through the most difficult times in their lives.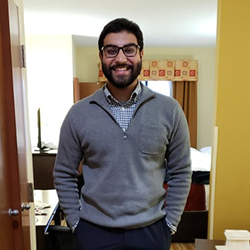 "The notion that we are spending time to become a physician, in order to be a part of the team that cares for people and sees them through some of the hardest parts of their lives, is such a profound feeling, and I cannot imagine doing anything else," he said.
Hussain grew up in the East Valley. He attended Hamilton High School and received his bachelor's degree in neuroscience at the University of Arizona. 
Path Toward Medicine
"In a somewhat cliché fashion, I always imagined being a physician," Hussain said. "From a young age, the depictions I would see in the media, on television and in books, fascinated me."
Hussain was drawn to a particular image in Life magazine. The story was entitled "Country Doctor," and it told about Dr. Ernest Ceriani, a seasoned rural physician who lived in the 1940s. Hussain remembered seeing a photograph of Dr. Ceriani walking in a field, alongside a rickety fence, wearing a dusty tweed jacket and carrying a doctor's bag.
"I remember seeing that picture, as well as many other pictures of him truly caring for his community, and wanting to be just like him," he said. "Fast forward many years, and I found myself sitting with one of my mentors in college. He told me, 'Omar, if you can imagine doing literally anything else, do not apply to medical school.' I spent an entire weekend trying to imagine doing anything else, and I simply could not."
Choosing a Specialty
Hussain started medical school thinking he would specialize in child neurology, but as he progressed, he became more interested in gaining hands-on experience. He began to realize that he not only wanted to be the physician who prescribes, but also who can intervene surgically to better his patients' lives.
"I discovered neurosurgery as a specialty, and I have never looked back," he said. "The combination of getting to study complex neurologic pathology, as well as having the ability to step in surgically and change the natural history of the disease was very appealing. Being in the operating room gave me a feeling I never experienced before. In the same way I pondered about pursuing medicine, I spent a weekend trying to imagine pursuing a specialty besides neurosurgery, and I simply could not."
Extracurricular Activities
Hussain has been actively involved in medical student government at the college. As one of the class representatives, as well as the student body's vice president, Hussain sought to improve morale. "We were already a very tight-knit group of students, and it was truly a pleasure and honor to work not only with my classmates, but also the school administration, in order to make our school experience better for everyone," he said.
Why He Chose the College of Medicine – Phoenix
After interviewing at the college, Hussain said he remembers thinking to himself that the UA College of Medicine – Phoenix was definitely where he wanted to go to medical school because of the atmosphere of making the student feel like they matter.
"Our school has so much innovation and provides for so many avenues for the students to excel in every way imaginable," Hussain said. "From the deans, the faculty, the staff, to my fellow classmates, the feeling that I was cared for and that I was going to get the best possible education I could receive was palpable. As a fourth-year, I would proudly do it again."
Favorite Medical School Memory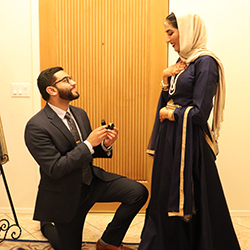 "One of my favorite memories during medical school had nothing to do with school," he said. "A big group of my classmates try to go camping whenever our schedules align. We spent lots of time around the campfire, talking, joking around and bonding."
Advice to Medical Students
"Be wary of the advice you are getting," he said. "Many people will be giving you solicited or unsolicited advice, and all of it should be taken with a grain of salt. Everyone has their own path in life, and everyone has their own unique learning styles. Listen to the advice you are given, and use the good advice you are given, and do not listen to the bad advice. This is a tough journey, and it is going to be hard, but everyone before you has gotten through it, and so will you." 
About the College
Founded in 2007, the University of Arizona College of Medicine – Phoenix inspires and trains exemplary physicians, scientists and leaders to optimize health and health care in Arizona and beyond. By cultivating collaborative research locally and globally, the college accelerates discovery in a number of critical areas — including cancer, stroke, traumatic brain injury and cardiovascular disease. Championed as a student-centric campus, the college has graduated 593 physicians, all of whom received exceptional training from nine clinical partners and more than 2,400 diverse faculty members. As the anchor to the Phoenix Biomedical Campus, which is projected to have an economic impact of $3.1 billion by 2025, the college prides itself on engaging with the community, fostering education, inclusion, access and advocacy.