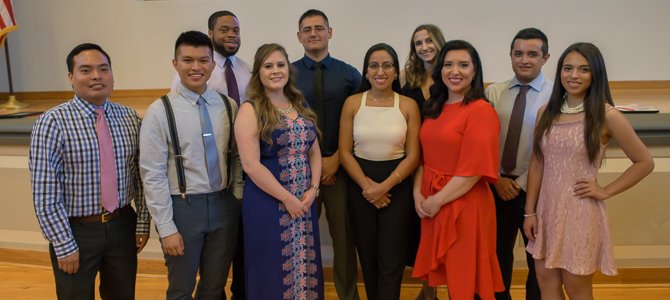 Pathway Scholars Complete Program, Next Stop is Medical School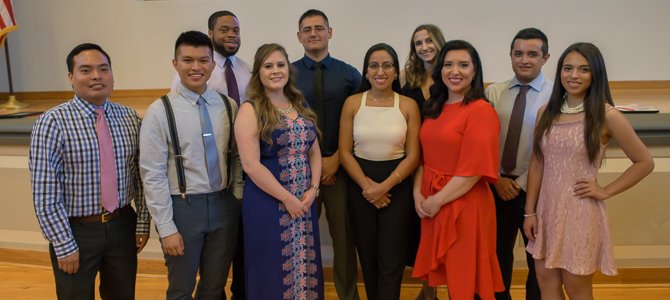 Program Changes Mean Participants will Obtain a Master's Degree in Medical Studies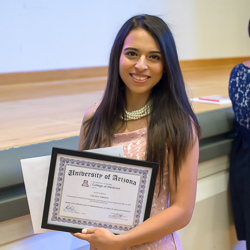 Ten Pathway Scholars will begin studies in July to become doctors, thanks to a pipeline program offered by the University of Arizona College of Medicine – Phoenix that prepares underrepresented students for medical school.
The class successfully completed the Pathway Scholars Program and will become  members of the medical school's Class of 2022 in July.
Of this year's class, 80 percent were the first in their family to achieve a higher education degree, 80 percent identify as a minority, 70 percent of the scholars speak more than one language, 30 percent were born in another country and 30 percent grew up in rural communities. All are among the targeted group that the program is meant to assist.
Starting with the Class of 2019, the program will become a Master of Medical Studies, where graduates will earn a master's degree. Previously, the program offered a certificate. The program changes were approved by the Arizona Board of Regents earlier this year.
"It has definitely been a labor of love that we have been working on for a couple of years," said Stephanie Hatlestad, assistant director of the Pathway Scholars Program. "It's exciting that we finally get to formalize it, and these students will be getting a master's degree for all their hard work."
The program prepares students for the rigors of medical school with faculty, Pathway staff and learning specialists helping participants develop study and test-taking skills they will need to succeed. Students also begin work on their Scholarly Project, a requirement for graduation from the medical school.
"I have been impressed with all of you for your interests and enthusiasm, for your creativity and most of all for your character," Stephen Stapczynski, MD, professor and Scholarly Project advisor, told participants at their recent graduation ceremony. "It has been my humble experience to be with you during your first year of your scholarly projects. What a trip it has been."
Each Pathway Scholars class is required to complete a community service project, and this year's students created a learning center at Wesley Community and Health Center in downtown Phoenix, which offers medical care to the underserved and uninsured. The Pathway students created an area for kids to explore science, technology, engineering, mathematics and art. The learning center now has a library full of books and educational activities to promote critical thinking.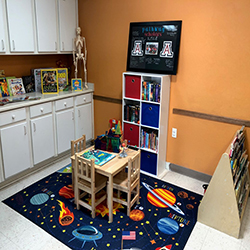 "We wanted our project to represent the 10 of us collectively," Pathway student Allen Doan said. "We hope the learning center is able to inspire future generations to fill their aspirations and pursue their passion."
Maria Manriquez, MD, director of the Pathway Scholars Program and interim associate dean for Clinical Curricular Affairs, expressed optimism that the students will thrive and become physician leaders who will serve patients who, like themselves, have experienced greater than normal challenges navigating the systems of health.
"The beauty of the College of Medicine – Phoenix, in its early state of being, was the small cohort and how that first class bonded and nurtured each other," Dr. Manriquez said. "We had the same vision for the Pathway Scholars Program."
Alina Martinez delivered the student address during the ceremony. She thanked her parents for their support.
"My parents never doubted my ability to achieve what I set my mind to," Martinez said. "Their sacrifices, support and confidence in me has led me to where I am now and allowed me to take part in this journey with nine amazing individuals."
She added, "Past, present and future Pathway Scholars in the process of becoming physicians, may we never forget our humble beginnings or lose sight of why we have chosen this path."
The keynote address was given by Nicholas Vasquez, MD, an emergency medicine physician. Dr. Vasquez discussed the difficult time he encountered when trying to get accepted into medical school. After several rejections, he received a call from the University of Michigan, which had a similar program to the Pathway Scholars. It was an opportunity for minority students to work their way to medical school.
"Without that first failure, I would not be standing here today," he said. "Your struggle to get here is a gift. You had to work hard to come here and overcome adversity and challenge. Hopefully, it will give you a great appreciation of what you have not only overcome, but what you have earned."
The ceremony concluded with group photos, hugs and a presentation of the certificates to the Pathway Scholars Class of 2018. The program operates with support from numerous local organizations, including APS, the Arizona Community Foundation, Blue Cross Blue Shield of Arizona, United Health Care, the Princeton Review and individual donors. Dignity Health sponsored the ceremony.
The Pathway Scholars Program Class of 2018:
Sorka Deeyor.
Christopher Denetso.
Allen Doan.
Hayley Kiernan.
Jesus Leyva.
Eloise Lords.
Alina Martinez.
Jesus Sandoval-Macias.
Celina Virgen.
Kristina Yancey.
About the College
Founded in 2007, the University of Arizona College of Medicine – Phoenix inspires and trains exemplary physicians, scientists and leaders to optimize health and health care in Arizona and beyond. By cultivating collaborative research locally and globally, the college accelerates discovery in a number of critical areas — including cancer, stroke, traumatic brain injury and cardiovascular disease. Championed as a student-centric campus, the college has graduated 593 physicians, all of whom received exceptional training from nine clinical partners and more than 2,400 diverse faculty members. As the anchor to the Phoenix Biomedical Campus, which is projected to have an economic impact of $3.1 billion by 2025, the college prides itself on engaging with the community, fostering education, inclusion, access and advocacy.