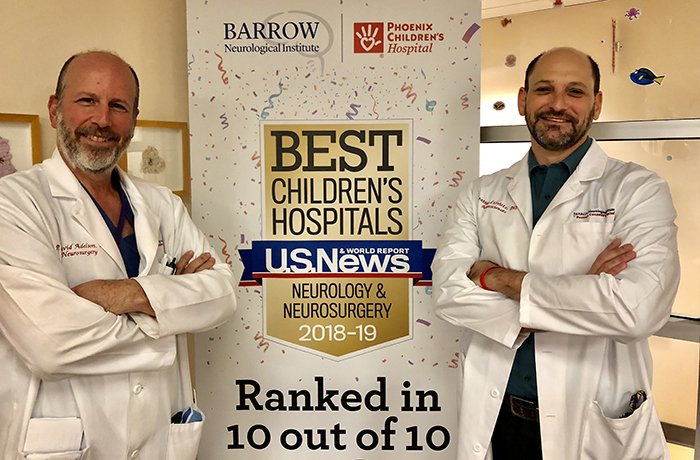 Phoenix Researchers Change Guidelines for Treating Traumatic Brain Injuries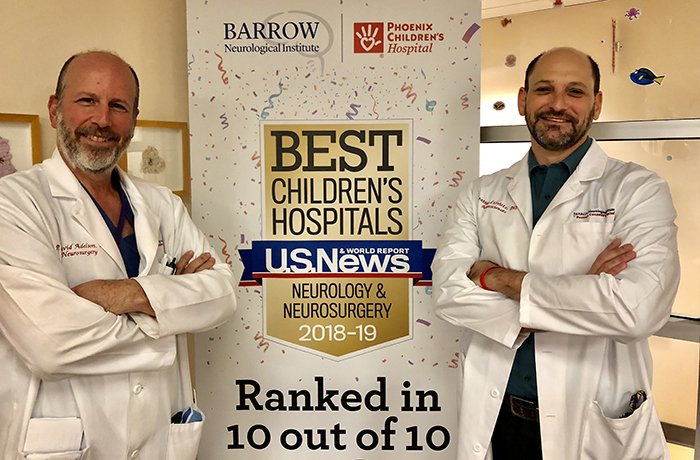 Researchers in Phoenix are changing the national protocol for the treatment of traumatic brain injuries (TBI) in children. As a result, their work is being integrated in practices throughout the country to help the thousands of children who suffer TBIs each year.
Six years ago, the University of Arizona College of Medicine – Phoenix began a partnership with Barrow Neurological Institute at Phoenix Children's to better understand TBIs in children, which impact an estimated 800,000 kids every year.
"It has been impressive the commitment of first Phoenix Children's Hospital and then the community, including the University of Arizona, toward better understanding the impact of TBI on children and their development," said P. David Adelson, MD, an international expert in pediatric brain injury, director of Barrow Neurological Institute at Phoenix Children's and chief of Pediatric Surgery and a professor of Child Health at the UA College of Medicine – Phoenix.
"Going from nothing to a national and international leader in TBI research, Phoenix has become a destination for many, with still more growth to go. Clearly, this would not have occurred without the community support. I cannot thank enough our donors past, present and future who have supported us in this journey to build world class neurological care here."
Much of brain trauma diagnosis and management in children has lacked scientific research and evidence. With the arrival of Dr. Adelson, an international expert in pediatric brain injury, and his recruitment of director of the Translational Neurotrauma Research Program at the College of Medicine – Phoenix Jonathan Lifshitz, PhD, researchers have made national headlines for their work by integrating their research into treatment options at Phoenix Children's.
What began as a four-person translational research lab has grown to 25 researchers, comprising five independent laboratories, funded by federal, state and local grants, fulfilling the mission of philanthropic organizations and informing the medical community through two dozen publications per year.
Because of the academic-hospital partnership, several translational applications have resulted in improving treatment of brain injuries.
"There are guidelines to manage concussion patients and operate a concussion clinic, but in order to be a leader in the field, we have to invest in research and engage people who will inquire about current processes and drive change for the better," Dr. Lifshitz said.
Here are a few ways the College of Medicine – Phoenix and Phoenix Children's are making a difference in treating TBIs:
Changing Clinical Guidelines
The academic-hospital partnership has allowed researchers and clinicians to work together to implement new findings into patient care. For example, researchers at Phoenix Children's and the UA College of Medicine – Phoenix discovered that children under 18 who've experienced a TBI are more likely to have endocrine diagnoses, which could interfere with puberty. Follow-up hormone tests by an endocrinologist can monitor the brain injury disease course to capture endocrine issues, such as delayed puberty or precocious puberty. Early detection can be treated by hormone replacement to avoid lifelong consequences initiated by brain injury.
Alona Sukhina, MD, a pediatrics resident at Phoenix Children's, worked with Dr. Lifshitz on her scholarly project as a medical student at the College of Medicine – Phoenix. Her research sought to uncover the endocrine disorders in children that appear up to years after they've had a TBI. If a child has had a TBI, no guidelines exist for when to test for an endocrine disorder, even though these guidelines exist for adult populations.
Drs. Sukhina and Lifshitz accessed records of 650,000 patients through the Arizona Health Care Cost Containment System, looking for records of children under 18 years old with a TBI code. Their research determined that children who suffered a TBI had a 3.18-times higher risk of developing a central endocrinopathy, or disease of an endocrine gland, compared with the general population. That means one in 154.2 children with a TBI will develop an endocrine issue serious enough to influence puberty, growth, metabolism and disease over the course of their lives. They anticipate even more relationships between TBI and endocrine issues as their research continues to investigate a more personalized, individualized approach in precision medicine.
"The data can impact this relatively young field and help guide treatment plans that reduce the morbidity of children who have experienced TBI," Dr. Sukhina said. "I hope to expand my research further in residency and start a prospective trial by recruiting children who have experienced a TBI and screening and treating them for endocrinopathies, and helping to develop screening guidelines for these patients."
Pediatricians, endocrinologists and neurologists have already begun to apply the epidemiological data from Dr. Sukhina's project to guide after-care instructions for children with a TBI, encouraging them to seek endocrine evaluations to ensure complete recovery and healthy development.
To understand the mechanistic relationship between brain injury and endocrine dysfunction, Rachel Rowe, PhD, an assistant professor in the Translational Neurotrauma Research Program, leads a team of scientists in laboratory projects. Their works directly evaluates the interaction between sex, injury, age, neurological performance and pathology.
Changing National Protocols
In 2009, Dr. Lifshitz and his team coined the term "fencing response," an immediate indicator of brain injury that has impacted the brain stem. They have since promoted awareness of the fencing response through presentations and social media to educate neurologists, athletic trainers and sports fans.
This year, the National Football League updated its concussion protocol to include the fencing response with the following rule:
Defined impact seizure and fencing responses as independent signs of potential loss of consciousness, representing a "No-Go" criteria under the current protocol. Players who display either of these signs at any time shall be removed from play and may not return to the game.
"We are enthusiastic that the fencing response was adopted for real world application on a stage this large," Dr. Lifshitz said. "Since translational successes are challenging to show concrete impact on health care delivery, we wanted to share this success."
The Future of TBI Treatment
Researchers hypothesize they can improve outcome from brain injuries through restorative and regenerative neuroscience approaches. The Translational Neurotrauma Research Program is pursuing new cognitive rehabilitation methods that activate general learning rather than specific task elements. Their laboratory task is informing new ways to activate the injured brain, rather than a specific pathway. Using a mathematics example, current cognitive rehabilitation approaches train addition. Once mastered, an equal effort is required to train subtraction. New rehabilitation approaches would restore and regenerate injured brain circuits by teaching number theory. The task itself is based in spatial navigation, like walking through a mall or grocery store. Translational opportunities exist to use virtual reality to explore and process new environments every day. By engaging the process of learning and multiple senses, scientists hypothesize that they can re-train the brain how to learn.
About the College
Founded in 2007, the University of Arizona College of Medicine – Phoenix inspires and trains exemplary physicians, scientists and leaders to optimize health and health care in Arizona and beyond. By cultivating collaborative research locally and globally, the college accelerates discovery in a number of critical areas — including cancer, stroke, traumatic brain injury and cardiovascular disease. Championed as a student-centric campus, the college has graduated 593 physicians, all of whom received exceptional training from nine clinical partners and more than 2,400 diverse faculty members. As the anchor to the Phoenix Biomedical Campus, which is projected to have an economic impact of $3.1 billion by 2025, the college prides itself on engaging with the community, fostering education, inclusion, access and advocacy.