Primary Care Scholars Program to Launch This Fall
A New Certificate of Distinction, the Program Hopes to Alleviate the Primary Care Physician Shortage
This fall, the UA College of Medicine – Phoenix will launch the Primary Care Scholars Program, a new Certificate of Distinction that sets its sights on bridging the ever-widening gap between the number of patients and available primary care physicians. With an emphasis on mentoring and scholarship, the program hopes to attract medical students with a commitment to pursuing a career in primary care.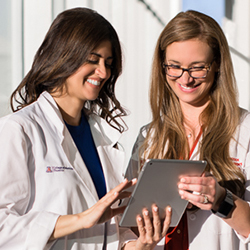 To earn the Certificate of Distinction, medical students will have to complete a number of requirements over their four years of study. These include: attending multiple primary care seminars in their pre-clerkship years; selecting a scholarly project — which is a four-year research project that all medical students must complete — with direct relevance to primary care; and contributing to the campus' annual Primary Care Week, a week-long program of lectures, panels, films and other activities that focus on issues relating to primary care.
In addition, they will work closely with a primary care faculty member, who will mentor them throughout their studies.
"Personalized mentoring is a core mission of the program," said Shahrzad Saririan, MD, Primary Care Scholars Program director. "Mentorship in the program also spans students' development of scholarly and leadership skills. Faculty-to-student, as well as student-to-student mentoring are key aspects."
The value of such mentorship should not be underestimated. The role of a primary care physician in a patient's overall health is a crucial one. They are the first point of contact and lay the foundation for treatment.
Jayne Peterson, associate professor in the Department of Internal Medicine and a member of the program's faculty, described that bond, "These long-term relationships are the gift and joy that keep me dedicated to being a physician. I am excited to share this with our Primary Care Scholars while assisting them in finding ways to improve this vital service."
Another focus of the program is to open students' eyes to the breadth and depth of primary care. As originally defined by the Institute of Medicine, primary care practice consists of physicians who provide continuous, comprehensive and coordinated care.
Dr. Saririan noted that there are many different elements to primary care. By design, the program's curriculum is meant to mold primary care physicians that have been exposed to these distinct foundations.
She said that it was built, "to prepare future physician leaders to meet the rising health needs of local and global communities. Through various experiences, students will learn core principles of patient-centered care, continuity, health care disparities, team-based care, health policy and quality improvement."
In a sense, it is medicine at its most personal.
Sarah Coles, MD, an alumna from the Class of 2011 and faculty member of the college's Family Medicine Residency, who will also serve as a faculty member in the program, described the field as, "the foundation of health care."
"The U.S. health care system is fragmented, expensive and unsustainable," she said. "Study after study has demonstrated that primary care is the solution: providing high quality care to improve health outcomes, lower costs and increase patient satisfaction."
The statistics strongly support Dr. Coles' assessment. In an article entitled "The Future of Primary Care," Harold Cox, MD, observes that research demonstrates that health systems undergirded by primary health care principles achieve better health and greater equity in health than systems with a specialty care orientation.
The program could not come at a better time.
Across the U.S., the aforementioned shortage in primary care physicians is only growing more severe. It is estimated that annually 8,000 new primary care physicians enter the workforce. A hearty number, to be sure, but when 8,500 retire each year, one needn't be a clairvoyant to see the pitfalls ahead. In less than a decade, the shortage in the U.S. could be anywhere from 12,500 to 31,000. That scarcity is particularly alarming here in Arizona — the state ranks in the bottom 10 percent.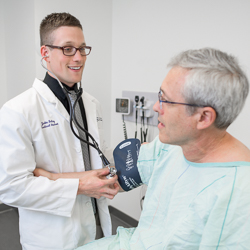 It is important, though, to understand why medical students are reluctant to enter the specialty that plays such an essential role in a person's overall health.
Jeffrey Wolfrey, MD, chair of the college's Department of Family, Community and Preventive Medicine said, "There has been a gradual overall decline in the percentage of U.S. senior medical students choosing primary care careers beginning in about 1997. That trend parallels the mismatch in mean incomes between specialists and primary care physicians during the same time period. Upon completion of a four-year doctor of medicine degree, many students are steeped in up to $200,000 of debt. This makes it difficult for students to ignore financial issues when considering career choice."
To help address the financial factor, the new program will include robust advising regarding various options for scholarships and loan repayment programs for students on a primary care career path. In addition, there will be an ongoing pursuit of additional resources to reduce debt for primary care bound students.
As the only medical school in the region to offer a program like this, the overarching goal for this new Certificate of Distinction is to attract and prepare top students to help meet Arizona's primary care needs.
About the College
Founded in 2007, the University of Arizona College of Medicine – Phoenix inspires and trains exemplary physicians, scientists and leaders to optimize health and health care in Arizona and beyond. By cultivating collaborative research locally and globally, the college accelerates discovery in a number of critical areas — including cancer, stroke, traumatic brain injury and cardiovascular disease. Championed as a student-centric campus, the college has graduated 745 physicians, all of whom received exceptional training from nine clinical partners and more than 2,700 diverse faculty members. As the anchor to the Phoenix Bioscience Core, which is projected to have an economic impact of $3.1 billion by 2025, the college prides itself on engaging with the community, fostering education, inclusion, access and advocacy.