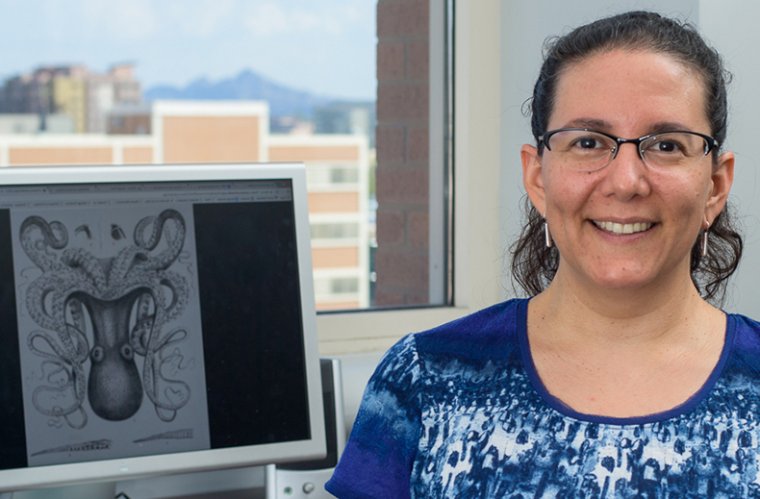 Rebecca Fisher, PhD, Named Full Tenured Professor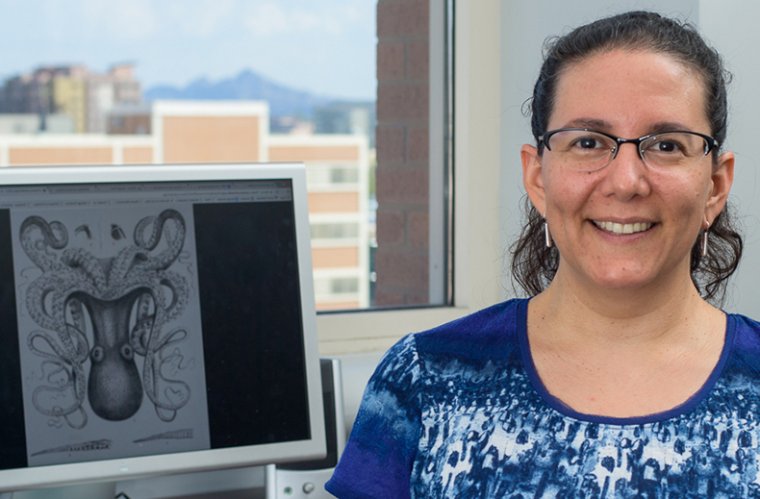 Appointment Recognizes Innovation in Anatomy Curriculum and Research in Soft Robotics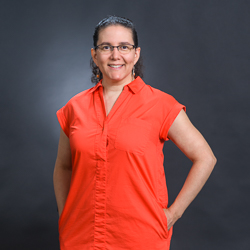 An award-winning anatomy instructor and nationally known researcher, Rebecca Fisher, PhD, has been promoted to full tenured professor in the Department of Basic Medical Sciences at the University of Arizona College of Medicine – Phoenix starting July 1, Dean Guy L. Reed, MD, MS, announced.
In addition to her teaching role as director of the Clinical Anatomy Block, Dr. Fisher directs the gross anatomy laboratory for the Phoenix Biomedical Campus. She joined the college in 2006 and as a founding faculty member, created the anatomy curriculum and helped design the anatomy lab in the Health Sciences Education Building.
"Through Dr. Fisher's tireless efforts, our gross anatomy lab is a state-of-the-art facility and innovative model for education," said Dean Reed, who recommended the appointment to University of Arizona interim senior Vice president of Academic Affairs and Provost Jeffrey B. Goldberg, PhD. "As a founding faculty member of our medical school, Dr. Fisher has contributed to building the College of Medicine – Phoenix into a rich culture of inclusiveness and compassion. She continually goes above and beyond training our medical students and advancing research."
Dr. Fisher's appointment is significant, as only 13 percent of full tenured professors are women, according to a TIAA Institute study. To achieve this milestone at such a young age, 45, is extraordinary, Dean Reed said.
The curriculum Dr. Fisher created gained national recognition in 2008, when she received the Basmajian Award from the American Association of Anatomists. The lab space is highlighted on the American Association of Anatomists webpage as a model for lab design.
As an accomplished researcher, Dr. Fisher investigates the musculoskeletal system in mammals, reptiles and cephalopods. She is collaborating with engineers at the University of California Los Angeles and Arizona State University to study the anatomy and control of octopus arms as inspiration for the design of soft robots. The team is funded by a $2.1 million grant from the Office of Naval Research. Since 2010, Dr. Fisher has secured more than $500,000 in grants to fund her research.
Dr. Fisher is a beloved faculty member, interacting with all of the 500 medical school graduates as anatomy professor. She has received three Excellence in Teaching Awards for the Clinical Anatomy block, two Educator of the Year awards and was inducted into the Gold Humanism Honor Society in recognition of her leadership in fostering empathy in future physicians.
"Working in the anatomy laboratory is often considered a rite of passage on the road to becoming a physician, and it has been an honor to design our laboratory and the anatomy curriculum for our students," Dr. Fisher said.
In addition to the Clinical Anatomy block, Dr. Fisher designed an anatomy elective, clerkship labs and labs for the Pathway Scholars Program. Today, the anatomy lab not only serves medical students from the University of Arizona but physician assistant, physical therapy, occupational therapy and athletic training students from Northern Arizona University.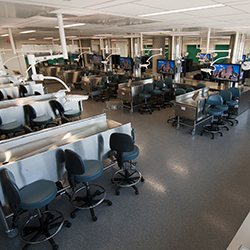 Halszka Glowacka, PhD, an assistant professor at the college who previously worked as a teaching assistant in the anatomy lab, said she continues to be inspired by Dr. Fisher's teaching toolkit.
"It's inspiring to have a colleague like Dr. Fisher who seems to effortlessly balance a successful research program while maintaining a high standard of teaching," she said. "It's something we all strive for, and she offers the support and mentorship to help along the way."
Dr. Fisher received her PhD from Yale University and completed a postdoctoral fellowship at the Johns Hopkins University School of Medicine.
As a graduate student at Yale, she was nominated for the 1998 Prize Teaching Fellowship for Outstanding Teaching and received the 2002 Award for Exemplary Efforts in the Education and Training of Physician Associates.
In order to develop critical thinking skills in students, Dr. Fisher emphasizes the clinical application of anatomy, rather than route memorization of disconnected facts. Instead of asking students to memorize muscle attachments and actions, she encourages them to consider how a muscle crosses a joint, as this can be used to deduce muscle actions. By placing anatomy in a clinical context, students appreciate the importance of anatomy to the practice of medicine. To reinforce this, she has recruited more than 80 clinicians to teach in the lab and share how they use anatomical knowledge in their daily practice.
As a Latina faculty member and longtime ally for the LGBTQ community, Dr. Fisher appreciates how important it is for students to have role models and mentors with shared experiences. She is a member of the college's Diversity Committee as well as the Diversity, Equity and Inclusion Committee for the American Association of Anatomists. 
Dr. Fisher embodies compassion, which is rooted in each class she teaches. Each year since the College of Medicine – Phoenix's inception, the school has hosted a ceremony of appreciation for the individuals who have donated their bodies to the anatomy lab. The ceremony is part of the many efforts by Dr. Fisher to recognize the importance of the lives of willed body donors and their contribution to the education of health care professionals. In addition, working with the donors instills students with a profound respect for the fragility of life and the importance of treating all of their future patients with empathy and kindness.
Topics
About the College
Founded in 2007, the University of Arizona College of Medicine – Phoenix inspires and trains exemplary physicians, scientists and leaders to optimize health and health care in Arizona and beyond. By cultivating collaborative research locally and globally, the college accelerates discovery in a number of critical areas — including cancer, stroke, traumatic brain injury and cardiovascular disease. Championed as a student-centric campus, the college has graduated 500 physicians, all of whom received exceptional training from nine clinical partners and more than 2,000 diverse faculty members. As the anchor to the Phoenix Biomedical Campus, which is projected to have an economic impact of $3.1 billion by 2025, the college prides itself on engaging with the community, fostering education, inclusion, access and advocacy.