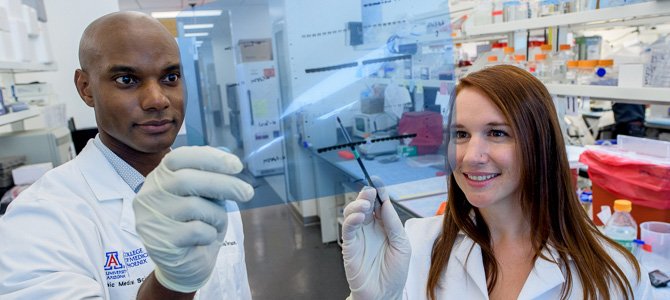 Researcher Receives NIH Grant to Discover Novel Antidepressants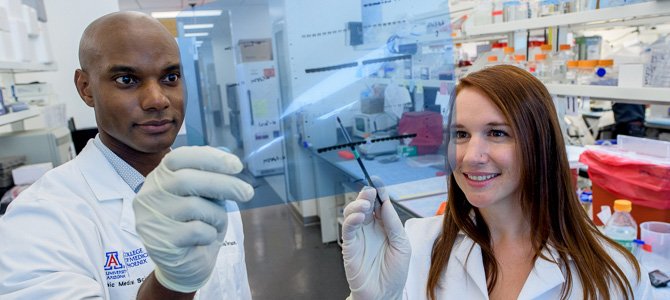 Dr. Deveroux Ferguson Awarded $2.3 Million Grant from National Institutes of Health for Research to Design New Generation of Therapeutics
A University of Arizona College of Medicine – Phoenix researcher has received a $2.3 million grant from the National Institutes of Health to develop new treatments for depression.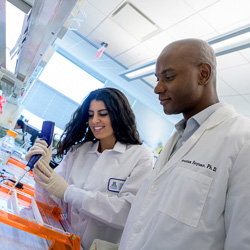 ​Deveroux Ferguson, PhD, was awarded an RO1 grant by the National Institutes of Health for his research, which demonstrates the pivotal role of SIRT1, a protein-coding gene, in anxiety and depression behaviors in the nucleus accumbens, a key brain reward region.
His previous research demonstrated that chronic stress activates SIRT1 in the brain, so changing SIRT1 activity using drugs or gene therapy could reduce anxiety and depression, which affects more than 350 million individuals worldwide.
Dr. Ferguson recently received a Young Investigator grant from the Arizona Biomedical Research Commission to study the role of SIRT1 in addiction and a joint R21 grant with Shenfeng Qiu, MD, PhD, to study the role of the prefrontal cortex in depression.
"Mental health is a major public health issue, and this grant will further Dr. Ferguson's vital work and allow him to translate his research into better options for the thousands of Arizonans who suffer from anxiety and depression," said UA President Robert C. Robbins. "This award from the NIH continues support of Dr. Ferguson's outstanding previous work. I look forward to seeing more breakthrough therapies that will have a positive impact on many lives."
Most drugs used to treat depression were developed 50 years ago, Dr. Ferguson said. Drugs like fluoxetine (Prozac), paroxetine (Paxil) and alprazolam (Xanax) modulate the serotonin or dopamine in the brain.
"An urgent need exists to design and develop new therapeutics," said Dr. Ferguson, an assistant professor in the Department of Basic Medical Sciences at the UA College of Medicine – Phoenix. "My research seeks to discover and characterize novel antidepressants."
The idea behind Dr. Ferguson's research originated from his experiences with animal models of neuropsychiatric disorders as a graduate student at Stanford University and as a postdoctoral fellow at Icahn School of Medicine at Mount Sinai, formerly the Mount Sinai School of Medicine.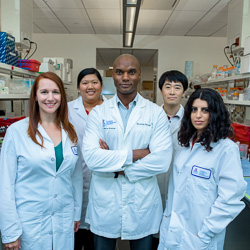 His current research will build on that work by exploring cells' contribution to SIRT1 in depression. Sirtuin 1 is a member of the sirtuin family of proteins. The functions of human sirtuins have not completely been determined, but researchers believe they are involved in regulating cellular processes, including the aging and death of cells and their resistance to stress.
"We will test the hypothesis that SIRT1 regulates anxiety and depression in a cell type- and circuit-specific manner," Dr. Ferguson said.
His team consists of postdoctoral fellow Hee-Dae Kim, PhD, graduate student Tanessa Call, laboratory technicians Samantha Magazu and Monica Tang, medical scholar student Sandy Peoples and undergraduate student Ross Johnson. They have been working on this research for three years.
"To obtain such a major and extremely competitive R01 has set the foundation to obtain the resources to conduct the proposed experiments and will allow for future collaborations with clinicians to advance my translational neuropsychiatric interest (drug development targeting the SIRT1 protein)," Dr. Ferguson said.
He said he expects the results will unravel the cell- and circuit-specific contribution of SIRT1 in stress-induced anxiety and depression.
About the College
Founded in 2007, the University of Arizona College of Medicine – Phoenix inspires and trains exemplary physicians, scientists and leaders to optimize health and health care in Arizona and beyond. By cultivating collaborative research locally and globally, the college accelerates discovery in a number of critical areas — including cancer, stroke, traumatic brain injury and cardiovascular disease. Championed as a student-centric campus, the college has graduated 669 physicians, all of whom received exceptional training from nine clinical partners and more than 2,600 diverse faculty members. As the anchor to the Phoenix Bioscience Core, which is projected to have an economic impact of $3.1 billion by 2025, the college prides itself on engaging with the community, fostering education, inclusion, access and advocacy.