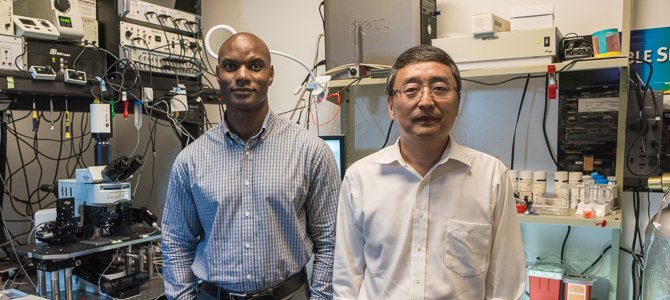 Researchers Awarded Highly Competitive NIH Grant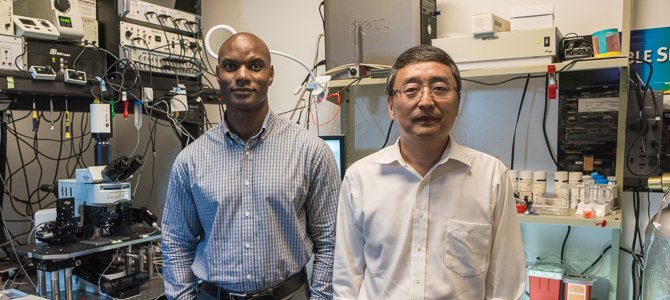 Drs. Qiu and Ferguson Receive the First NIH-Funded R21 Grant Ever Awarded to BMS Department for Research on Depressive Disorders
Researchers at the University of Arizona College of Medicine – Phoenix have received a highly competitive grant for their efforts to address the basic neural circuit mechanisms of depression.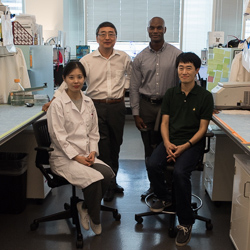 Principal investigators Shenfeng Qiu, PhD, and Deveroux Ferguson, PhD, and postdoctoral fellows Jing Wei, PhD, and Hee-Dae Kim, PhD, in the Department of Basic Medical Sciences at the College, were recently awarded a two-year, National Institutes of Health R21 project for $422,125.
"This grant will enable new lines of cutting-edge research in Phoenix, further strengthen the existing neuroscience research expertise at the College of Medicine – Phoenix, enhance the overall research profiles of our fledging medical school and bring additional long-term research funding in the near future," Dr. Qiu said.
R21 grants are intended to encourage exploratory and developmental research by providing support for the early and conceptual stages of project development. This is the first new R21 awarded to the department, which will set the groundwork for larger R01 funding applications.
The researchers propose to study the neural circuit mechanisms of major depressive disorders, which affect about 10 percent of Americans. They will use novel mouse models in which neurons activated by social defeat stress are genetically labeled by fluorescent proteins to investigate how synaptic and circuit connectivity are altered by stress.
"This grant will allow us to use cutting-edge techniques, such as optogenetics, to probe neural circuits underlying major mood disorders," Dr. Ferguson said. "Our work will utilize paradigm-shifting practices in precise, circuit-based therapeutics aimed at restoring prefrontal synaptic homeostasis."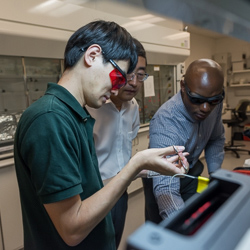 The research findings could reveal a paradigm-shifting practice in circuit-based therapeutics aimed at restoring normal brain circuit function to treat major depressive disorders, according to Dr. Qiu.
"This grant showcases the strength of neuroscience on the College of Medicine – Phoenix campus, and how two junior investigators combine complimentary resources and expertise to tackle the most challenging neuroscience questions and succeed in today's most competitive environment for NIH funding," Dr. Qiu said.
About the College
Founded in 2007, the University of Arizona College of Medicine – Phoenix inspires and trains exemplary physicians, scientists and leaders to optimize health and health care in Arizona and beyond. By cultivating collaborative research locally and globally, the college accelerates discovery in a number of critical areas — including cancer, stroke, traumatic brain injury and cardiovascular disease. Championed as a student-centric campus, the college has graduated 593 physicians, all of whom received exceptional training from nine clinical partners and more than 2,400 diverse faculty members. As the anchor to the Phoenix Biomedical Campus, which is projected to have an economic impact of $3.1 billion by 2025, the college prides itself on engaging with the community, fostering education, inclusion, access and advocacy.