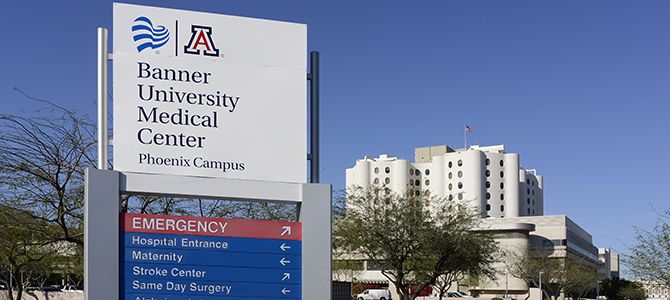 Residency Alum Spotlight: C. Luke Peterson, MD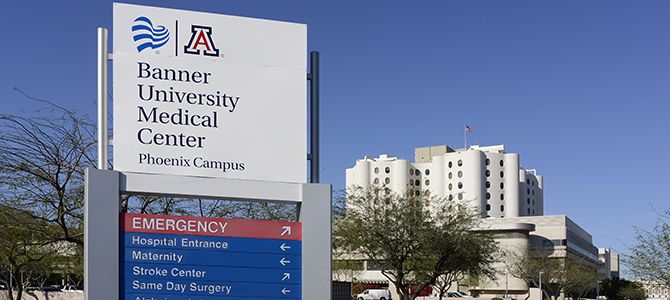 Alum of the College's Family Medicine Residency Joins Banner – University Medicine Family Medicine Team
C. Luke Peterson, MD, has joined the Banner – University Medicine Family Medicine team and is supporting the new Addiction Recovery Center at Banner – University Medical Center Phoenix.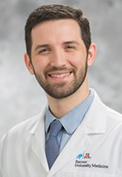 Born and raised in Ogden, Utah, he attended Utah State University, where he received a bachelor of arts in biology. After receiving his medical degree from A.T. Still University Kirksville College of Osteopathic Medicine, he graduated from our own University of Arizona College of Medicine – Phoenix Family Medicine Residency. He then went on to complete an Addiction Medicine Fellowship at Swedish Cherry Hill Family Medicine Residency in Seattle, WA.
Dr. Peterson enjoys all aspects of full spectrum family medicine. He noted, "Being someone's family physician is a true honor. It is a privilege to stand with patients at the crossroads in their lives: birth, pregnancy, illness, death. Building relationships of trust that reach mutual understanding is crucial in the care of my patients and the most rewarding part of my work."
In addition, he has a particular interest in addiction medicine and is an advocate of addiction medicine education. In his own words, "Working in the field of addiction medicine has given me the opportunity to hear people's stories, see their hope and join in their successes. There is nothing greater than witnessing someone's success and recovery, despite great odds, and the perseverance of the human spirit." Conditions he treats: all substance use disorders, substance use in pregnancy, substance induced mood disorder, anxiety/depression and sexually transmitted infections.
His other interests include motivational interviewing.
When not working, Dr. Peterson shares his time with his wife and four children. They can be found frequenting parks, exploring the open air, swimming or playing tennis. An avid outdoorsman, he loves hiking, camping and skiing.
For an appointment at the Addiction Recovery Center, please call: 602-839-4567.
About the College
Founded in 2007, the University of Arizona College of Medicine – Phoenix inspires and trains exemplary physicians, scientists and leaders to optimize health and health care in Arizona and beyond. By cultivating collaborative research locally and globally, the college accelerates discovery in a number of critical areas — including cancer, stroke, traumatic brain injury and cardiovascular disease. Championed as a student-centric campus, the college has graduated more than 800 physicians, all of whom received exceptional training from nine clinical partners and more than 2,700 diverse faculty members. As the anchor to the Phoenix Bioscience Core, which is projected to have an economic impact of $3.1 billion by 2025, the college prides itself on engaging with the community, fostering education, inclusion, access and advocacy.