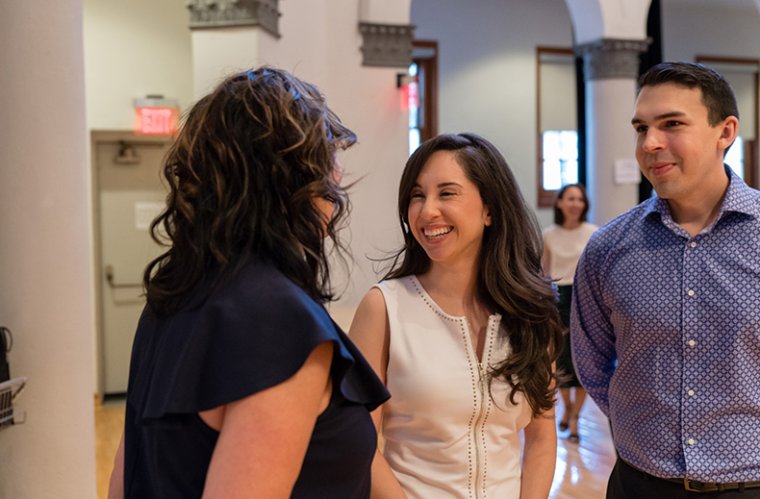 Residency Graduation Profile: Izayadeth Aguayo, MD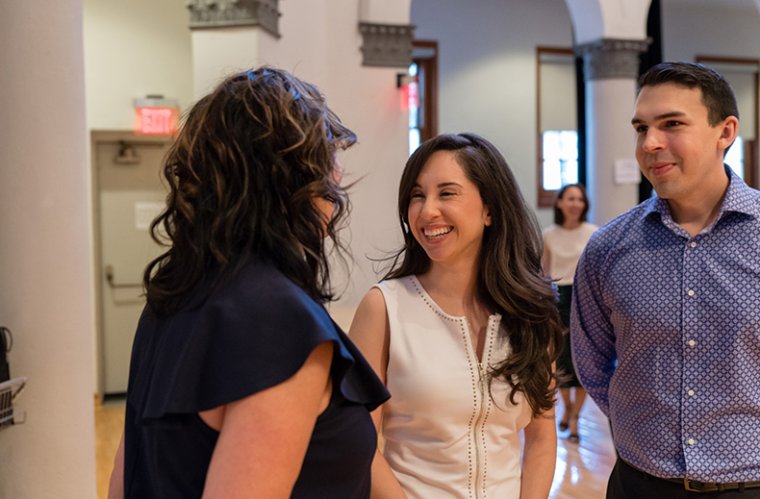 Inspired and Compassionate Physician to Practice at Banner Gateway
Izayadeth Aguayo, MD, decided to become a physician at the age of nine after reading the book "Gifted Hands" by Ben Carlson, MD. She felt inspired by his story and the opportunities he had to impact the lives of his patients while showing compassion for those he cared for. From that moment on, Dr. Aguayo knew she wanted to be a physician.
Dr. Aguayo — an alumna from the UA College of Medicine – Phoenix Class of 2016 — recently graduated from the Internal Medicine Residency Program at the college, where she has been a resident for three years. She will begin the next step of her medical career as a hospitalist at Banner Gateway Medical Center.
"I am so excited," Dr. Aguayo said. "I feel prepared to practice on my own and could not have asked for a better residency experience. However, I will miss all of my colleagues and attendings here at Banner – University Medical Center Phoenix. Residency has been a wonderful three years that has provided me with a great foundation of medical knowledge and principles for independent practice."
Residency Experience
"My overall resident experience was incredible," she said. "As I am getting ready to close this chapter of my life and start a new one, I look back at this part of my life with fondness. It is amazing to see how much I have grown as an individual, physician and health care provider. What I appreciate about my program is that they not only helped me grow as a physician, but they encouraged me to grow in other areas of my life — physically, spiritually, mentally and emotionally. I got married my intern year, and I felt supported in doing so. Being a doctor is a calling, but you still need to have other parts outside of residency that you enjoy."  
Favorite Memory from Residency
"One memory of residency was being called 'doctor' for the first time," Dr. Aguayo said. "Transitioning from medical student to a physician was such an incredible experience. The huge responsibility that you get entrusted with on that first day is a little overwhelming. I remember always feeling supported by my attendings and senior residents. I tried my best to impart that feeling to my interns when I became a resident."
How Has Residency Prepared You for Your Next Steps?
"Being able to train at a tertiary care center allowed for a lot of exposure to unique and complex pathology that perhaps other residents at other programs do not get the opportunity to see," she said. "I also felt like I was given appropriate autonomy in order to build my confidence in my medical decision making. By the end of my third year, I felt ready to practice on my own. Our program is blessed with amazing faculty that are both smart and compassionate. I have learned a great deal from them, and I am grateful to have had them as teachers. They have unique practice styles and different skills, which helped me shape my own practice toward patient care."
Topics
About the College
Founded in 2007, the University of Arizona College of Medicine – Phoenix inspires and trains exemplary physicians, scientists and leaders to optimize health and health care in Arizona and beyond. By cultivating collaborative research locally and globally, the college accelerates discovery in a number of critical areas — including cancer, stroke, traumatic brain injury and cardiovascular disease. Championed as a student-centric campus, the college has graduated 500 physicians, all of whom received exceptional training from nine clinical partners and more than 2,000 diverse faculty members. As the anchor to the Phoenix Biomedical Campus, which is projected to have an economic impact of $3.1 billion by 2025, the college prides itself on engaging with the community, fostering education, inclusion, access and advocacy.