---
Overview
The aim of the University of Arizona College of Medicine – Phoenix Internal Medicine Residency is to train the next generation of knowledgeable, compassionate and thriving physicians to provide high value care to our community in an area of clinical practice that they are passionate about, whether it is primary ambulatory care, hospital medicine, an internal medicine subspecialty or academic medicine.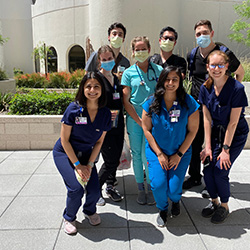 Our program serves an underserved, medically complex and diverse patient population in the heart of the beautiful city of Phoenix. As a mid-sized university program in one of the largest cities in the country, we offer robust training to residents through their participation in an innovative curriculum and clinical experiences at our two main clinical sites:
Banner – University Medical Center Phoenix: A quaternary referral hospital and Level I trauma center.
Phoenix Veteran's Administration (VA) Healthcare System: One of the largest and leading health care systems in the VA Desert Pacific Network.
We offer residents a flexible and customizable curriculum that focuses their training in the area of Internal Medicine they are passionate about, fosters curiosity and research, and centers wellness and a growth mindset. We prepare our graduates to create and implement reliable care practices that enhance quality and improve safety in their future career. Our residents receive exceptional training in a uniquely supportive and collegial program that prioritizes:
A commitment to excellence.
Resident wellness.
Educational innovation.
Promoting health equity.
Fostering a positive, diverse and inclusive environment and a close-knit resident community.
Ensuring residents are engaged in important work that aligns with our values of teamwork, personal and professional fulfillment & the ability to make a difference.
The importance of physician well-being in residency education is exemplified by our competitive salary structure and benefits, resident camaraderie, faculty mentorship and a commitment to remain engaged in advocacy and service opportunities. Workload control, a night float and back-up system, and resident involvement in program improvement plans all demonstrate our sense of community and respect for residents as our colleagues.
For those passionate about a career in ambulatory general internal medicine, we offer a Primary Care Track within our traditional Categorical Internal Medicine Residency program. Our goal for the Primary Care Track is to train general internists who demonstrate excellence in primary care, leadership, advocacy and the business of medicine. We are actively working to launch a Rural Health Track within our Categorical program as well.
We Offer Fellowships In
Follow Us on Social Media