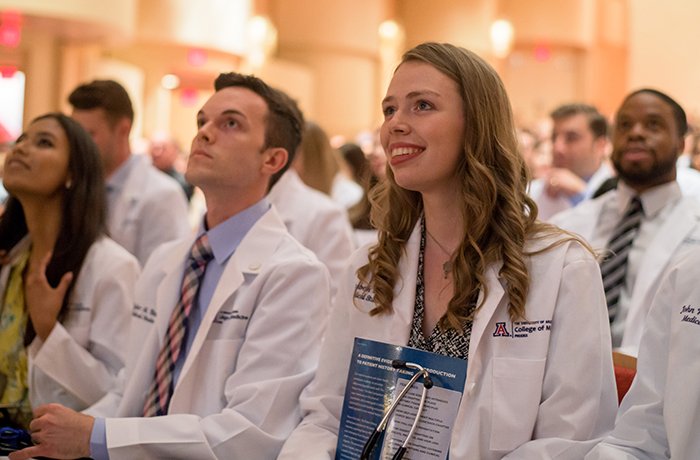 White Coat Campaign 2023 Raises Funds For Medical School Students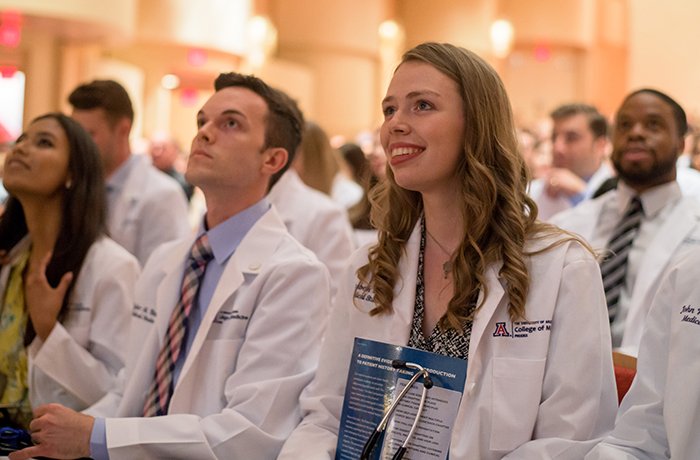 Goal is to Raise $30,000 to Support the White Coat Ceremony and to Fund Scholarships
The White Coat Ceremony is an honored tradition for new medical students as they start their careers in health care and begin their medical school studies. Guy Reed, MD, MS, dean of the University of Arizona College of Medicine – Phoenix, is asking community members to support future doctors who will care for us for the next 40 years. With your support through the White Coat Campaign 2023, these new medical students will go on to provide the backbone for our continued good health.
On Friday, July 19, 80 exceptional men and women will be welcomed into the University of Arizona College of Medicine – Phoenix family. That day, the Class of 2023 will receive their white coats, a rite of passage in their commitment to becoming a compassionate physician. The ceremony begins at 3:30 p.m. at Phoenix Symphony Hall in downtown Phoenix, 75 N. Second St. Doors open at 2:30 p.m.
You can invest in their dream by making a gift to the UA College of Medicine – Phoenix White Coat Campaign 2023. The College is raising funds toward a $30,000 goal to support the ceremony, the purchase of white coats and scholarships for students.
Scholarships attract the best students, recognize academic achievement and promote diversity among the student body. All of these efforts ensure a higher-quality education for our medical students. Needs-based scholarships make education attainable for those who require financial assistance, enabling students to focus on schoolwork and learning, rather than on just trying to survive. Scholarship funds benefit these students, giving them the opportunity that they so earnestly seek: to gain a medical education at this outstanding academic institution to better serve their communities.
For some of the best and brightest future doctors, the ability to pay for medical school is an overwhelming challenge. Scholarship support can help highly motivated, talented individuals overcome one of the biggest challenges to starting their careers: the cost of advanced professional training. The cost of a medical degree has more than tripled in the past 10 years. According to the American Association of Medical Colleges, the median debt for a medical student graduating in 2018 was $200,000, and nearly all medical students need financial support to complete their studies.
Any amount is welcome. So far, more than $15,000 has been donated. The goal is to raise $30,000 by August 1.
"Each member of the Class of 2023 brings with them a dream," said UA College of Medicine – Phoenix Dean Guy L. Reed, MD, MS, "a dream to improve health in their communities, a desire to serve others and a passion to make a difference.
"With your generous gift of support for this year's White Coat Campaign, these students will know that they are part of a community and supported by faculty and staff who are equally passionate about improving lives and building healthier communities," he said.
Every gift comes with a handwritten thank you note from a student. Gifts made by July 1 will be acknowledged with the donor's name in the White Coat Ceremony program.
Topics
About the College
Founded in 2007, the University of Arizona College of Medicine – Phoenix inspires and trains exemplary physicians, scientists and leaders to optimize health and health care in Arizona and beyond. By cultivating collaborative research locally and globally, the college accelerates discovery in a number of critical areas — including cancer, stroke, traumatic brain injury and cardiovascular disease. Championed as a student-centric campus, the college has graduated 500 physicians, all of whom received exceptional training from nine clinical partners and more than 2,000 diverse faculty members. As the anchor to the Phoenix Biomedical Campus, which is projected to have an economic impact of $3.1 billion by 2025, the college prides itself on engaging with the community, fostering education, inclusion, access and advocacy.