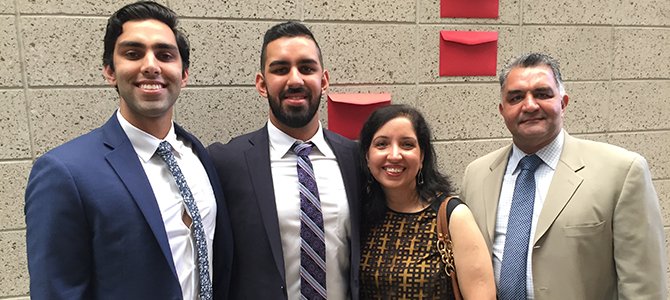 White Coat Profile: Arjun Johal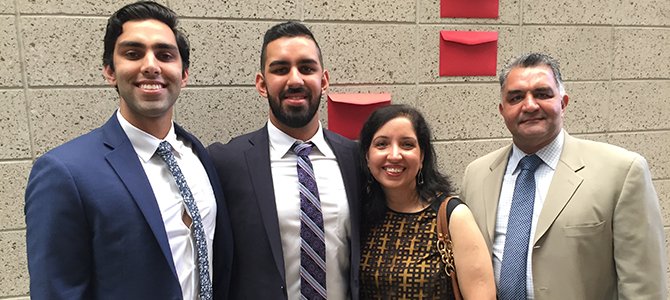 Student Pursues Medicine to Become Researcher, Teacher and Healer in the Community
The White Coat Ceremony marks the first time a medical student will don his or her white coat, the defining symbol of a physician. The coat bestows a great honor, and with it comes a responsibility to uphold the trust of every patient they will encounter. The Class of 2023 will receive their white coats Friday, July 19, during a ceremony that begins at 3:30 p.m. at Symphony Hall in downtown Phoenix.
Meet Arjun Johal
Growing up, Johal wanted to be a journalist. He was interested in stories and the nuances of human behavior as it related to science and the facts motivating that behavior, but never saw medicine as his calling. That was until he began his undergraduate degree at the University of California Santa Barbara and began to work at a local radio station. As a reporter, he produced and hosted a weekly show that discussed news and special interest topics told through the lens of personal narratives.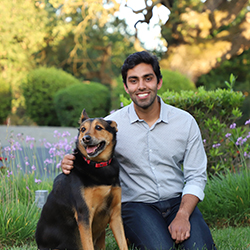 "Throughout my reporting, I found the stories that interested me the most were the ones related to health care, particularly disparities in health care," Johal said. "Why were certain groups receiving not only less, but also worse care than other groups? While that question is obviously incredibly complicated, and there's no easy answer, exploring it exposed me to the work health care workers are doing at every level to try and combat it in a multitude of settings."
Johal added, "Seeing how each diagnosis and treatment could drastically shape the course of a patient's life emphasized to me that medicine is in fact the blend of science and narrative that I'd been searching for and inspired me to pivot from journalism to a career as a physician."
Johal changed his major and graduated with a bachelor's degree in biochemistry. He grew up in Northern California and went to Miramonte High School in Orinda. In his spare time, Johal loves running and has done a full or half marathon every year since 2013.
Choosing the College of Medicine – Phoenix
There are so many reasons why Johal chose the College of Medicine – Phoenix. He says a few of the reasons include its innovative curriculum and early clinical experience to the diverse and wide-ranging communities, but if he had to pick just one thing, it would be the culture.
"There was a very close-knit and familial feel between all the current students and faculty that you don't feel at other schools," he said. "It felt like everyone was working together collaboratively to support each other and learn both in the classroom and in the community."
Johal also has family who confirmed all of this for him. His brother, Kevin, graduated from the College of Medicine – Phoenix in 2017.
"He's told me countless times how the school does an excellent job of selecting a class that fits together like a family and forms the bedrock of the support you need over the next four years," Johal said. "I've also seen how the faculty go above and beyond to make sure the students are well supported and do everything they can do to help them achieve their goals."
Volunteer and Research Experience
Johal spent the past year doing research at University of California San Francisco, developing a mobile phone application that can differentiate skin cancer from normal spots using the camera on a cell phone. It's designed to reduce complications by speeding up the process from diagnosis to treatment to cancer free.
"It truly amazes me what's possible with modern technology, and I think this sort of thing is just the tip of the iceberg," he said. "I'm incredibly excited as a future physician to be part of a generation that has access to and can develop new technologies and therapies to ensure people not only have better care, but that everyone has access to it."  
What does the white coat mean to you?
"The white coat is like a blank page that begins my story as a physician," he said, "a story whose chapters will be defined by the teachers and mentors that help me along the way, by the communities and patients I serve and the classmates and colleagues who I will grow with. It's a reminder that as long as I wear the white coat, there will be opportunities to grow as a physician to better serve all those that I care for. It's a symbol that's equal parts humbling and inspiring, that affirms all that I've done and will continue to work toward."
Topics
About the College
Founded in 2007, the University of Arizona College of Medicine – Phoenix inspires and trains exemplary physicians, scientists and leaders to optimize health and health care in Arizona and beyond. By cultivating collaborative research locally and globally, the college accelerates discovery in a number of critical areas — including cancer, stroke, traumatic brain injury and cardiovascular disease. Championed as a student-centric campus, the college has graduated 500 physicians, all of whom received exceptional training from nine clinical partners and more than 2,000 diverse faculty members. As the anchor to the Phoenix Biomedical Campus, which is projected to have an economic impact of $3.1 billion by 2025, the college prides itself on engaging with the community, fostering education, inclusion, access and advocacy.