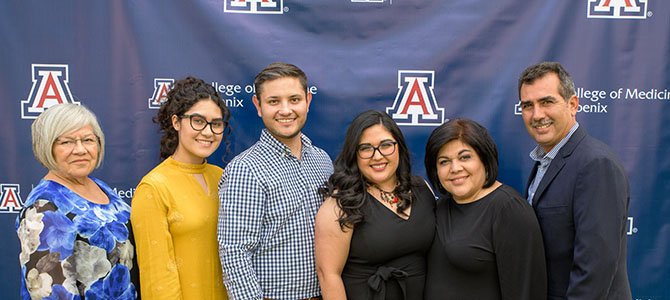 White Coat Profile: Estefania Lopez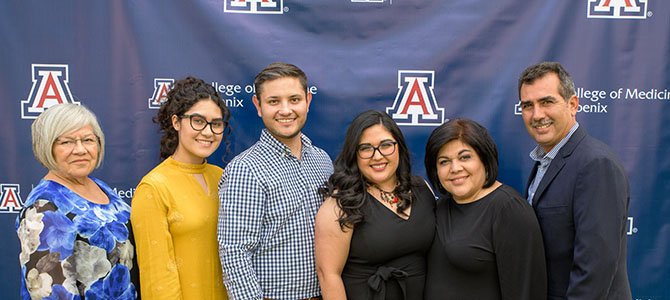 Communication and Cultural Barriers in Medicine Allow Pathways Scholar to Discover Her Calling
The White Coat Ceremony marks the first time a medical student will don his or her white coat, the defining symbol of a physician. The coat bestows a great honor, and with it comes a responsibility to uphold the trust of every patient they will encounter. The Class of 2023 will receive their white coats Friday, July 19, during a ceremony that begins at 3:30 p.m. at Symphony Hall in downtown Phoenix.
Meet Estefania Lopez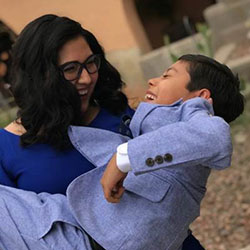 Her story starts with her parents, who are from the border town of San Luis, Mexico. Through her father's job, they were offered citizenship in the U.S. At the time, Lopez's mother was pursuing an undergraduate degree in Mexico, but sacrificed her studies to provide her family with the "American dream."
Lopez suffers from asthma and a severe peanut allergy, which often left her sitting inside with her nebulizer next to her, watching from the window as her cousins lit fireworks in the middle of the dirt road in Mexico.
She was diagnosed with a peanut allergy as a child after her throat became swollen and she had trouble breathing. Her mother took her to a hospital in Mexico and she subsequently went to the U.S. for a follow-up appointment with a primary care physician. Her mother understands English, but did not have good speaking abilities, so she was assigned an interpreter who described Lopez's allergic reaction as a mild rash instead of a severe breathing issue. The inability to communicate with the physician made her feel frustrated and defeated. This wasn't the first time it happened, and it wasn't the last, but it was what inevitably led the family back to Mexico to seek treatment.
"In Mexico, they would listen to us, understand our culture, speak our language and most importantly, explain what was going on and why," Lopez said. "This is one of my biggest motivators for me to become a bilingual physician. I want to be there for those patients who are underserved, who need to be heard and empower them when they seek health care. I want to be able to bridge the gap for these families to help them understand and be involved in their care."
Lopez received a bachelor of science in biochemistry, a bachelor of arts in Spanish translation and interpretation, and a master of medical studies from the University of Arizona. She graduated from San Luis High School in San Luis, Arizona.
Support System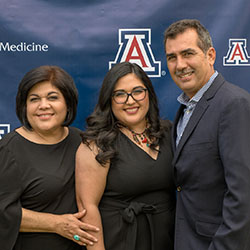 Lopez's support system is first and foremost her family.
She asked her mother how she will feel when her daughter dons a white coat for the first time. She said her mother started to tear up, saying it means "everything for all the hard work, the sleepless nights and the sacrifices that everyone has made."
"They have given up so much for me to have this life, and you can't just say thank you. That's not enough," Lopez said.
Pathways Scholar Program
Lopez was part of the 2018 cohort of the College of Medicine – Phoenix Pathway Scholars Program for Arizona residents who desire to pursue a career in medicine. The program is designed for students who have experienced unique or greater-than-average challenges in preparing to become a competitive medical school applicant.
Lopez said she applied to the program because it highlights people from rural areas and who are from underrepresented minority groups.
"It really embodies the type of physician I want to be and the type of physicians I want to surround myself with," she said. "This cohort of (Pathway) students is incredibly diverse and has become my family. I couldn't imagine my path to medicine being any different."
What does the white coat mean to you?
"It's an honor and a privilege and it shouldn't be taken for granted," Lopez said. "It symbolizes a reminder to first and foremost respect your patients, their families, everyone around you and to respect the profession. To me and to my family, it is an opportunity to be able to move one step closer to my dream of becoming a physician and to be able to serve the community."
About the College
Founded in 2007, the University of Arizona College of Medicine – Phoenix inspires and trains exemplary physicians, scientists and leaders to optimize health and health care in Arizona and beyond. By cultivating collaborative research locally and globally, the college accelerates discovery in a number of critical areas — including cancer, stroke, traumatic brain injury and cardiovascular disease. Championed as a student-centric campus, the college has graduated 593 physicians, all of whom received exceptional training from nine clinical partners and more than 2,400 diverse faculty members. As the anchor to the Phoenix Biomedical Campus, which is projected to have an economic impact of $3.1 billion by 2025, the college prides itself on engaging with the community, fostering education, inclusion, access and advocacy.