Scholarly Activity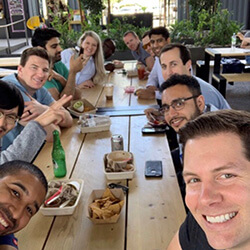 Since the inception of the Cardiology Fellowship, the program has published more than 500 papers, abstracts, chapters in textbooks and other materials in literature. Additionally, fellows in our program have presented at major cardiology conferences, including ACC, TCT, AHA and the European Society of Cardiology Conference. Research opportunities are available at both Banner – University Medical Center Phoenix and the Phoenix VA Medical Center.
Scholarly Retreats/Events
A yearly fellows' retreat takes place in the fall. In addition, the hospital wellness group sponsors a special fellows' event, and we celebrate at our annual graduation event.
Special Program Benefits
Access to the physician's lounge with free breakfast, lunch and snacks.
Access to AZ-HIN and UA College of Medicine library resources.
Access to ACC learning materials and more.
Daily noon conference provided by faculty and fellows.
Monthly Grand Rounds with speakers invited through the fellows' suggestions.