Commencement Profile: Maya Patel
Patel's path to become a doctor was fueled by the tremendous care provided to her nonagenarian grandparents
On Monday, May 9, the University of Arizona College of Medicine – Phoenix will hold its 12th Commencement. Led by a pipe and drum corps, the Class of 2022 will process through downtown Phoenix, finishing at the Phoenix Convention Center for their official ceremony. The day marks the beginning of the next phase in their journey as physicians. The college profiled a series of graduating students to commemorate the milestone.
Meet Maya Patel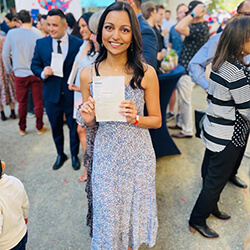 Maya Patel is a Phoenix native; she has lived in the Valley her entire life, even attending undergrad at Arizona State University (ASU). She graduated from ASU with a bachelor's degree in Global Health, before earning a master's degree in the Science of Health Care Delivery.
For Patel, it has been a privilege to attend medical school in her home state and to learn from the community that shaped her into the person she is today.
Medical school can be daunting for both students and their loved ones. It requires patience, sacrifice and diligence, and Patel is grateful that she had such a strong support system to guide her through the highs and lows of the last four years.
Path Toward Medicine
What was the spark that led you to become a physician?
I was exposed to medicine at a young age, as many of my family members are in the health care field. However, I credit my grandparents with being the most influential people in sparking my interest in medicine. By living alongside my grandparents throughout my life, I witnessed them transition from being caregivers to being cared for.
In high school and college, I spent many days in emergency rooms and rehabilitation hospitals as my grandparents endured one ailment or surgery after another. Each time, I observed the physicians do their best — not to restore them to their prior state of existence, but rather to a new baseline to maximize quality-of-life.
They built powerful connections with my family and me when we were at our most vulnerable, I realized that it was a true privilege to care for patients at such a personal level. Now, my grandparents are 99 years old and 92 years old, and they are so excited to watch me graduate from medical school!
Match Day
On Match Day, what was it like discovering where you were headed for residency?
Match Day was surreal! I was surrounded by so many friends and family, and I felt this overwhelming wave of emotion and relief after learning that I matched at Emory University. My sister and brother-in-law live in Atlanta, and it is such a blessing that I get to continue my training at an incredible institution close to my support system.
What's Next?
What excites you most about your upcoming residency? Where are you headed?
I will be headed to Emory University for Internal Medicine! I am so excited to be at an institution that prioritizes social medicine, advocacy and global health. Atlanta is a very diverse city with a large underserved population, and I am eager to learn and grow within that community.
The College of Medicine – Phoenix Culture
Looking back, what's your favorite medical school memory?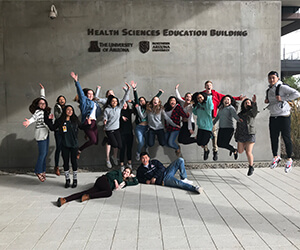 It is so hard to choose one favorite medical school memory! Some of my favorite memories include the Global Health trip to the Dominican Republic and a class "Friendsgiving" that we had as first-year medical students. Almost every single person in the class attended, and we had a large potluck. Most recently, after not having the opportunity to be in-person as a class since the start of the pandemic, it was so exciting to see all my classmates together again at the Scholarly Project Research Symposium. We finally had the chance to mingle with each other, meet some of the students from other classes and reconnect. Our class also had a picnic together at the park afterwards, and it was a wonderful way to decompress!
About the College
Founded in 2007, the University of Arizona College of Medicine – Phoenix inspires and trains exemplary physicians, scientists and leaders to optimize health and health care in Arizona and beyond. By cultivating collaborative research locally and globally, the college accelerates discovery in a number of critical areas — including cancer, stroke, traumatic brain injury and cardiovascular disease. Championed as a student-centric campus, the college has graduated more than 800 physicians, all of whom received exceptional training from nine clinical partners and more than 2,700 diverse faculty members. As the anchor to the Phoenix Bioscience Core, which is projected to have an economic impact of $3.1 billion by 2025, the college prides itself on engaging with the community, fostering education, inclusion, access and advocacy.