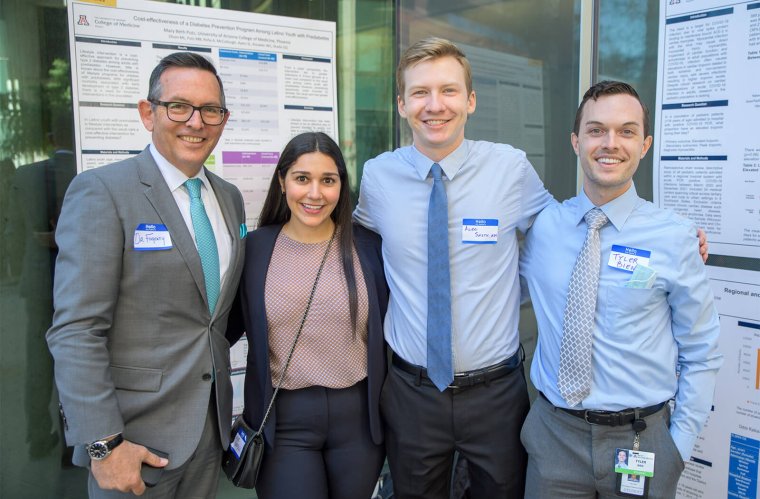 Graduating Medical Students Present Their Research at Annual Scholarly Project Symposium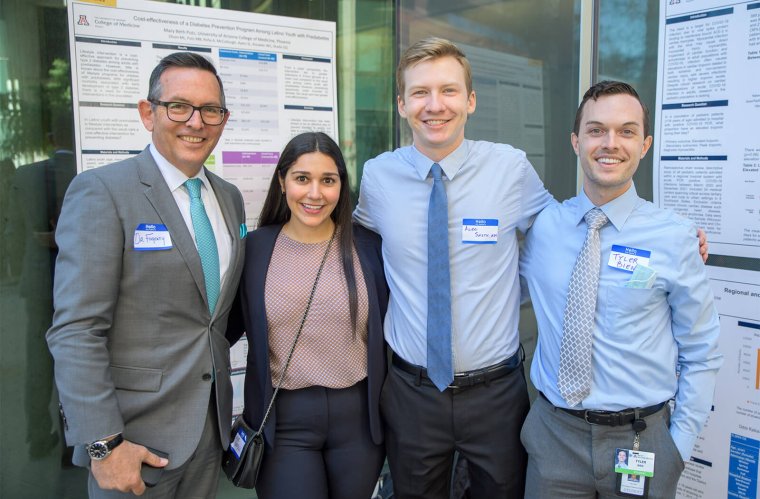 Project Prepares Students to Review and Conduct Scientific Research Throughout Their Careers
Over the course of their medical school journey, students at the University of Arizona College of Medicine – Phoenix complete a publishable, hypothesis-driven, data-supported Scholarly Project.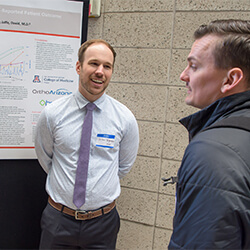 The projects from the Class of 2022 were presented at the 12thAnnual Scholarly Project Student Research Symposium March 9.
"Completion of a scholarly project during medical school provides these future physicians with insight regarding the inner workings of research that will enable them to better judge how to apply the results of published studies to the care of their future patients," said J. Stephan Stapczynski, MD, a Scholarly Project advisor.
Medical science and clinical practice continuously evolve, requiring today's physicians to review the latest literature and determine how it applies to their care of patients. More than 70 students presented findings from their research in pediatrics, cardiology, infectious disease, women's health and other specialties.
The event — which is open to faculty, staff, fellow students and the community — is a forum for attendees to engage with the medical students, inquiring about their projects and its results. The UArizona College of Medicine – Phoenix remains one of  a few  medical schools in the country to require a four-year, longitudinal project with a final thesis component. Nearly one-third of medical schools require demonstration of scholarly activity, which can take on a myriad of forms; about 57 percent require some form of a research project.
Working closely with mentors, students develop skills in medical information literacy, research methodology, evidence-based medicine and ethical standards related to scholarly inquiry and effective communication.
Their posters were lined throughout the first floor and lobby of the Health Sciences Education Building and into the outdoor canyon area.
Due to the ongoing COVID-19 pandemic, oral presentations — generally hosted by a select few medical students — were not conducted as they have been in years past. Instead of students lecturing to an audience in one of the college's learning spaces, they recorded video presentations that were shared on the symposium's website. Along with the oral data blitzes, each of the posters are available for online viewing.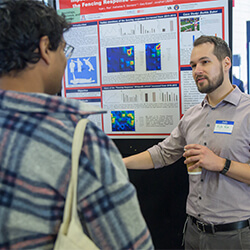 The scope of the research required for the college's Scholarly Project and its relative uniqueness has made it an area of distinction for the college, as well as a differentiator for medical students applying to residency.
"What we have seen from candidates interested in our medical school — especially since their first board exam, Step One, has gone to pass/fail — is a need for them to separate themselves. Separate in a sense of showing they are a competitive medical student and, ultimately, a competitive applicant for residency programs," said Glen Fogerty, PhD, MBA, associate dean of Admissions and Recruitment. "As we are only one of a handful of medical schools with this requirement, we enjoy giving our students this competitive advantage," he added.
Several future physicians shared what they learned from the research process; what the outcome of their research was; and how they felt it will make them better physicians.
Our Students' Research
About the College
Founded in 2007, the University of Arizona College of Medicine – Phoenix inspires and trains exemplary physicians, scientists and leaders to optimize health and health care in Arizona and beyond. By cultivating collaborative research locally and globally, the college accelerates discovery in a number of critical areas — including cancer, stroke, traumatic brain injury and cardiovascular disease. Championed as a student-centric campus, the college has graduated 745 physicians, all of whom received exceptional training from nine clinical partners and more than 2,700 diverse faculty members. As the anchor to the Phoenix Bioscience Core, which is projected to have an economic impact of $3.1 billion by 2025, the college prides itself on engaging with the community, fostering education, inclusion, access and advocacy.