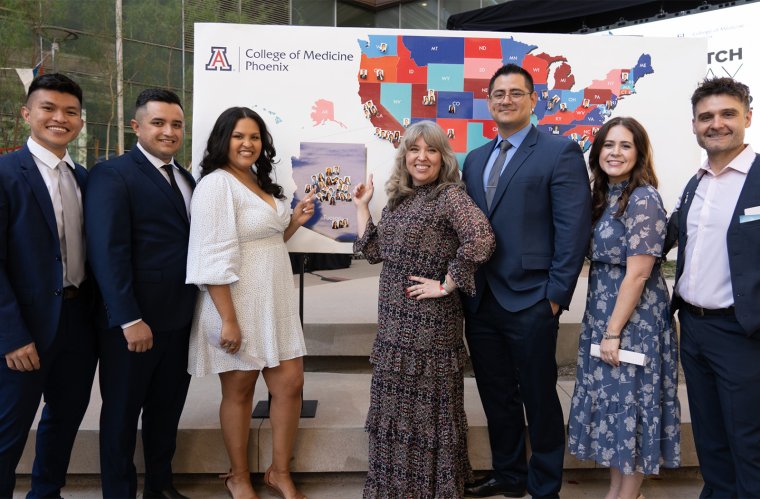 Commencement Profile: Valeria Vasquez and Jesus Sandoval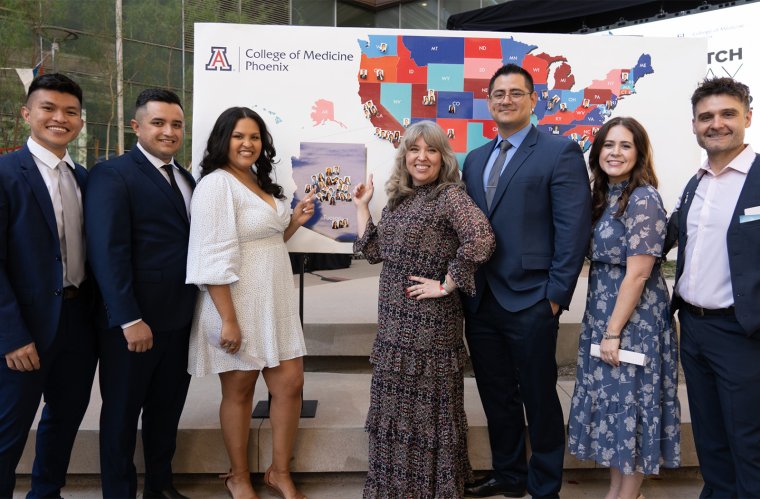 Dynamic duo shares a love for medicine and will continue their journey together as doctors
On Monday, May 9, the University of Arizona College of Medicine – Phoenix will hold its 12th Commencement. Led by a pipe and drum corps, the Class of 2022 will process through downtown Phoenix, finishing at the Phoenix Convention Center for their official ceremony. The day marks the beginning of the next phase in their journey as physicians. The college profiled a series of graduating students to commemorate the milestone.
Meet Valeria Vasquez and Jesus Sandoval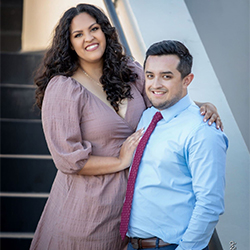 An Arizona native, Valeria Vasquez was born in Nogales before moving to the Phoenix Valley, where she resides in Mesa. She earned her bachelor's degree in psychology at Arizona State University (ASU).
Ever since she was little, Vasquez's parents would encourage her to learn and pursue all career paths that interested her. Her parents have been there for her every step of the way, whether it was award ceremonies and graduation or in difficult times when she felt overwhelmed.
Jesus Sandoval was born in Guadalajara, Jalisco, Mexico before he moved to Arizona, where he's lived for most of his life. He attended ASU and majored in biological sciences.
Sandoval has had an interest in medicine since high school, and he started working at the Wesley Community and Health Center as a Spanish interpreter. It was there he realized he enjoyed working with the underserved population and being part of patient care. Sandoval credits his wife, family and close friends as his biggest supporters.
Path Toward Medicine
What was the spark that led you to become a physician?
Vasquez: During my undergraduate career, I volunteered as a Spanish interpreter at the Wesley Community and Health Center. Seeing the family physicians at Wesley showed me I could combine my love for service, the medical field and psychology. This experience has always resonated with me, and I will continue reflecting on that time while I am in my family medicine residency.
Sandoval: The spark that led me to become a physician was when my father passed away during my freshman year in college. He was hospitalized for many months and, though the outcomes were not what we had hoped for, I appreciated the compassion and care the health care team had for my father. This motivated me to become a doctor and make an impact in both patients' and their families' lives.
Match Day
On Match Day, what was it like discovering where you were headed for residency?
Vasquez: Opening the planter to look for the letter and trying to read the results felt like the longest time; it was in mere seconds that I showed my expression of joy. My next thought was to look at Jesus for his results. I felt a sense of relief and excitement to know that we were both staying in Phoenix at our top programs.
Sandoval: Opening the letter on Match Day was a tremendous relief. Both Valeria and I were fortunate to match at our No. 1 rank. It was important for us to stay in Phoenix with our family and friends. We couldn't be happier with the results!
Matched Together
What does it mean to be able to take the next step in your journey together?
Vasquez: Jesus and I started our relationship as sophomores at ASU. We have been together for nine years, and we both knew that our goal was to become doctors. Once we were both in medical school, we were able to have someone to confide in that knew exactly what we were experiencing in this training. He has been my partner since the beginning, and I am so blessed to be able to continue this journey as physicians together.
Sandoval: It feels like we're finally starting our lives together, and we are achieving our goals, despite the years of delayed gratification. There are more challenges ahead, but I feel very fortunate to be at this stage of our training together. We have been through thick and thin throughout the years, even before medical school. We have seen each other grow and succeed.
What's Next?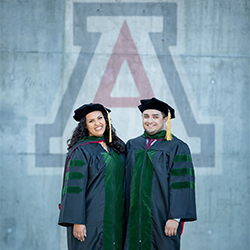 What excites you most about your upcoming residency? Where are you headed?
Vasquez: Seeing my No. 1 family medicine residency program — the UArizona College of Medicine – Phoenix — on my Match Day letter was reassurance that all the hard work, obstacles and dedication were worth it. Not only would I be going to my top program, but I would be able to go through residency with Jesus. I would be able to continue serving the community that I grew up with and accrue the skills to better improve my patients' health care.
Sandoval: Increased responsibility as a resident will give me greater ownership over my patients and gratitude to be a part of their care. I will be doing my preliminary year in internal medicine at UArizona College of Medicine – Phoenix and then diagnostic radiology at Creighton University.
The College of Medicine – Phoenix Culture
Looking back, what's your favorite medical school memory?
Vasquez: My favorite medical school memory must be in the pre-clerkship years. My friends and I would find a room in the library to study together. We built amazing memories that remind me of how important it is to have a good support system in this career.
Sandoval: One of my favorite memories was traveling with my wife and friends to the Latino Medical Student Association National Conference. We all had a great time together as we got to represent our medical school.
About the College
Founded in 2007, the University of Arizona College of Medicine – Phoenix inspires and trains exemplary physicians, scientists and leaders to optimize health and health care in Arizona and beyond. By cultivating collaborative research locally and globally, the college accelerates discovery in a number of critical areas — including cancer, stroke, traumatic brain injury and cardiovascular disease. Championed as a student-centric campus, the college has graduated 669 physicians, all of whom received exceptional training from nine clinical partners and more than 2,600 diverse faculty members. As the anchor to the Phoenix Bioscience Core, which is projected to have an economic impact of $3.1 billion by 2025, the college prides itself on engaging with the community, fostering education, inclusion, access and advocacy.