The Special Events Toolkit is designed to make your next event successful. Take advantage of the ideas, insights, best practices and guidelines it offers. Whether organizing a virtual or in-person event—or something in between—get familiar with the toolkit and then reach out to the Event Services manager.
Getting Started
Planning is essential. Recruit your team. Start early by defining goals and objectives. Keep in mind that content is always king. Offer powerful keynotes and breakout sessions. Develop a multi-channel, targeted marketing plan. Create a "run of show." Measure everything and hold a recap meeting.
Planning Timeline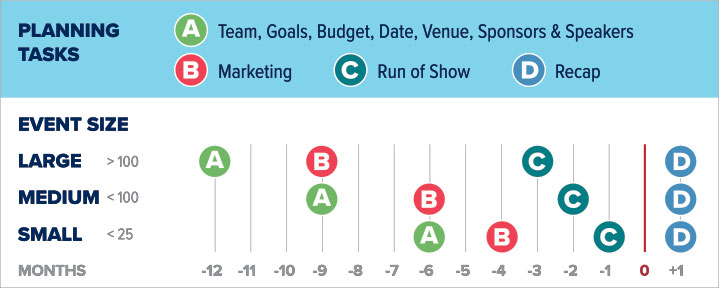 When to Connect with Event Services
After reviewing the Special Event Toolkit and researching further into topics of interest, it's time to connect with the Event Services Manager.
Work together to make reservations, manage Zoom Technology, assist with marketing & branding and much more. For a full listing of services offered, visit Service Listings.