The College of Medicine – Phoenix offers a wide variety of fourth-year electives that are designed to meet curriculum and graduation requirements. Electives are provided through Phoenix-area and out-of-state hospitals, medical centers and private practices.
There are also many opportunities statewide, nationally and internationally.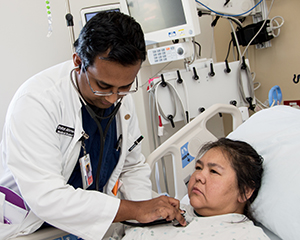 Graduation Requirements
Selectives – 8 Credits
Core Sub-Internship (4 Credits)
Critical Care (4 Credits)
Electives – 24 Credits
May include research, "away," independent study, Global Health electives or Rural Health electives.
May take additional selectives.
Policy Highlights
Maximum of two fourth-year courses may be two credits. No electives may be 1, 3 or  > 4  credits.
Maximum number of credits allowed in one subspecialty field is 16.
Maximum number of credits not directly supervised by University of Arizona College of Medicine – Phoenix faculty is 16.
Maximum number of non-clinical credits is 8.
Any exceptions to the above limitations must be approved by Director, Electives, Associate Dean of Clinical and Competency-Based Education, the Associate Dean of Student Affairs and the student's advisor.
See the complete policy: Credit Requirement Year 4
View the complete Student Catalog