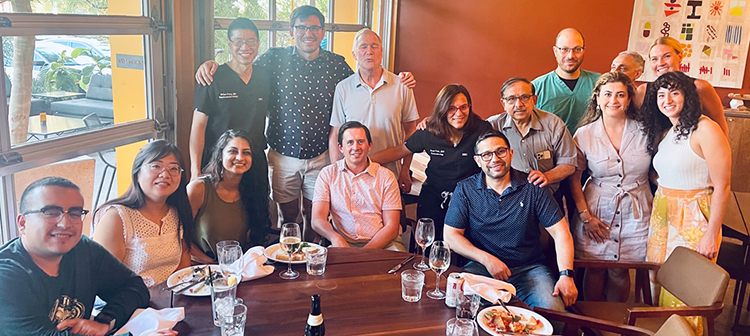 Our fellows receive a strong and comprehensive clinical foundation through direct patient care in diverse health care settings and extensive didactic sessions and conferences.
The Carl T. Hayden VA Medical Center in Phoenix provides state-of-the-art medical techniques and treatments to Arizona's Veterans, and it is nationally recognized for research and award-winning care. Our facilities include modern video endoscopy units, including endoscopic ultrasound. The motility lab offers cutting-edge computerized motility and pH-Impedance equipment.
The Banner – University Medical Center Phoenix (BUMCP) campus is the largest teaching hospital in the Southwest and widely recognized for its expertise in handling complex medical cases. In the 2015 annual U.S. News Best Hospitals Report, it was ranked second nationally of the hospitals in Arizona and was listed as high-performing in cardiology/heart surgery, gastroenterology/GI surgery, obstetrics/gynecology, neurology/neurosurgery, orthopedics and pulmonary care. The Banner Simulation System provides a place for health care providers to perfect their skill without touching a single patient. It is one of the largest and busiest centers of its kind in the United States and a cornerstone for introducing endoscopy to our new fellows.
Fellows spend significant time on the inpatient consult services, where they learn how to manage a wide array of GI and liver diseases. Fellows are expected to serve in a junior attending role to residents and students on service. Fellows also have extensive outpatient experiences, which include their weekly continuity clinics both at the VA and BUMCP. Fellows also receive six months of training devoted to transplant hepatology at BUMCP, the largest transplant center in the Southwest.
Fellows receive ample training in standard endoscopic procedures that far exceeds basic ACGME requirements. All procedures are performed under the direct supervision of a faculty attending. Additionally, senior fellows have significant exposure to advanced therapeutic endoscopy and endoscopic ultrasound procedures.
Didactics include:
Core Curriculum lectures.
Journal Club.
Radiology conference.
Pathology conference.
Surgery-GI conference.
Tumor Board.
GI Board Review.
Fellows Seminar.
All fellows are expected to engage in scholarly activities and quality improvement. Six months of fellowship are dedicated to research. Fellows will work under the guidance of their research mentor with the expectation of submitting their work for publication and presentation at national meetings.