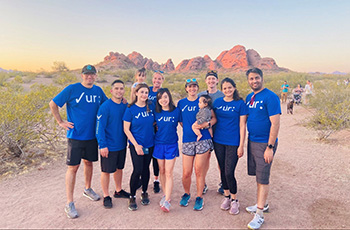 Weekly Mandatory Conferences
These occur one half day per week and include:
Introductory core lecture series at the beginning of the academic year.
Professor Rounds with the Chair of Medicine, Michael Fallon, MD.
Professor Rounds with the Chief of Gastroenterology and Hepatology Division, Wahid Wassef, MD.
Journal Club.
M&M.
Board Review: DDSEP.
Liver Lectures.
Liver Pathology.
GI Pathology.
GI Radiology.
IBD Conference.
Guideline Review.
Therapeutic Endoscopy.
Additional Conferences
Fellows also participate in the following conferences:
GI-Surgery Conference.
HCC Tumor Board.
Tumor Board.
Pancreas Conference (Advanced Endoscopy Rotation).
Liver Transplant Meetings (Hepatology Rotation).
Fellow Seminar (occurs six times per year).
Local Phoenix Gut Club.