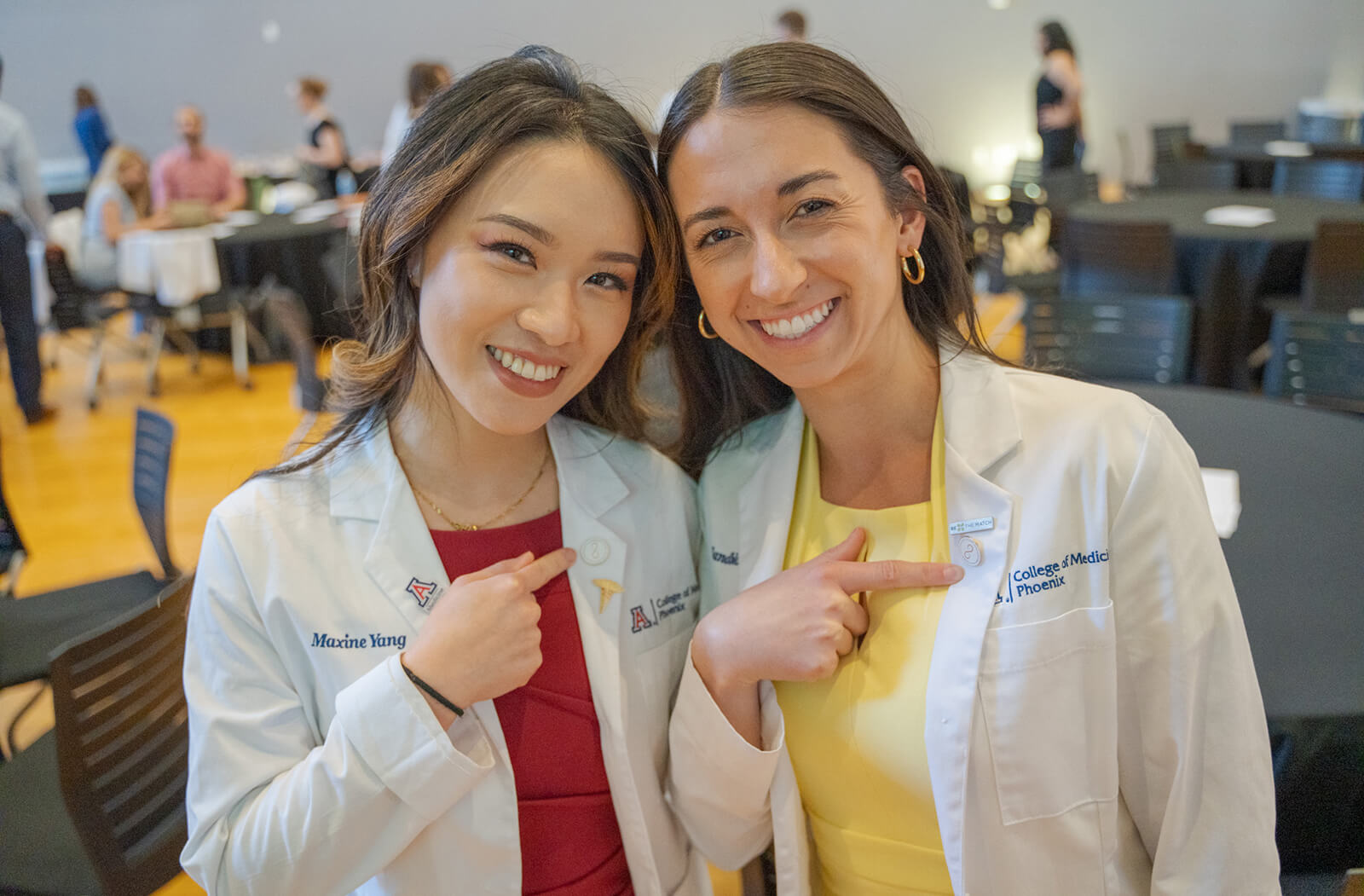 Students and Faculty Inducted into the Gold Humanism Honor Society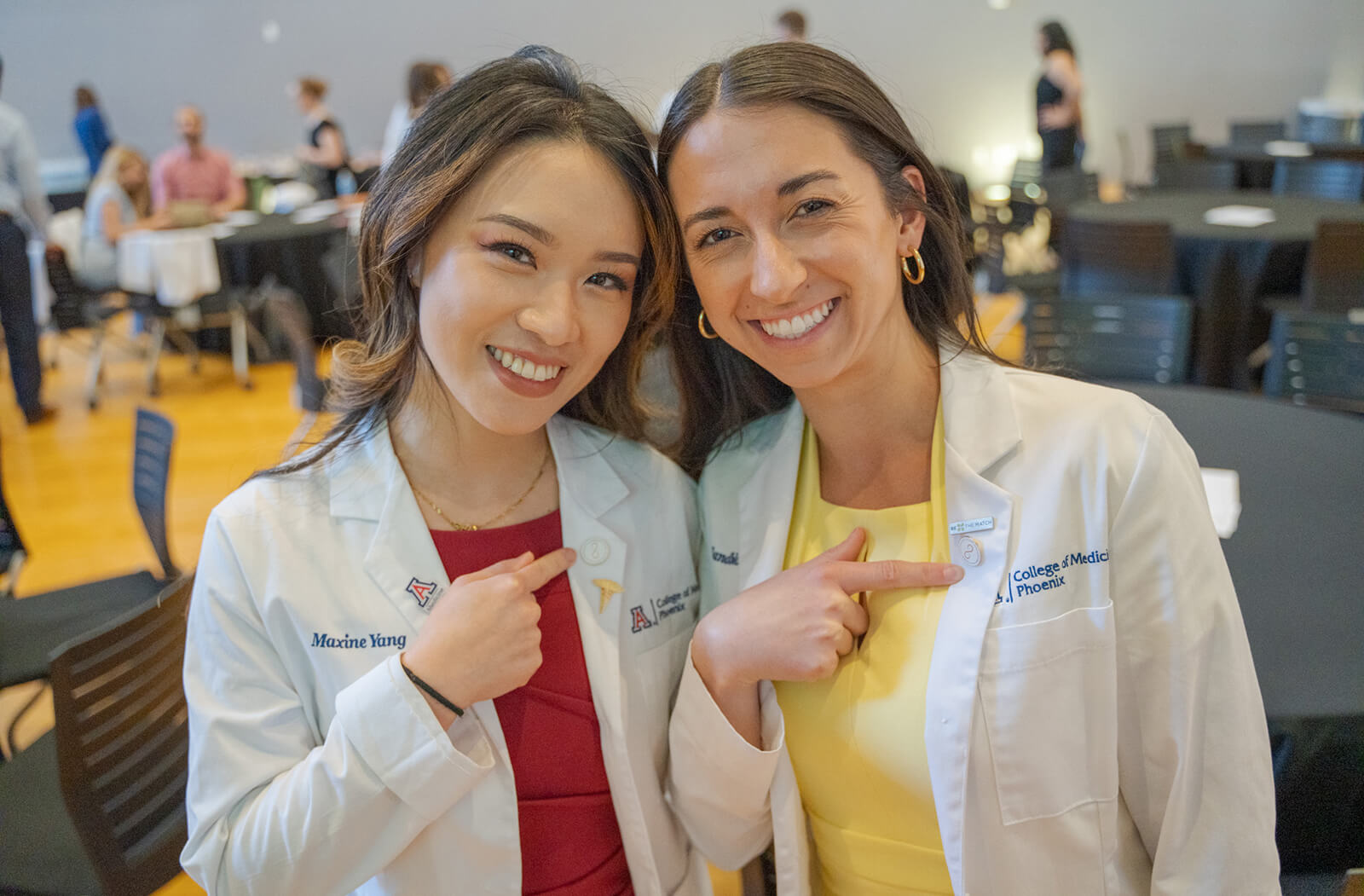 Fifteen students and three faculty members were selected for their acts of humanism in the world of medicine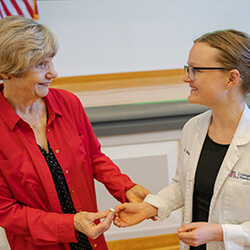 The University of Arizona College of Medicine – Phoenix hosted its annual Gold Humanism Honor Society (GHHS) induction ceremony to celebrate students and faculty who champion humanism in health care (photos from the event).
Elaine Niggemann, MD, an associate professor in the college's Department of Internal Medicine and advisor of the GHHS chapter, welcomed the Class of 2024 inductees into the organization.
"The members are selected as exemplars of empathy, compassion, altruism, integrity and service," Dr. Niggemann said. "One thing that's very nice about seeing this recognition is that it's bestowed on these 15 students by your peers."
The UArizona College of Medicine – Phoenix's GHHS chapter was established in 2010 and each year inducts the top 10-15% of the third-year students who are identified by their peers as exemplars of humanism in medicine.
The GHHS defines humanism in medicine as a respectful and compassionate relationship between physicians and their patients, as well as being sensitive to the values and the cultural and ethnic backgrounds of others.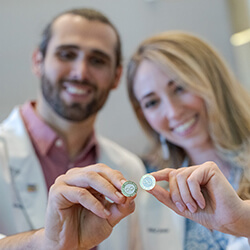 Isabel Strouse, who plans to specialize in family medicine, was one of the inductees. "A lot of us came into medicine for the humanity of it," Strouse said. "To be recognized for that passion and aspiration for service is a really nice feeling."
During the induction ceremony, students tied ribbons around a staff, originally gifted by the inaugural GHHS Class of 2011 inductees. One-by-one, students from each incoming class tie new colorful ribbons and bind them with previous classes.
The staff, which is made from a yucca stock native to the Arizona desert landscape, symbolizes a single serpent; in Native American tradition, the serpent is strongly associated with healing capabilities.
Stephanie Briney, DO, the associate dean of Student Affairs, served as the ceremony's keynote speaker and spoke about the importance of mental health and physicians setting aside time to take care of themselves.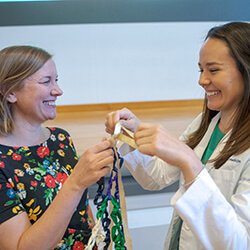 "When your needs are met and your well-being is the priority, you're able to show compassion for yourself and for others," Dr. Briney said. "Our community needs dedicated and altruistic caregivers like yourselves."
Another inductee was Erik Garber, who plans to specialize in family medicine. He said that the ceremony represents that medicine can never be only science; it needs to have a human connection, as well.
"It's such an honor to be here with my amazing classmates who were also inducted," Garber said. "It feels really good to know that health care will value compassion and empathy."
Congratulations to the following students:
Bernice Alcanzo.
Natalie Alteri.
*Marcus Childs.
*Claire Faulkner.
Eric Garber.
*Eshaan Kashyap.
Ashley Kern.
Mariana McCune.
Elen Mendoza.
Meher Rakkar.
*Lily Sandblom.
Isabel Strouse.
Likith (Lucky) Surendra.
Megan Vaughn.
*Maxine Yang.
Faculty members, Elise Barney, MD, Jesselyn Gaona, MD, and Kareem Raad, MD, were inducted for their compassion shown to patients, the students they teach and their colleagues.
---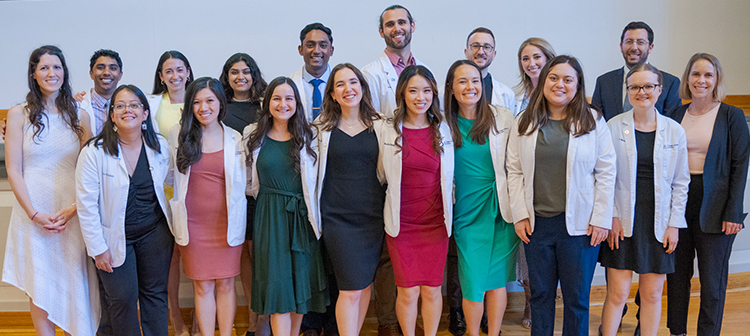 ---
*These students are completing the dual MD/MPH program.
About the College
Founded in 2007, the University of Arizona College of Medicine – Phoenix inspires and trains exemplary physicians, scientists and leaders to optimize health and health care in Arizona and beyond. By cultivating collaborative research locally and globally, the college accelerates discovery in a number of critical areas — including cancer, stroke, traumatic brain injury and cardiovascular disease. Championed as a student-centric campus, the college has graduated more than 800 physicians, all of whom received exceptional training from nine clinical partners and more than 2,700 diverse faculty members. As the anchor to the Phoenix Bioscience Core, which is projected to have an economic impact of $3.1 billion by 2025, the college prides itself on engaging with the community, fostering education, inclusion, access and advocacy.