Overview
The Department of Internal Medicine, chaired by Dr. Michael Fallon, is setting its sights on the future of academic medicine by building integrated clinical and investigative programs.
Through a partnership with Banner Health, we have developed specialized, multi-disciplinary Institutes, including endocrinology, cardiovascular, pulmonary, gastroenterology and solid organ transplantation. The innovative and integrated framework of each Institute allows physicians to work together to provide superb care, foster investigations and enhance education.
Another key focus for integration and expansion is the rich clinical and investigative partnerships that the University of Arizona College of Medicine – Phoenix has enjoyed with community physicians and collaborating institutions. These connections — including Valleywise Health (formerly Maricopa Integrated Health System), Phoenix Children's Hospital, Dignity Health, the Phoenix VA Health Care System, Barrow Neurological Hospital, Phoenix Baptist Hospital, Hospice of the Valley and Yuma Regional Medical Center — are essential for optimizing the education of medical students, residents and fellows and provide a broad platform for expanding investigations. The Department of Medicine is always looking to invest in new opportunities with the goal of improving patient care.
As a community of scholars, our research physicians and scientists are at the forefront of biomedical advances, ensuring the measurable advancement of disease prevention and cure. This is done by conducting leading-edge research; utilizing biomedical knowledge for discovery, integration and translation in the clinical setting; and partnering with direct care physicians, as well as health care providers.
The Department of Internal Medicine at the UA College of Medicine – Phoenix is comprised of the following divisions: Cardiology, Pulmonary/Critical Care and Sleep Medicine, Gastroenterology and Hepatology, General Internal Medicine, Geriatrics, Palliative Care, Endocrinology, Hospital Medicine, Infectious Diseases, Rheumatology, Dermatology, Medical Toxicology and Precision Medicine, Clinical Data Analytics and Decision Support, as well as Sports Medicine and Concussion.
Events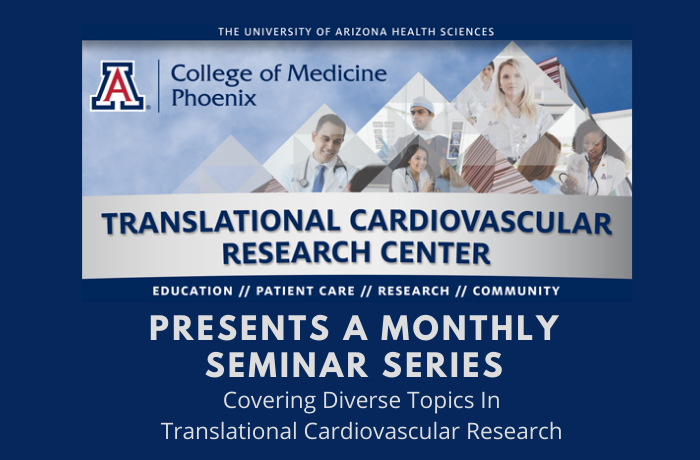 Faculty
December 13, 2023 | 12:00 PM to 1:00 PM
Heinrich Taegtmeyer, MD, DPhil, Professor, Cardiovascular Medicine