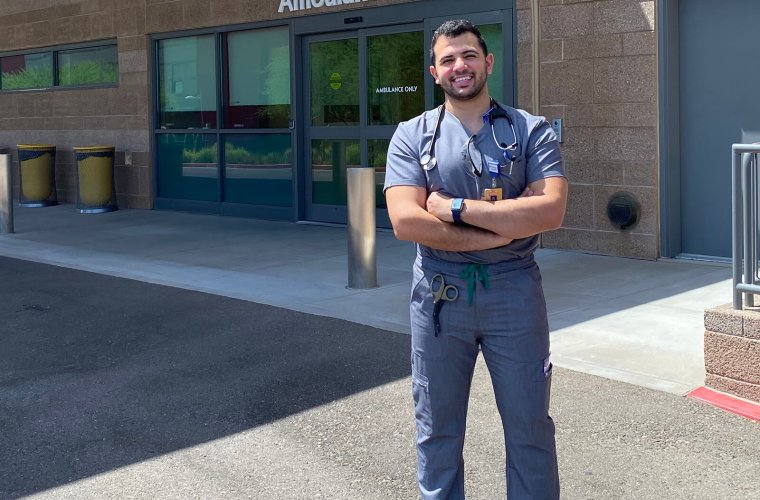 Match Day Student Profile: Mohammad Mousa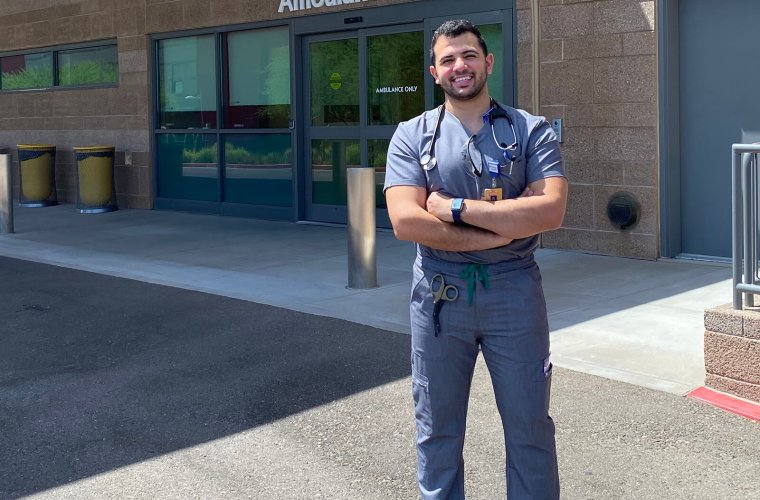 Every third Friday in March, medical schools across the United States send off their fourth-year medical students on the next chapter in their careers. On Match Day — the day an MS4 opens their coveted envelope to learn where they will spend the next several years as a resident-physician — is a long-awaited and well-deserved day to celebrate. The University of Arizona College of Medicine – Phoenix profiled several students for Match Day 2021.
Meet Mohammad Mousa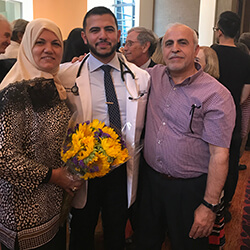 Mohammad Mousa had no trouble deciding where he wanted to attend medical school. In 2019, his older sister graduated from the University of Arizona College of Medicine – Phoenix and began residency in radiology at Mayo Clinic in Arizona. A proud member, and class representative of the Class of 2021, Mousa continues a family legacy of physicians. His younger brother is a first-year medical student and Wildcat physician in training.
Match Day is a proud milestone for him. Mousa matched in emergency medicine at the University of California, Davis.
"After Match Day, it starts all over again from ground zero," he said. "Yes, residency is the goal; however, there are other things that I'm interested in. I want to be more than just a physician," Mousa said. "I want to be a servant leader and physician advocate, who's a voice for the patient and for the community."
Students are encouraged to keep an open mind during their clinical rotations in the third year of medical school. Mousa initially thought his specialty would be surgery, but found emergency medicine to be a better fit. Working in the emergency department, he says, will allow him to see the depth of pathology, treat any condition and then stabilize patients.
Mousa and his family have a strong connection to their Palestinian heritage. As a first-generation American, he is acutely aware of the dearth of physicians and health care facilities available in many communities in Palestine.
"When I think about how doctors operate in the Middle East and about how they work typically in these rural cities, there are only two or three doctors for the entire community," Mousa said. He has seen firsthand how one physician there can operate as an emergency physician, a hospitalist and a pediatrician.
Because of his world view, he sees himself volunteering with organizations like Doctors Without Borders and pursuing disaster medicine, a subspecialty of emergency medicine.
"That puts me in a perfect position to work domestically and internationally. I see that in my future."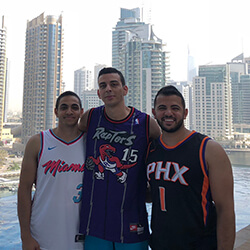 "In addition to initially postponing rotations, COVID-19 presented unique opportunities for him as one of several student leaders for the Class of 2021. He has been  part of the Arizona Department of Health Services Vaccine Planning Task Force and was published in Frontiers in Medicine on the Treatment of COVID-19: Perspective on Convalescent Plasma Transfusion. Throughout medical school, Mousa has been an active volunteer with the Wesley Community and Health Center for underserved individuals, involved in health policy at a local and national level, and has worked on numerous research projects.
"The AZDHS's [Arizona Department of Health Services] Vaccine Task Force has truly helped open my eyes to enormous cases of health care disparities within my own community. I understand the necessity for public health and hope to continue being an advocate for my community," he said.
About the College
Founded in 2007, the University of Arizona College of Medicine – Phoenix inspires and trains exemplary physicians, scientists and leaders to optimize health and health care in Arizona and beyond. By cultivating collaborative research locally and globally, the college accelerates discovery in a number of critical areas — including cancer, stroke, traumatic brain injury and cardiovascular disease. Championed as a student-centric campus, the college has graduated 669 physicians, all of whom received exceptional training from nine clinical partners and more than 2,600 diverse faculty members. As the anchor to the Phoenix Bioscience Core, which is projected to have an economic impact of $3.1 billion by 2025, the college prides itself on engaging with the community, fostering education, inclusion, access and advocacy.