Addiction Treatment Week Shines Light on Substance Use Disorders During Pandemic
Week-Long Initiative Generates Awareness of Disease and Pushes for More Clinicians to Enter the Field
In the midst of the COVID-19 pandemic, medical professionals continue to face another health care challenge of helping individuals who suffer from substance use disorders.
Opioids and other addictive substances like illicit drugs, alcohol and nicotine, have remained a constant struggle and the pandemic has led to an increased risk for relapses for those suffering from addiction.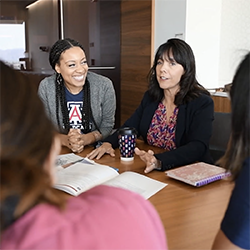 "The anxiety of the unknown and recommended social distancing has some patients isolating, which can be quite detrimental to their recovery," said Maria Manriquez, MD, director of the Undergraduate Medical Education Pain and Addiction Curriculum at the University of Arizona College of Medicine – Phoenix.
Dr. Manriquez and other faculty members at the UArizona College of Medicine – Phoenix have been actively building awareness during this time and participating in Addiction Treatment Week, which takes place from Oct. 19-25. The one-week initiative promotes that addiction is a disease, evidence-based treatments are available and recovery is possible. The week also highlights the need for clinicians to enter the field of addiction medicine.
Although the pandemic has created challenges in providing care, Dr. Manriquez said that state and national responses to deregulate some of the requirements for communicating with patients via phone or virtually has helped clinicians continue to treat patients in addiction medicine. She added that she hopes these deregulations continue for patients in many sectors of medicine who have patients that are in rural areas or struggle with transportation.
"Access to care for substance use disorder has historically been challenging, but restrictions, secondary to COVID-19, add additional barriers to meeting patients where they are in recovery," Dr. Manriquez said. "One very important tool has been the use of telehealth and virtual encounters. It has actually been positive in having patients attend their appointments and therapies."
Dr. Manriquez said that she has been encouraging her patients who suffer from substance use disorders to have virtual visits with family and to attend many of the support programs like a virtual 12-step program or take walks and get outdoors. She also says that family members should look out for warning signs like isolation, a change in personal care and sleep habits, needing money unexpectedly, and spending more time away from family.
"If your loved one is suffering from addiction remember to show empathy and avoid blaming or shaming them," Dr. Manriquez said. "Substance use disorders of any kind is a chronic relapsing disease. The sooner we approach it like we do diabetes or hypertension, which have chronic and relapsing potentials, the sooner we as a society can bring these individuals to good health."
To reduce the stigma around addiction, Dr. Manriquez suggests that the community has self-awareness and to be supportive. "Treat all people how you would like to be treated and most importantly, do not dehumanize a person," she said. "When we dehumanize individuals, it becomes easy to treat them as a number or a disease, not as the human they deserve to be treated as."
Topics
About the College
Founded in 2007, the University of Arizona College of Medicine – Phoenix inspires and trains exemplary physicians, scientists and leaders to optimize health and health care in Arizona and beyond. By cultivating collaborative research locally and globally, the college accelerates discovery in a number of critical areas — including cancer, stroke, traumatic brain injury and cardiovascular disease. Championed as a student-centric campus, the college has graduated more than 800 physicians, all of whom received exceptional training from nine clinical partners and more than 2,700 diverse faculty members. As the anchor to the Phoenix Bioscience Core, which is projected to have an economic impact of $3.1 billion by 2025, the college prides itself on engaging with the community, fostering education, inclusion, access and advocacy.