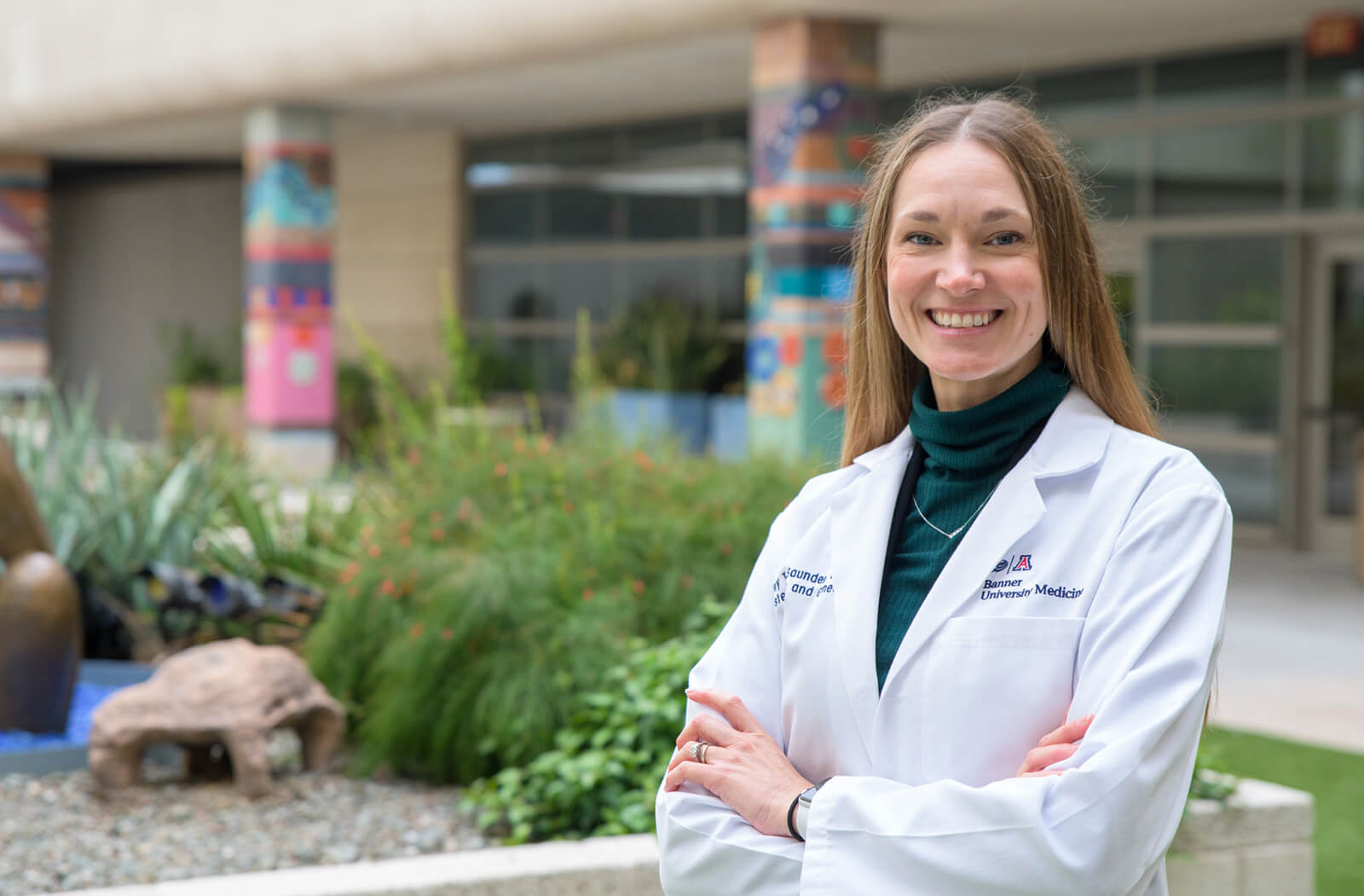 Alumni Profile: Kelley T. Saunders, MD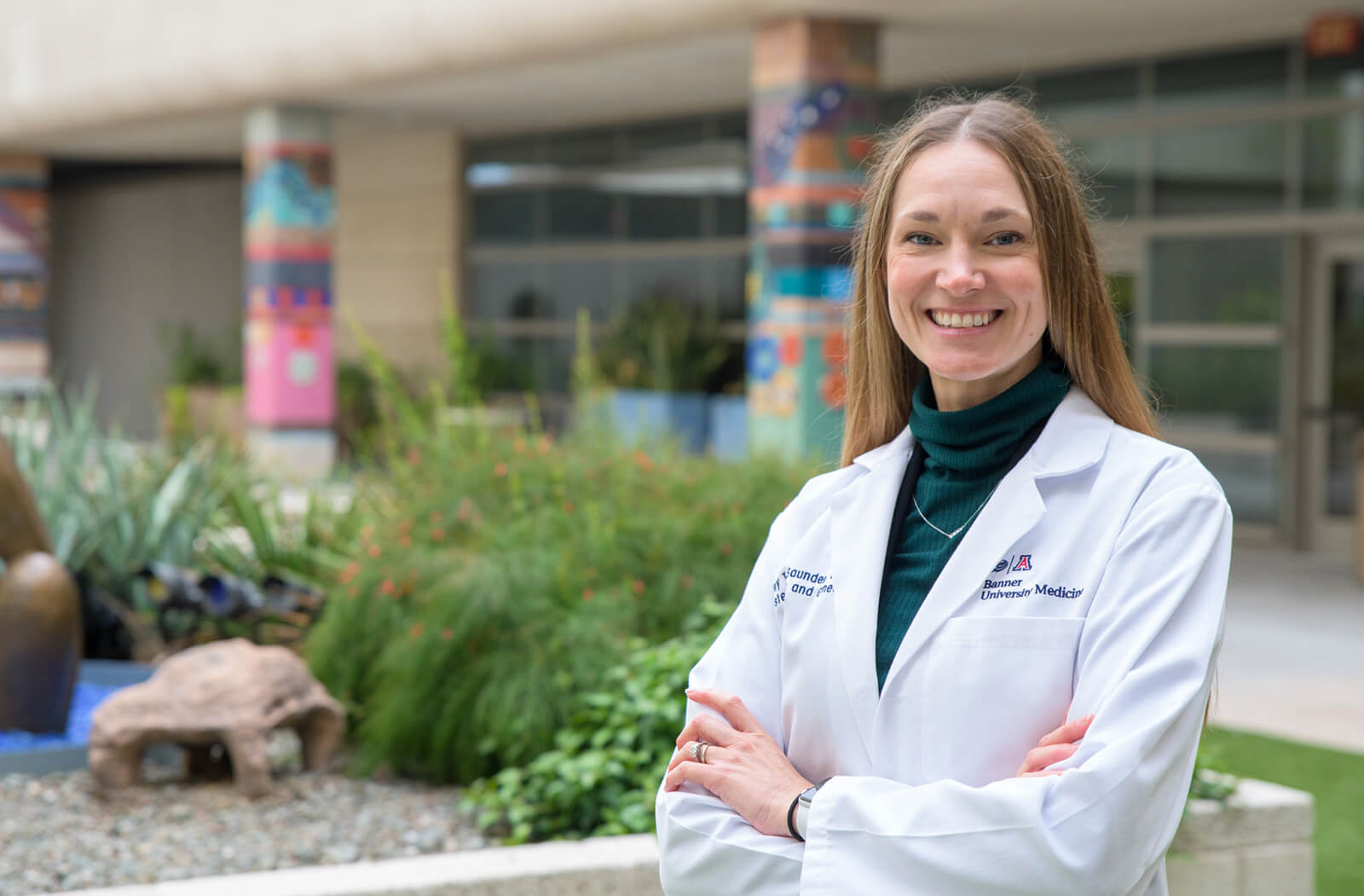 Her mother's battle with breast cancer inspired her career pivot to medicine
The path toward a career in medicine was not a linear journey for Kelley T. Saunders, MD.
Born and raised in a small town in Arkansas, Saunders moved to Phoenix in 2000 to attend Arizona State University (ASU), where she studied math, Japanese and women's studies.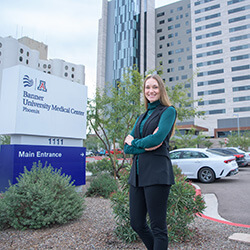 After graduating from ASU, Dr. Saunders started a career in wedding retail selling wedding dresses. Initially, she did not have an interest in medical school, but witnessing her mother's battle with breast cancer inspired Dr. Saunders to pursue a career in medicine.
"After my mom's second bout of breast cancer — when she was undergoing surgery and chemotherapy — I got to go home and help take care of her," Dr. Saunders said. "That was a really pivotal moment for me in thinking about what I wanted to do."
The experience led her to work and volunteer at Planned Parenthood. She also became active at Banner Alzheimer's Institute, where she worked in Alzheimer's disease research for three years before matriculating to medical school at the University of Arizona College of Medicine – Phoenix.
She entered medical school believing she would specialize in geriatrics, but her fellow classmates always thought she would wind up pursuing obstetrics and gynecology (OB/GYN). It wasn't until her third-year rotations that she realized they were right.
"I just fell in love and had so much fun delivering babies and taking care of women in the office and the operating room," Dr. Saunders said. "That's when I realized this is my passion and strength. I decided to go into women's health."
From there, Dr. Saunders went full speed ahead into OB/GYN. She matched into the OB/GYN Residency at the College of Medicine – Phoenix and is now the associate program director for the college's residency program.
Taking on medical school alone is no easy task. However, Dr. Saunders had to find, in her words, harmony in balancing medical school with her husband, toddler and newborn baby.
"Sometimes you have to focus on one string of your life, whether that is your family, your personal well-being or your work," Dr. Saunders said. "That was critical in training and now. I'm still learning and figuring out how to do it well."
Always seeking to learn, Dr. Saunders hopes to complete the integrative medicine fellowship at the University of Arizona College of Medicine – Tucson. She also wants to keep working with patients and help them throughout their medical journey.
"I very much enjoy training the next generation of both physicians as a whole and specifically women's health providers," Dr. Saunders said. "I think that has bigger implications for our community than I could have by taking care of any single patient."
About the College
Founded in 2007, the University of Arizona College of Medicine – Phoenix inspires and trains exemplary physicians, scientists and leaders to optimize health and health care in Arizona and beyond. By cultivating collaborative research locally and globally, the college accelerates discovery in a number of critical areas — including cancer, stroke, traumatic brain injury and cardiovascular disease. Championed as a student-centric campus, the college has graduated more than 800 physicians, all of whom received exceptional training from nine clinical partners and more than 2,700 diverse faculty members. As the anchor to the Phoenix Bioscience Core, which is projected to have an economic impact of $3.1 billion by 2025, the college prides itself on engaging with the community, fostering education, inclusion, access and advocacy.