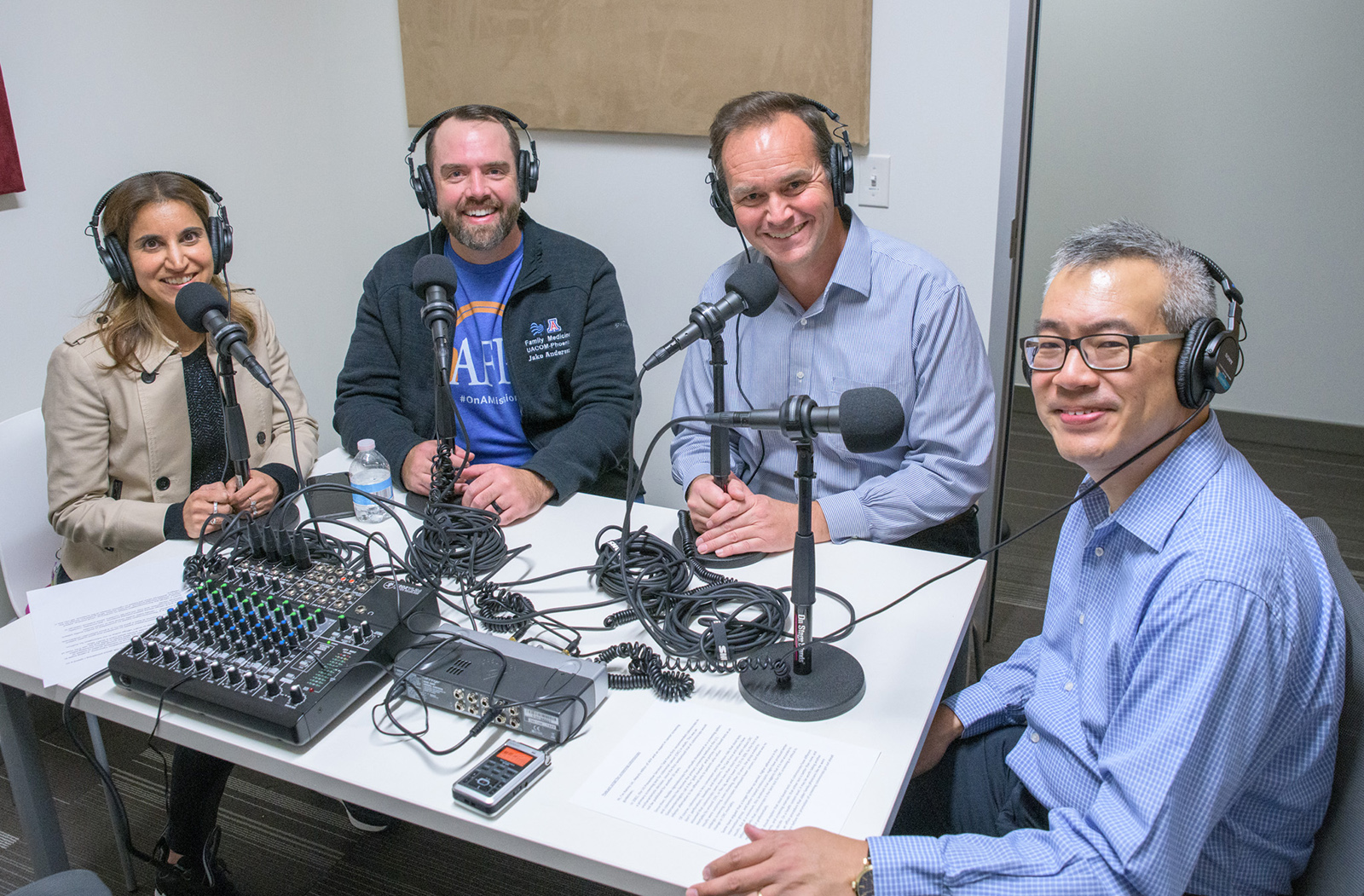 American Family Physician Podcast Eclipses Major Milestone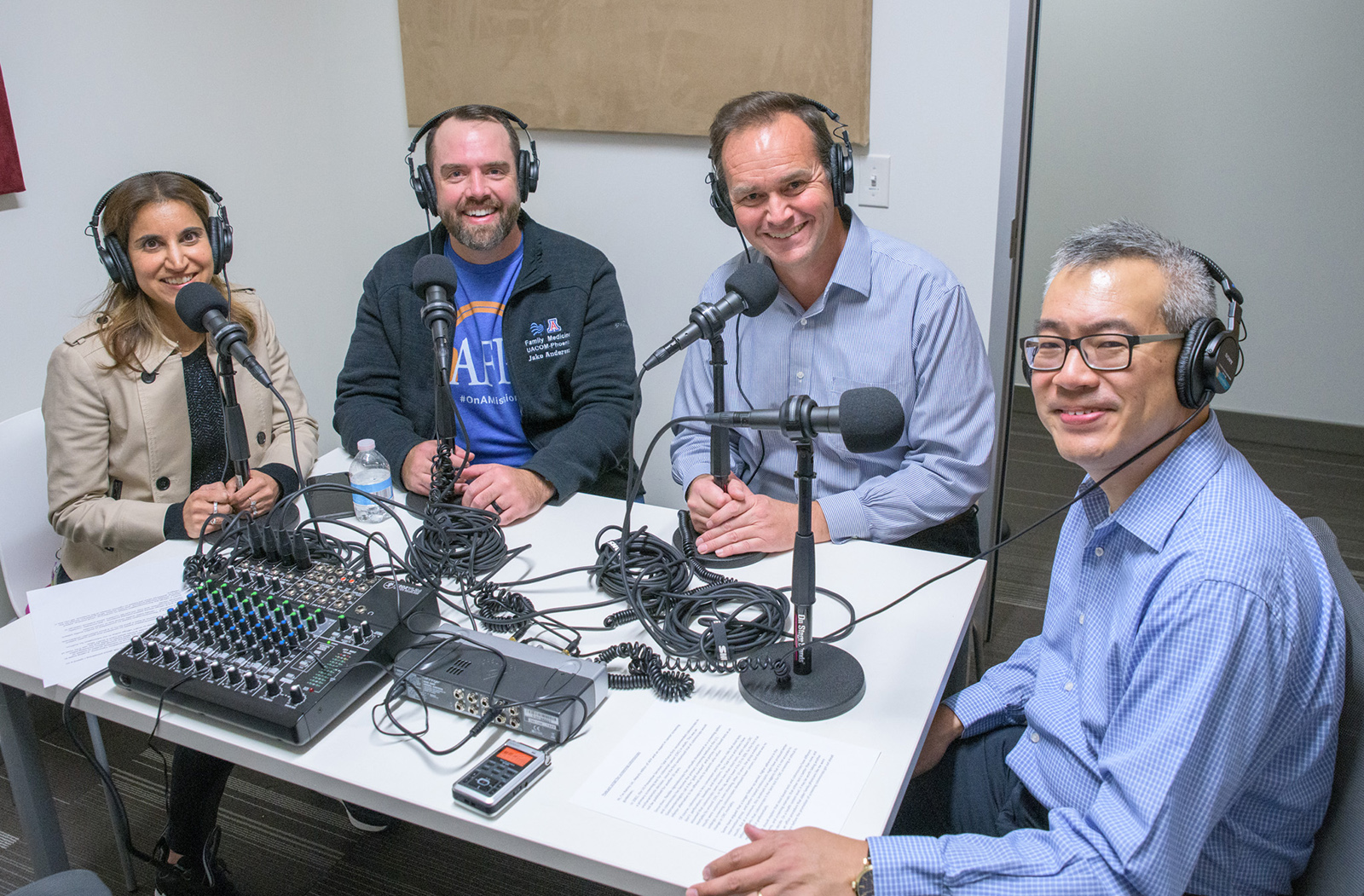 With thousands of listeners per month, the AFP Podcast serves as an invaluable source of information for physicians
Steven Brown, MD, the program director of the Family Medicine Residency, has always been one to embrace emerging educational trends. Thus, when he saw an opportunity to create meaningful discourse, he seized it. That opportunity: The award-winning American Family Physician (AFP) Podcast.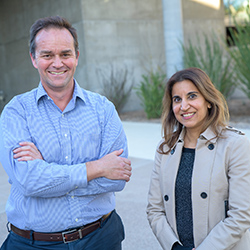 A collaboration between American Family Physician, the most-read journal in primary care, and faculty and residents of the University of Arizona College of Medicine – Phoenix Family Medicine Residency, the podcast enables the faculty editors and the residents to, in Dr. Brown's words, "Refine their skills in evidence-based medicine and become experts at communicating important medical information succinctly." More importantly, It also allows them to share those ideas with a wider audience. And share, they have.
Since December of 2015, Dr. Brown, co-editor Jacob Anderson, DO (pictured above to the left of Dr. Brown), and the rotating cast of residents have been streamed more than six million times, averaging more than 40,000 downloads per month. It is the #1 family physician podcast in the country. When the podcast crossed one million, Dr. Brown noted how intertwined podcasts were becoming with the evolving world of medical education. "With the emergence of new technology, changes in learning preferences and resident work-hour restrictions, asynchronous methods of education are increasingly relevant," he said.
At that time, it was estimated that 89 percent of emergency medicine residents listened to podcasts regularly, and 72 percent reported that podcasts had changed their clinical practice. For Dr. Brown, the proof of how beneficial his teams efforts have been are in the feedback they've received.
"We get great feedback from [medical] students, especially those telling us it is inspiring to hear our residents share their joy of the breadth of family medicine," he said. Some of the comments they've received have even guided topics for the show. "We have created special bonus episodes based on listener feedback — including one on anti-racism and one on advocacy," he noted.
Those comments are invaluable for Dr. Brown and his team. Above all, for him, the AFP Podcast should be credible — providing their listeners with unbiased and transparent takes on the topics covered in the journal. So far, they've been very successful. "The podcast has been an amazing addition to the journal. It's a way to reach our readers on a whole different level, especially our younger readers," said Sumi Sexton, MD, editor of the American Family Physician. "I know residents and students who only know of AFP through the podcast; or they may know about the journal, but don't have time to sit down and read it. They'll get the nuts and bolts from the podcast. We've gotten tons and tons of positive feedback."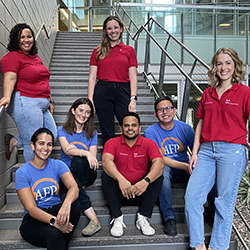 Dr. Sexton joined Dr. Brown on a tour of the college's Health Sciences Education Building to celebrate the podcast's recent milestone. The event also invited back former residents who co-hosted the show for a social gathering in downtown Phoenix. Now entering their eighth year of recording, Dr. Brown hopes that the podcast, "…Continues to inspire students, residents and practicing physicians to learn about breadth of family medicine and the joy of practicing primary care in a wide range of settings."
And they plan to continue evolving how the podcast is presented. Recently, they "…Included the student and resident members of the American Family Physician editorial board on the podcast for guest segments," Dr. Brown said. That is just one step in how the plan to keep innovating for the future.
The first episode of the AFP Podcast was released in December 2015, but they began tracking their metrics in May 2016. To date, there have been 169 episodes. The 2022-2023 Season 8 podcast resident co-hosts are (pictured above standing, left to right) Serenity Sweet, MD; Cayman Martin, MD; Megan Kelly, MD; (sitting, left to right) Kreena Patel, MD, MPH; Kaylee De Tranaltes, MD; Ali Etman, MD; and Trey Begaye, MD. Learn more about the show on the AFP Podcast website, or follow their twitter, @AFPpodcast.
About the College
Founded in 2007, the University of Arizona College of Medicine – Phoenix inspires and trains exemplary physicians, scientists and leaders to optimize health and health care in Arizona and beyond. By cultivating collaborative research locally and globally, the college accelerates discovery in a number of critical areas — including cancer, stroke, traumatic brain injury and cardiovascular disease. Championed as a student-centric campus, the college has graduated more than 800 physicians, all of whom received exceptional training from nine clinical partners and more than 2,700 diverse faculty members. As the anchor to the Phoenix Bioscience Core, which is projected to have an economic impact of $3.1 billion by 2025, the college prides itself on engaging with the community, fostering education, inclusion, access and advocacy.