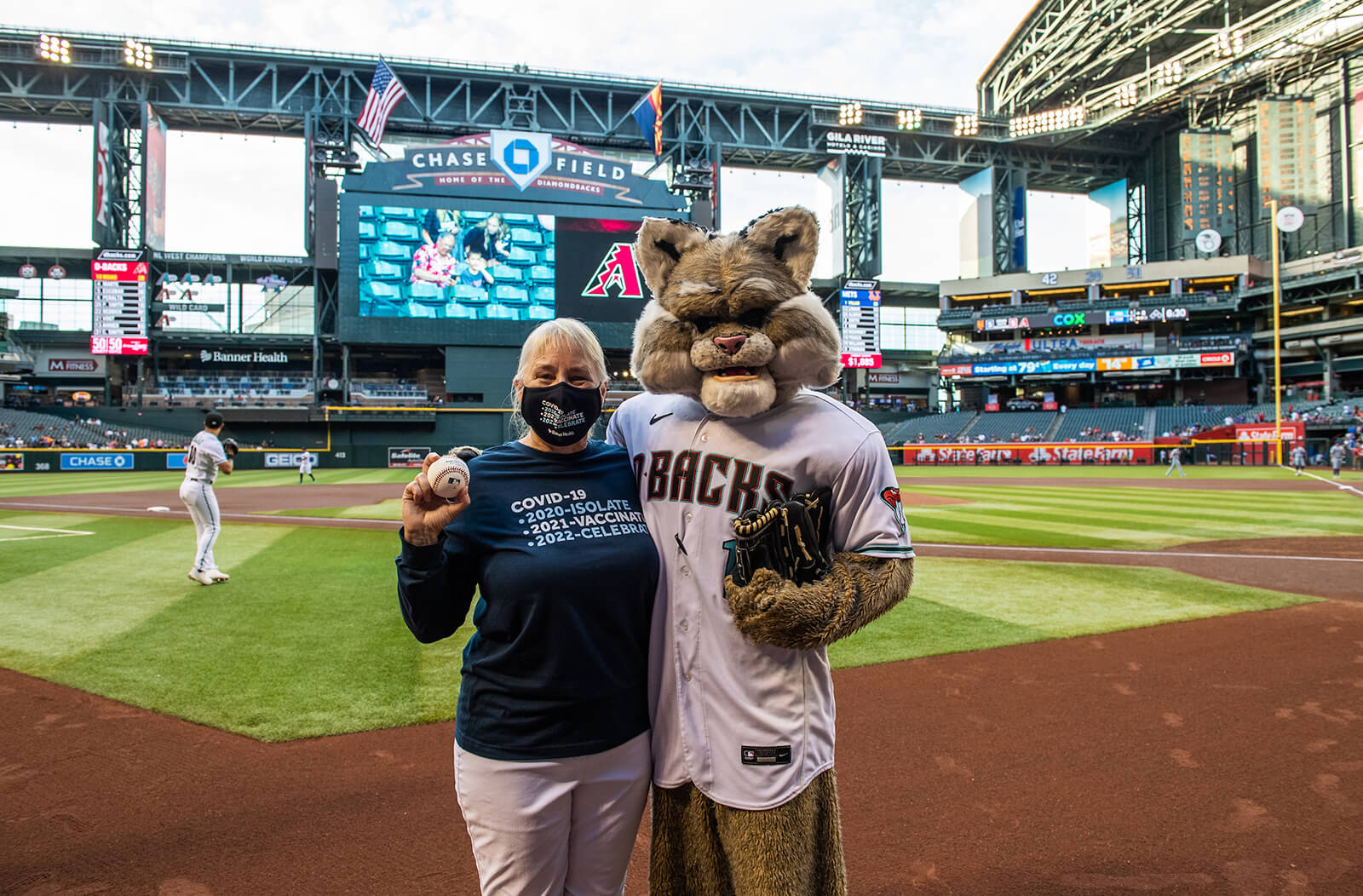 Arizona Diamondbacks Celebrate Health Care Hero Physicians at Home Game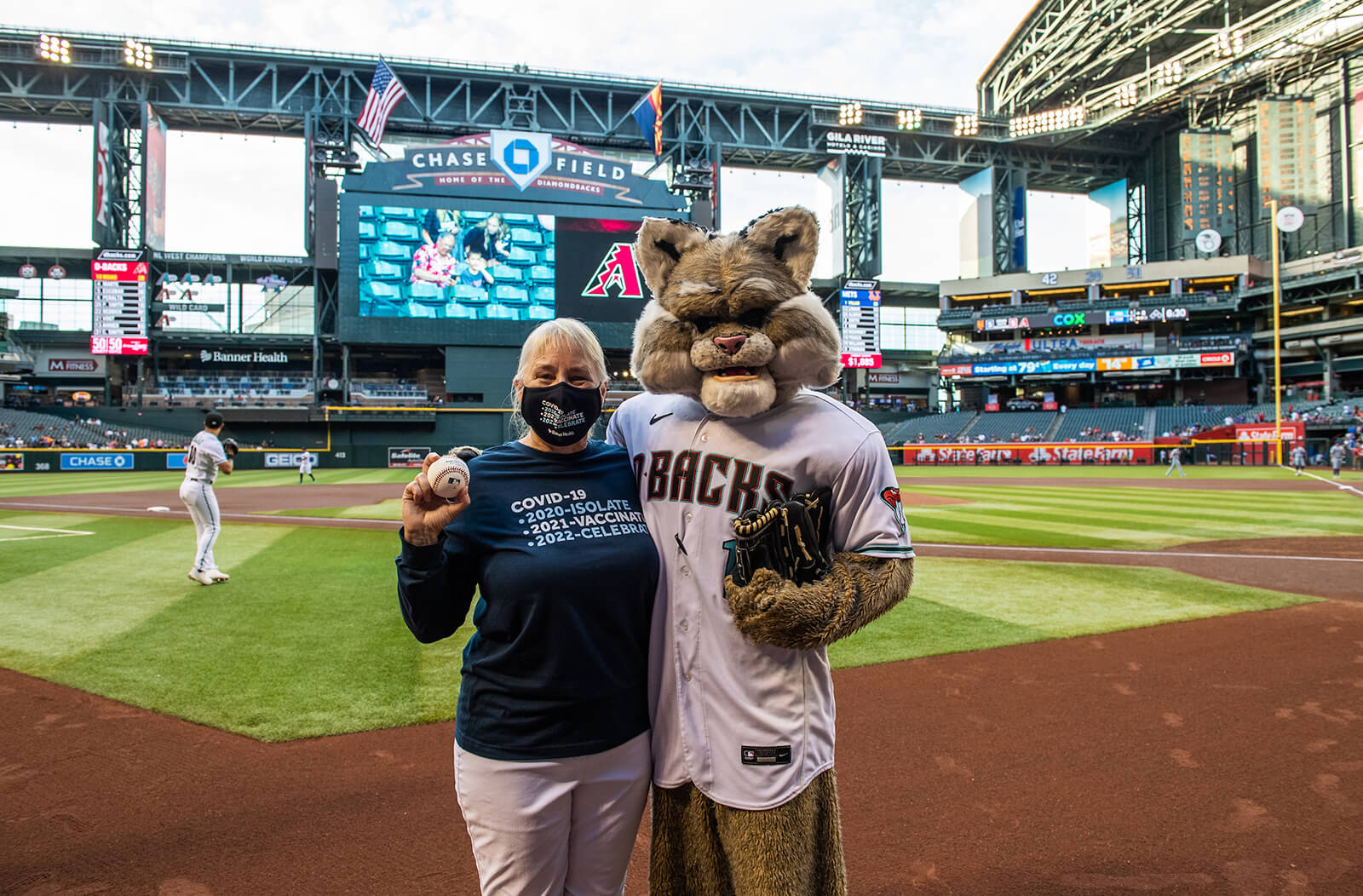 Residents and Fellows Recognized for Important Work During the Pandemic
On a warm June evening in downtown Phoenix, residents and fellows from the University of Arizona College of Medicine – Phoenix cheered as Marjorie Bessel, MD, chief clinical officer at Banner – University Medical Center Phoenix, threw out the first pitch at an Arizona Diamondbacks home game. Health Care Heroes Night was an opportunity for the Arizona Diamondbacks organization to recognize physicians and health care professionals for their tireless work during the coronavirus pandemic.
Cheryl O'Malley, MD, associate dean of Graduate Medical Education, said, "The idea came from one of our program coordinators who was looking for a way to be able to celebrate the graduating residents and fellows that would be in a venue large enough to accommodate the COVID-19 mitigation strategies."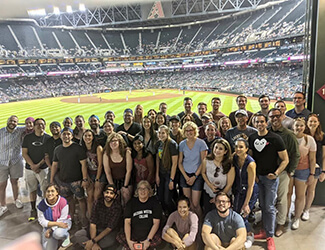 The Banner Health Foundation reached out to the Diamondbacks to gauge their interest in the collaboration and asked for their support. The Diamondbacks proudly donated an overwhelming 500 tickets for residents, fellows, family and friends to attend the game.
As part of an annual tradition, Banner – University Medical Center Phoenix medical staff fund a semiformal event for graduating residents and fellows, but this year the funds went to provide free concessions at the food and beverage vendors at Chase Field.
Dr. Marjorie Bessel posed for a photo with the Diamondbacks' mascot Baxter as she honored the important contributions that the residents and fellows made during the winter surge and the pandemic overall. During the fourth inning, a special message was displayed on the jumbotron that read, "Welcome Banner – University Medical Center Phoenix and the University of Arizona College of Medicine – Phoenix physicians. Thank you for being selfless while all the bases were loaded with COVID-19. You are homerun heroes!"
About the College
Founded in 2007, the University of Arizona College of Medicine – Phoenix inspires and trains exemplary physicians, scientists and leaders to optimize health and health care in Arizona and beyond. By cultivating collaborative research locally and globally, the college accelerates discovery in a number of critical areas — including cancer, stroke, traumatic brain injury and cardiovascular disease. Championed as a student-centric campus, the college has graduated more than 800 physicians, all of whom received exceptional training from nine clinical partners and more than 2,700 diverse faculty members. As the anchor to the Phoenix Bioscience Core, which is projected to have an economic impact of $3.1 billion by 2025, the college prides itself on engaging with the community, fostering education, inclusion, access and advocacy.