Art in Medicine Program Wins a 2021 Governor's Arts Award
"Traditional skills and expertise are not enough to prepare future physicians today. I want students to develop creativity. Creativity demands curiosity. It demands stepping outside our familiar comfort zones, and that's what we do in Art in Medicine." — Cynthia Standley, PhD
The intricacies of a large-scale Chuck Close jacquard tapestry, the social commentary in a Diego Rivera mural and the dignity of women in Elizabeth Catlett's linocuts and lithographs, like all art, are subjective to the viewer.
"What do you see?" Asks Cynthia Standley, PhD, medical educator and program director of the Art in Medicine program at the University of Arizona College of Medicine – Phoenix. The question invites dialogue as she trains students to perceive everything in their environment.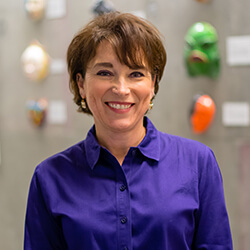 The Art in Medicine program is at the intersection of art and science — where creativity helps solve complex questions. The program won a 2021 Governor's Arts Award. The award, like everything in the time of COVID-19, was presented virtually by Billie Jo and Judd Herberger during the 40th annual awards ceremony March 26.
"I'm stunned and amazed about winning. I'm so happy. I love getting the word out about this program. I don't limit my programming to any particular group. I welcome all students, faculty and staff, and we do community outreach," Dr. Standley said.
The Art in Medicine program won in the newly created large business category and was nominated by community members who reviewed individuals, businesses and organizations that made an impact on arts and culture in Arizona. Winners for the various categories are selected by an independent committee. This year's winners were chosen from 24 finalists representing 10 Arizona communities.
The program teaches students to broaden their perspective and sharpen their observation. Illnesses can be difficult to diagnose, as many symptoms are similar across a spectrum of conditions. The skills learned through the Art in Medicine program help students observe factors, in addition to symptoms, that may influence a patient's diagnosis and treatment plan.
What is the role of art in medicine? Dr. Standley believes the skills necessary to view art are the same skills a physician relies upon when providing patient care — perception, stillness and compassion. After a brainstorming conversation in 2012 with Kathryn Blake, former education director of the Phoenix Art Museum, the vision for the Art in Medicine program was born. Two years later, she launched museum visits, where students use their clinical skills in a different context, with the intent to improve patient care.
"As far as the impact on preparing future physicians, I think awareness of observation as a process leads to more focus on becoming a better observer. All of this helps to improve problem solving, decision making, learning and focused attention, which helps to make a great physician," Dr. Standley said.
Her passion and commitment have helped grow the program, expanding training to future physicians and other health care professionals.
"The program has expanded to also include faculty and staff, as well as faculty, staff and students of the other programs on the Phoenix Biomedical Campus. The sessions are focused on helping future physicians understand any unconscious biases they may hold and how that may impact how they provide patient care."
"We take what they're learning in doctoring as their diagnostic skills, and we use them in a different context centered around art," Dr. Standley said. "It's a little uncomfortable at first, but at the end of the sessions, they have a different viewpoint. They may not like the artwork we looked at, but they appreciate it in a new way; and that's what I want them to take forward. You may not always like what you're faced with and what you're challenged with, but you have the tools to learn how to accept it, work with it and think out of the box."
For example, one of her favorite student exercises involves viewing Phil-State I, 2005 by Chuck Close, which is in the Phoenix Art Museum's collection.
"We ask the students to describe what they see using visual thinking strategies — What do you see? What makes you say that? What else do you see? Each time they look deeper, they see something else. Many times, they say they see a depressed man, a homeless man, a man who looks sad, a man who is poor and dejected."
With guided observation techniques, the students learn to carefully consider their initial perceptions about people.
"After some time, we reveal that the portrait is of the famous American composer, Philip Glass, who is thought to be one of the most influential composers of the 20th century. We then have a great discussion about the powers of observation and how our own biases may cloud our perceptions."
Medical students have multiple talents, many of them artistic. Through the Art in Medicine program, Dr. Standley encourages students to create as a means to learn more about themselves and to destress from the rigorous medical school curriculum.
"I think, for me, the most exciting thing is taking someone who says, 'Oh, I don't do art. I can't even draw a straight line.' When I get them involved in creating something and then they turn around and say 'wow, I really can do this,' and then they start producing."
Learn More About the Program
About the College
Founded in 2007, the University of Arizona College of Medicine – Phoenix inspires and trains exemplary physicians, scientists and leaders to optimize health and health care in Arizona and beyond. By cultivating collaborative research locally and globally, the college accelerates discovery in a number of critical areas — including cancer, stroke, traumatic brain injury and cardiovascular disease. Championed as a student-centric campus, the college has graduated 669 physicians, all of whom received exceptional training from nine clinical partners and more than 2,600 diverse faculty members. As the anchor to the Phoenix Bioscience Core, which is projected to have an economic impact of $3.1 billion by 2025, the college prides itself on engaging with the community, fostering education, inclusion, access and advocacy.