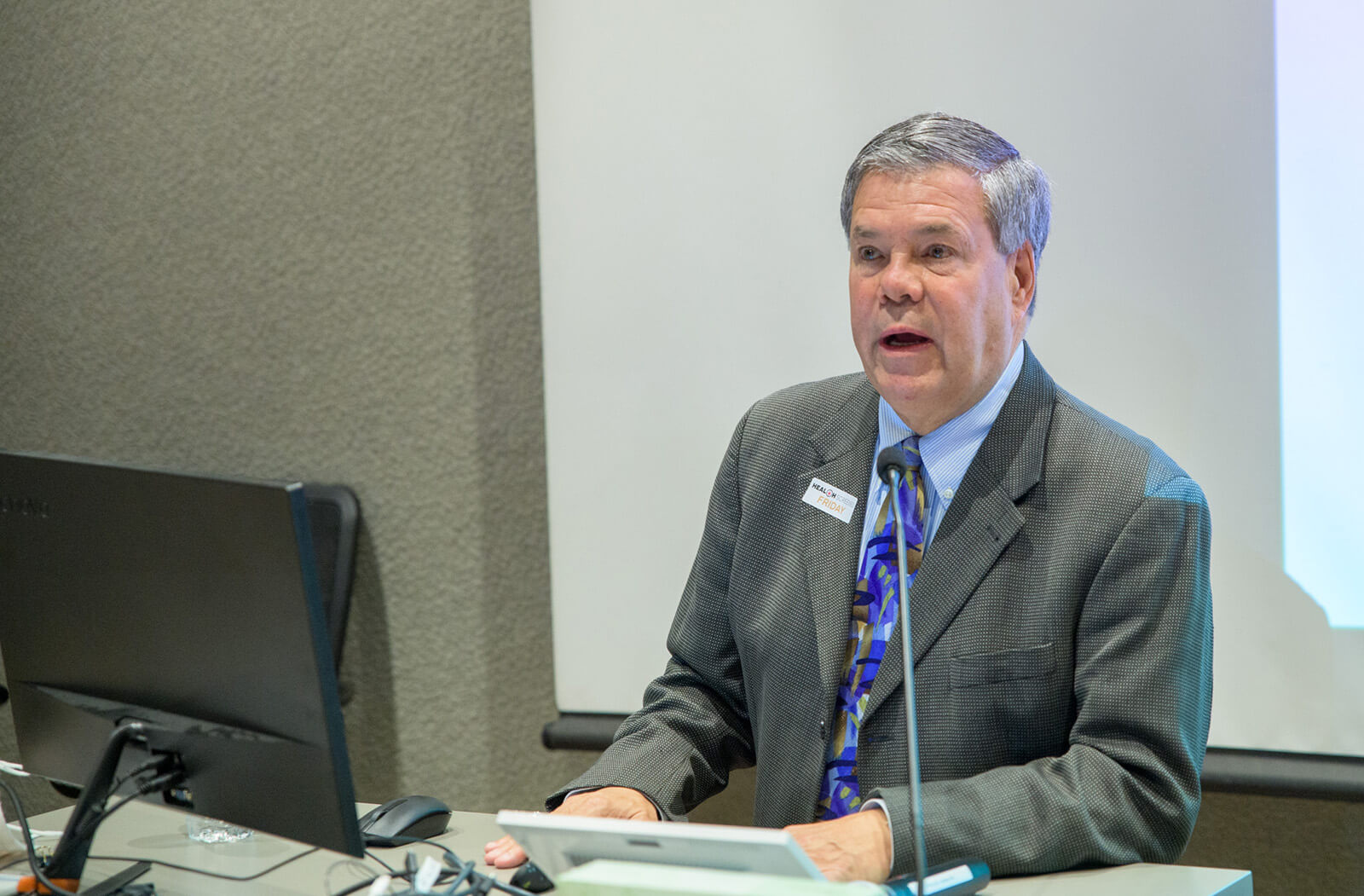 Better Methods to Diagnose and Treat Chronic Hypertension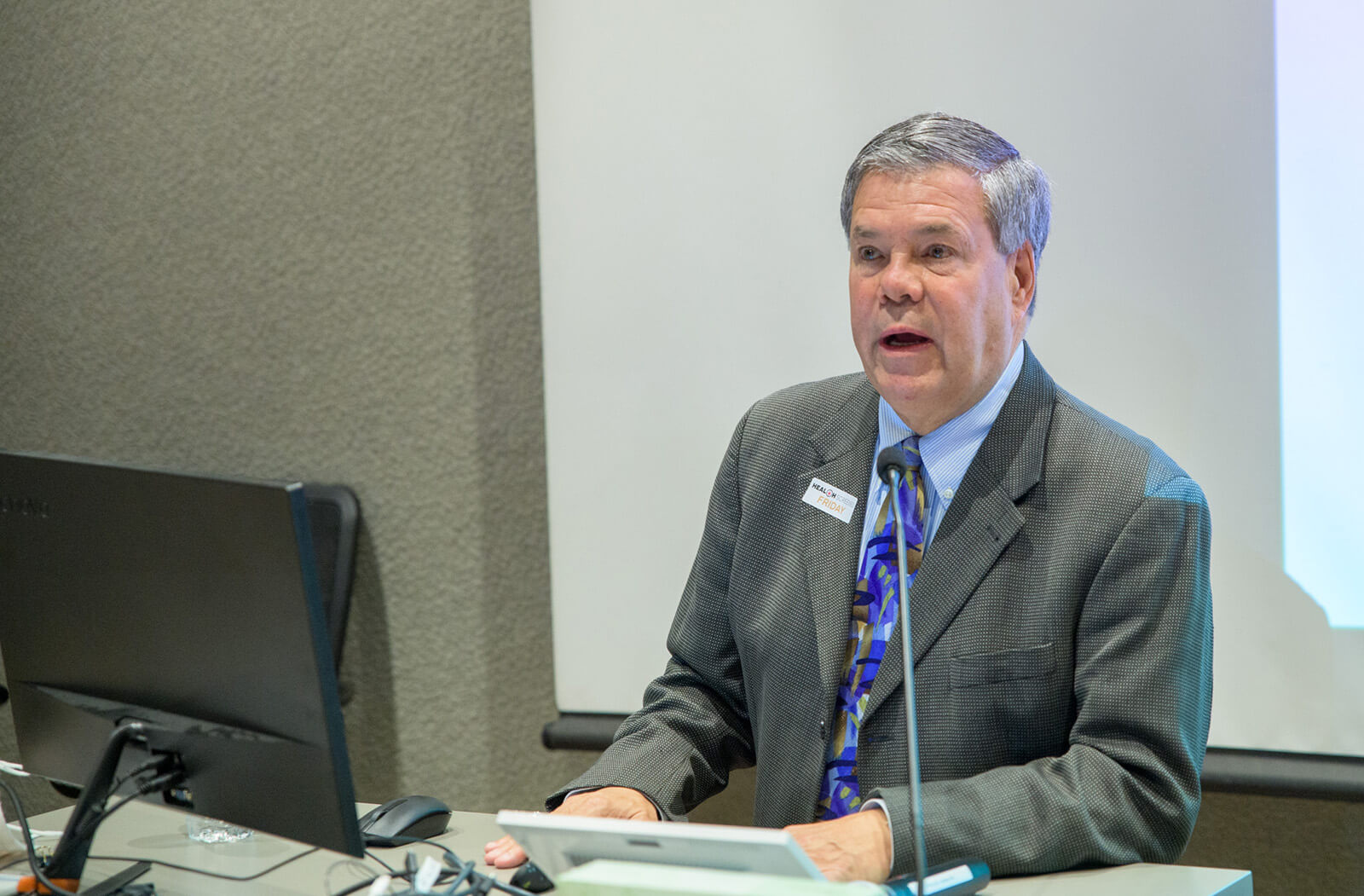 Buffmire Lecture Series guest speaker, Jan Basile MD, shared proven techniques to address the disease
An expert in better evaluation and treatment of secondary and resistant hypertension, Jan Basile, MD, hosted a series of talks for the University of Arizona College of Medicine – Phoenix and its clinical partners as part of the Flinn Foundation Buffmire Lecture Series.
Hypertension is the medical term for high blood pressure, defined as a systolic blood pressure greater than 130 mmHg or a diastolic blood pressure greater than 80 mmHg. Nearly half of the adults in the United States (116 million) have hypertension, according to the Centers for Disease Control and Prevention.
Effective diagnosis and treatment are crucial because chronic hypertension increases the risk of developing heart disease, stroke, heart failure and kidney disease.
Focusing on steps for accurate diagnosis, Dr. Basile spoke virtually with medical students, faculty and residents who are part of the Rural Health Longitudinal Integrated Clerkship (LIC) in Payson, Arizona. People who live in rural settings, with limited access to health care, experience more difficulty managing chronic hypertension. Payson is a community of 15,000 with 60 percent of its population over the age of 65, making hypertension a prevalent issue.
"Over the last three, four, five years, blood pressure control has gotten worse," Dr. Basile explained. "And when we look at why that is, it's because patients don't have longitudinal follow up," he said.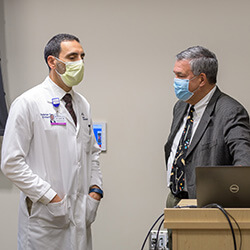 Judith Hunt, MD, the regional site director for the Rural Health LIC, noted that their hospital was the only one within an hour and twenty minutes of their general area. And Payson faces a shortage of primary care physicians, which forces many people suffering from heart-related ailments to be seen at the emergency department, rather than by their personal provider.
The inability to be seen by a primary care physician eliminates the possibility of a patient following a strict treatment plan with a dedicated physician. One way to alleviate that issue is to encourage patients to invest in home blood pressure monitors. "We say that the office is used for screening, and the home blood pressures confirm the diagnosis," Dr. Basile said. This helps to avoid possible misclassification, leaving appointments open for those in more dire need and opening telemedicine options for patients further away.
In the Grand Rounds for Internal Medicine, Michael Fallon, MD, chair of the Department of Internal Medicine, spoke highly of Dr. Basile's expertise when introducing him.
"He's written almost all of the guidelines regarding hypertension for both the American Heart Association and for the Society of Hypertension and has played a key role in the American College of Physicians. He's also been prolific as an educator and investigator — writing over 400 publications, abstracts and chapters … So we're really, really fortunate to have him here today." he said.
During his talk, Dr. Basile discussed how best to approach the treatment of a patient whose blood pressure fails to respond to various treatments, as well as how those protocols have changed as research has evolved.
He noted non-adherence as a primary challenge many providers face because it is one that is out of their control. "I'm going to show you some data on non-adherence. And it's frightening. Because these lovely patients that we take care of that we want to do the best for often are not taking their medications. And as surprising as that might be, they often are taking a medication dose that they think is best, but not the dose that you wrote for them," he said.
This hurdle, he stressed, is why it's so important to provide patients with as much education on their condition as possible. This ensures they can adhere to best practices for preparing to have their blood pressure taken by the doctor and for caring for themselves once they leave the doctor's office.
Dr. Basile also presented virtual grand rounds to more than 150 physicians who are members of the Phoenix VA Medical Center's network.
A professor of Medicine at Medical University of South Carolina in the Division of Cardiology, Dr. Basile teaches third-year medical students clinical hypertension during their core medicine rotation. He currently sees clinical patients enrolled in research trials on the role of renal denervation in controlling hypertension. His research interests include hypertension, lipid disorders and diabetes. This October, he will be appearing on the AZ Physician podcast.
In partnership with the Flinn Foundation, the college hosts the Buffmire Lecture series to bring national leaders in the science and art of medicine to Arizona to share their expertise with students, residents, clinicians, faculty and partners to improve health care for the communities we serve.
The lectureship is named for Donald K. Buffmire, MD, in recognition of his distinguished career as a medical practitioner in Arizona and his leadership role with the Flinn Foundation in supporting the College of Medicine – Phoenix.
More than 275 clinicians and medical students attended the series of events.
About the College
Founded in 2007, the University of Arizona College of Medicine – Phoenix inspires and trains exemplary physicians, scientists and leaders to optimize health and health care in Arizona and beyond. By cultivating collaborative research locally and globally, the college accelerates discovery in a number of critical areas — including cancer, stroke, traumatic brain injury and cardiovascular disease. Championed as a student-centric campus, the college has graduated more than 800 physicians, all of whom received exceptional training from nine clinical partners and more than 2,700 diverse faculty members. As the anchor to the Phoenix Bioscience Core, which is projected to have an economic impact of $3.1 billion by 2025, the college prides itself on engaging with the community, fostering education, inclusion, access and advocacy.