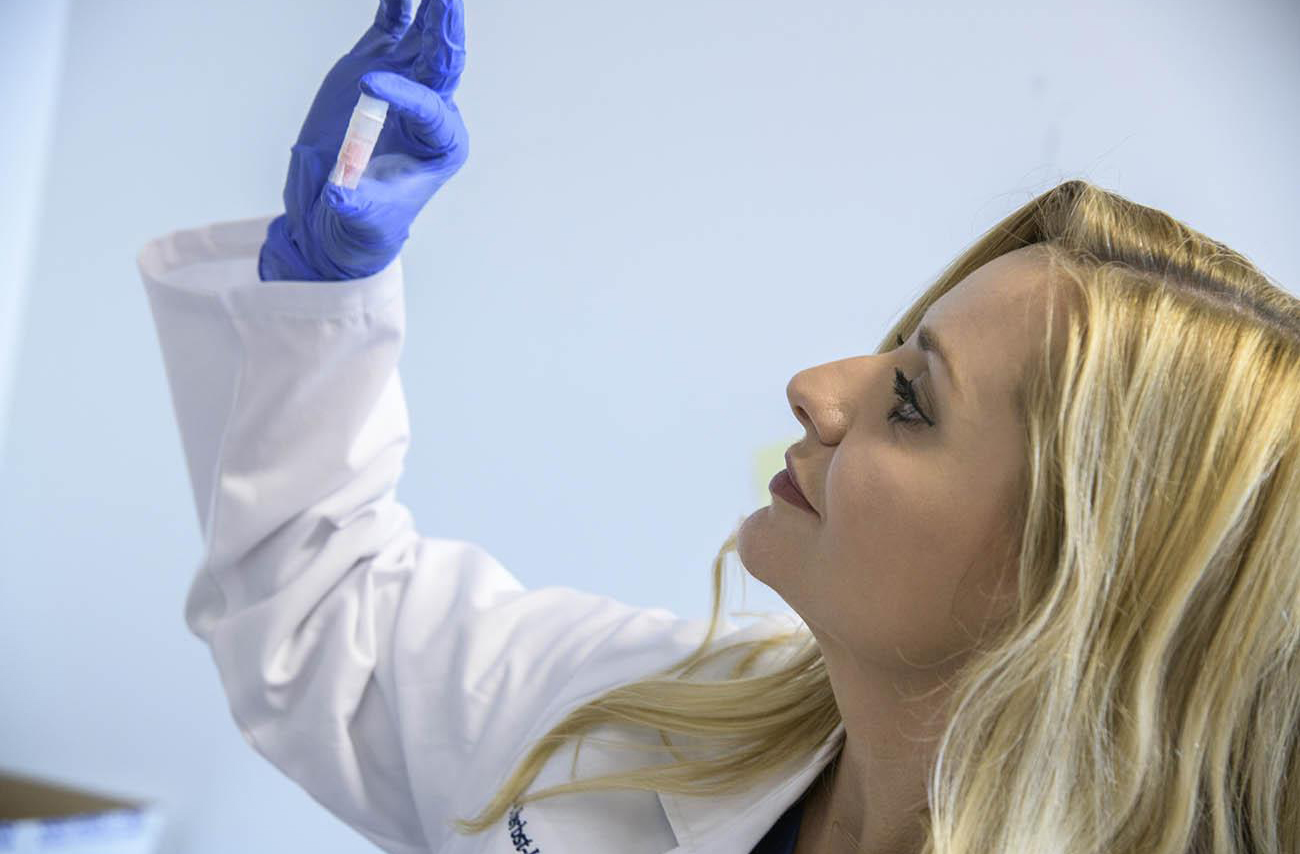 Bringing Discoveries to the Patient's Bedside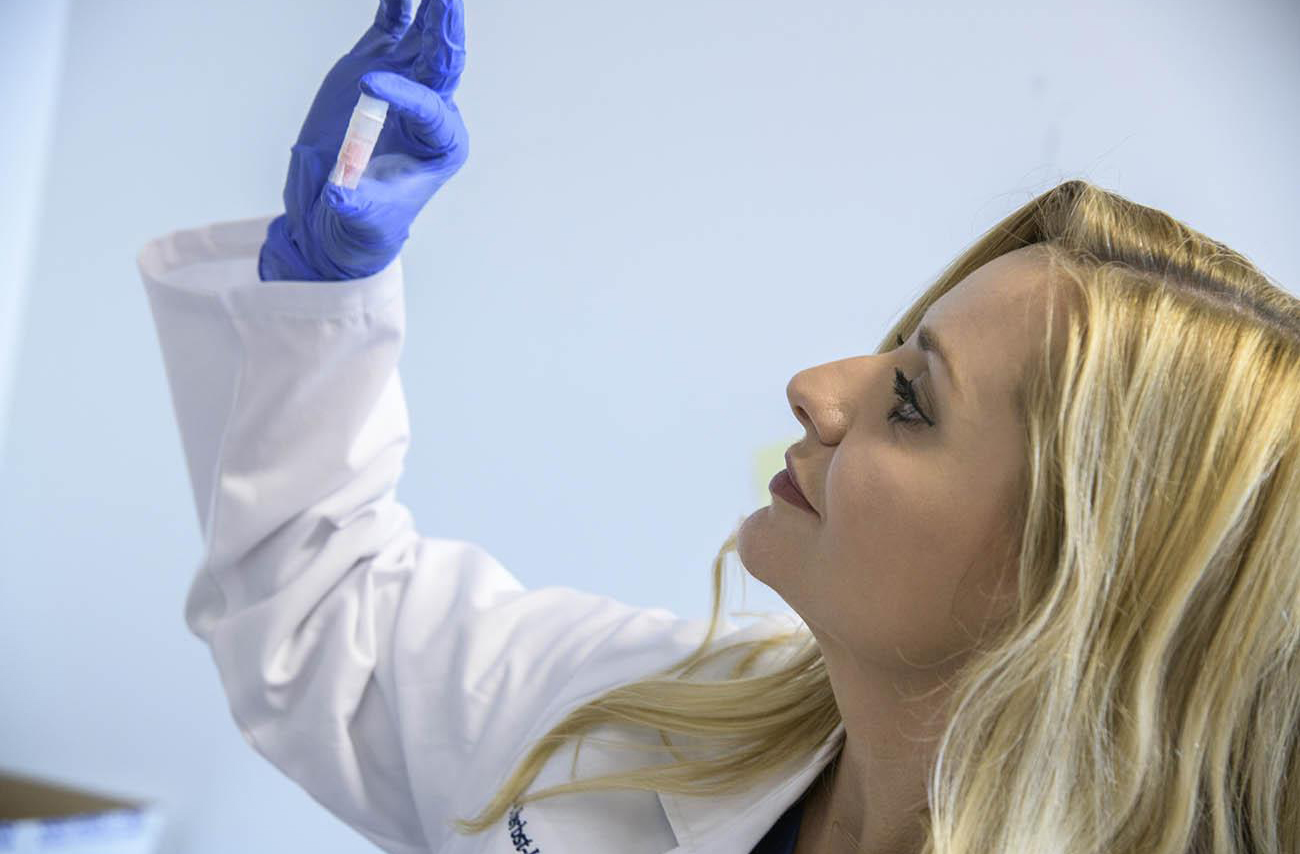 UArizona Health Sciences Translational Scientists are Converting Discoveries into Treatments, Bringing the Fruits of the Lab to the Clinic
As a visiting professor at Stanford University in the 1980s, Anne Cress, PhD, worked alongside mentors whose findings in DNA replication earned the 1959 Nobel Prize in Physiology or Medicine, and who continued making discoveries at biology's ground floor. It was in this electric atmosphere that Dr. Cress found her calling, exploring how cells communicate through protein signals.
"That blew me away, that you could change a cell's fate by changing what signal it got, something that binds onto the surface and tells that cell what to do," Dr. Cress recalled. "I got hooked."
Now a professor of cellular and molecular medicine and vice dean of operations and strategy at the University of Arizona College of Medicine – Tucson, Dr. Cress remains fascinated by how cells receive and act on biochemical messages. Her focus has narrowed to cell receptors called integrins, which relay instructions to healthy cells but, when cancerous, instruct tumor cells to invade surrounding tissues.
Although she started out as a basic scientist, eager to decipher cells' conversations and figure out how their wires might get crossed to cause disease, Dr. Cress found herself hoping to translate her findings into better treatments for cancer patients.
Taking it to the Next Level
Translational scientists spin off basic scientific discoveries into goal-oriented projects, such as new drugs, technological advances or updated health recommendations.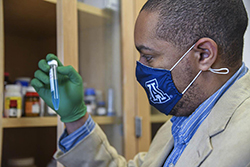 "The basic scientist asks questions related to mechanisms: 'How does it work?' A translational scientist is more interested in, 'Is this going to be efficacious?' Some of us are in both camps," Dr. Cress said. "I have basic research, but I love to apply it. It's not just me trying to understand how genes and receptors are changing in a disease. That's what makes the work exciting. That's why I love coming to work."
"There are a couple reasons you get into science. One is curiosity. Another is you genuinely want to help people," Michael D.L. Johnson, PhD, said. "If I can say that I saved somebody's life with my research, that's a really awesome feeling. That's exactly what I'm in this career to do. It is really rewarding to have something that you discovered, something that no one else has done except for you, all of a sudden be out there to help people."
The Medical Scientist Training Program at the College of Medicine – Tucson and the Clinical Translational Sciences Graduate Program at the College of Medicine – Phoenix prepare students to straddle the lab and the clinic. They receive mentorship from basic scientists and physicians, learning to translate lab findings to tomorrow's treatments, and are awarded dual MD and PhD degrees upon graduation. Dr. Cress says mentoring these students is one of the most rewarding aspects of her work.
"Clinical colleagues know the clinical aspects and I know the basic science, but we need the go-between, somebody who's got feet in both worlds. MD/PhD students are the bridge that brings it together," Dr. Cress said. "They not only understand the basic sciences, they understand the way to translate it. There's a special niche in the medical world for people like that."
Melissa Herbst-Kralovetz, PhD, associate professor of Basic Medical Sciences and Obstetrics and Gynecology at the College of Medicine – Phoenix and director of the Women's Health Research Program, is fascinated by the complex interactions between the microbes inhabiting the female reproductive tract. She connects with physician-scientists to translate her discoveries for the benefit of patients, and is collaborating with Dana Chase, MD, assistant professor of Obstetrics and Gynecology, to develop a noninvasive method for detecting cervical abnormalities, including cancer.
"Because I'm a basic scientist, but also work closely with my clinical collaborators and with clinical specimens, I really do bridge that gap," Dr. Herbst-Kralovetz said. "I work hard with clinical collaborators to maximize the translational impact. For most scientists, seeing your basic science translated is the most rewarding part. It's exhilarating."
Reaping the Benefits
The public saw translational science in action when the first COVID-19 vaccines rolled out. The technology behind them had been in development for years, built on a solid foundation of basic science.
"Vaccine development is a challenging landscape to navigate. Seeing a scientific concept go from clinical trials to being put into people's arms in less than a year is just mind boggling to me," said Dr. Herbst-Kralovetz, who is also a member of the BIO5 Institute. "People think, 'Oh, that was this miracle solution that just occurred.' No, there's tons of research that went into that. There's no way that could have happened if they didn't have all those years of basic science to support that novel vaccine technology. That's not something that could have been created out of thin air."
On the flip side are people who might not trust a vaccine that seemingly appeared out of thin air.
"You have people saying, 'Oh, they made it too fast,' but most people have little understanding of how a vaccine is made," said Dr. Johnson, also a member of BIO5. "We didn't have to start from scratch. We knew how mRNA vaccines work. We knew how coronaviruses work. We had templates to apply to this situation. All those materials were there."
Scaling the Mountain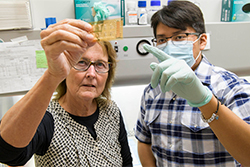 Early in her career, Dr. Cress was more devoted to solving the mysteries of cell receptors than to tackling any particular disease. Now, while her main interest is in how cells communicate through biochemistry, her translational side hopes to find ways to talk to cancer cells with novel drugs. A member of the UArizona Cancer Center, she has patents on small molecule inhibitors, which she says would not exist without collaboration.
One of her drug candidates is currently in clinical trials for multiple myeloma and lymphoma. Although she's on the board for the startup company that arose from her drug candidate, she says she's not too involved in the day-to-day process of pushing it through clinical trials.
"I hand it off to them, but I don't do all the nitty gritty. Those are the people who are going to carry it forward. I'm onto the next thing," she said. "I'm just happy I was able to contribute something, and that this contribution will lead to bigger and better things. It's a dream to see it go to fruition."
Whether they're in the lab unraveling biology's secrets or directing a clinical trial investigating tomorrow's standard treatments, scientists are driven by a desire to push knowledge forward.
"Every day I get inspired by new discoveries. You see things that no one has seen before, and that's awesome," Dr. Cress said. "We're like explorers climbing a high mountain. You're able to see over the ridge, and nobody else has seen over that ridge before. There's nothing like it."
Media Contact:
Anna Christensen
520-626-7383
achristensen@arizona.edu
This story was originally featured in UArizona Health Sciences Connect. All photos were courtesy of UArizona Health Sciences.
About the College
Founded in 2007, the University of Arizona College of Medicine – Phoenix inspires and trains exemplary physicians, scientists and leaders to optimize health and health care in Arizona and beyond. By cultivating collaborative research locally and globally, the college accelerates discovery in a number of critical areas — including cancer, stroke, traumatic brain injury and cardiovascular disease. Championed as a student-centric campus, the college has graduated more than 800 physicians, all of whom received exceptional training from nine clinical partners and more than 2,700 diverse faculty members. As the anchor to the Phoenix Bioscience Core, which is projected to have an economic impact of $3.1 billion by 2025, the college prides itself on engaging with the community, fostering education, inclusion, access and advocacy.