Department of Psychiatry Chair Named
After a competitive national search, Ayman Fanous, MD, has been appointed chair of the Department  of Psychiatry, University of Arizona College of Medicine – Phoenix at Banner – University Medical Center Phoenix.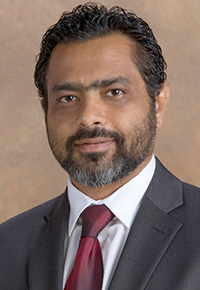 Dr. Fanous is a renowned psychiatrist, researcher and leader whose unique expertise is at the intersection of clinical psychiatry, genetics-genomics and precision medicine. His work has advanced our understanding of the molecular causes of acute psychiatric disorders, so that treatment can be better targeted and personalized to help patients. Dr. Fanous' work — which has been extensively supported by the National Institutes of Health (NIH) and by the Department of Veterans Affairs (VA) — will continue on our campus, through our recently expanded relationship with the Phoenix VA Health Care System.
"Dr. Fanous' appointment will help improve the care for veterans and others who are suffering from mental illness," Samuel Aguayo, MD, associate chief of staff for research at the Phoenix VA Health Care System, said. "His research offers great opportunity to use medical genetic data sets to predict those who are more likely to experience psychiatric disorders and develop better care.
The appointment of Dr. Fanous marks the next phase in the department's strategic plan to advance the college's research and education impact. He and his team will focus on translational research across all aspects of psychiatry to innovate clinical care, incorporate precision medicine into treatment development and improve the mental health of our communities.
In addition to advancing research into mental health, Dr. Fanous will promote and support outstanding clinical education for our University of Arizona medical students. The lack of physicians trained in psychiatry and mental health disorders is a critical issue throughout the United States.
Dr. Fanous comes to Phoenix after a five-year tenure at State University of New York (SUNY) Downstate Medical Center, where he served as chair of Psychiatry and as professor of Psychiatry. Dr. Fanous has published more than 120 articles in peer-reviewed journals. His current research projects highlight the experience of minority populations, such as persons of African Ancestry and Latino Ancestry, who have been poorly represented in large genomic studies and who have suffered from disparities in health care and outcomes.
Guy Reed, MD, MS, dean of the UArizona College of Medicine – Phoenix said, "I would like to convey my appreciation to the members of the search committee for their outstanding work. We are grateful to Banner Health and Phoenix VA leadership for their partnership in this recruitment.
Dr. Fanous will assume his role August 1 as James B. McLoone, MD, retires. "We are enormously grateful for Dr. McLoone — who from the very beginning of our history as a college — has done so much as department chair to promote and advance education and research at the college for students and residents," Dean Reed said.
About the College
Founded in 2007, the University of Arizona College of Medicine – Phoenix inspires and trains exemplary physicians, scientists and leaders to optimize health and health care in Arizona and beyond. By cultivating collaborative research locally and globally, the college accelerates discovery in a number of critical areas — including cancer, stroke, traumatic brain injury and cardiovascular disease. Championed as a student-centric campus, the college has graduated 669 physicians, all of whom received exceptional training from nine clinical partners and more than 2,600 diverse faculty members. As the anchor to the Phoenix Bioscience Core, which is projected to have an economic impact of $3.1 billion by 2025, the college prides itself on engaging with the community, fostering education, inclusion, access and advocacy.