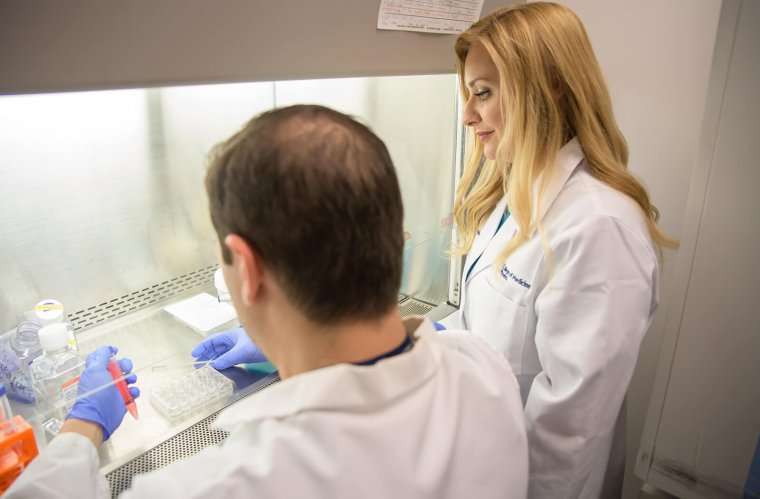 Dr. Herbst-Kralovetz Receives Reproductive Immunology Award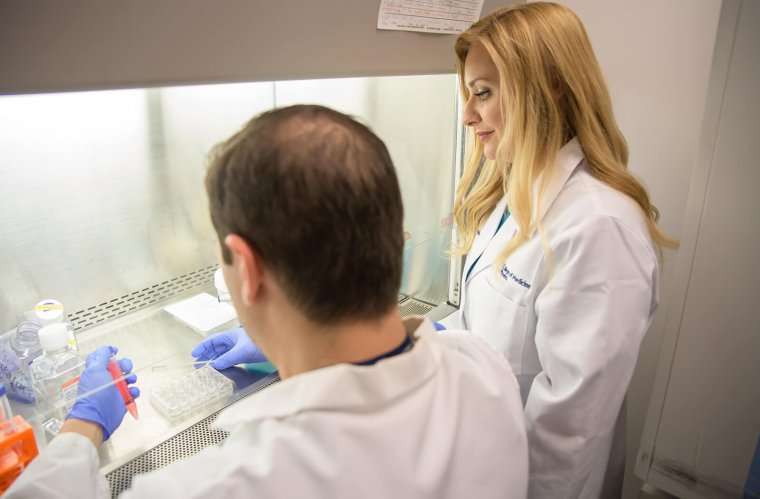 Melissa Herbst-Kralovetz, PhD, an associate professor of Basic Medical Sciences, Clinical Translational Sciences, and Obstetrics and Gynecology at the University of Arizona College of Medicine – Phoenix, received the J. Christian Herr Award from the American Society for Reproductive Immunology (ASRI).
The J. Christian Herr Award is given annually to a member of the ASRI, International Society for Immunology of Reproduction or European Society for Reproductive Immunology who has made notable achievements in basic or applied research in reproductive immunology, particularly investigators involved in technology transfer.
"I am incredibly honored to receive this award from the ASRI," said Dr. Herbst-Kralovetz. "Receiving this award for our contributions in reproductive immunology is an acknowledgement of the innovative and hard work of my past and present trainees. These team members drive forward our research program and are responsible for these amazing contributions."
The Herbst-Kralovetz Lab is currently studying the relationship between vaginal dysbiosis and human papillomavirus persistence, progression and cancer formation, endometrial cancer and other gynecologic conditions.
"My research is translational, meaning it bridges both basic and clinical science," said Dr. Herbst-Kralovetz, who is a member of the UArizona Cancer Center and BIO5 Institute. "It is very exciting and challenging to do research in both realms. The Herr Award acknowledges work in technology transfer, and we are active in generating intellectual property and envisioning how we can translate our research from the bench to novel diagnostics or interventions to positively impact women. We are excited to leverage our research to design novel and noninvasive diagnostics for a range of conditions."
Dr. Herbst-Kralovetz said she is inspired to study issues affecting women's health because this research area is historically understudied and underfunded.
"There are so many unanswered questions and enigmas that require a better understanding to enhance the health and quality of life of women. Scientifically, I am fascinated by how some microbes or communities of bacteria can contribute to health and others cause disease in the female reproductive tract," she added.
Dr. Herbst-Kralovetz joined the College of Medicine – Phoenix in 2009 and was promoted to associate professor with tenure in the Department of Basic Medical Sciences in 2016. She has an additional faculty appointment in Obstetrics and Gynecology, and she became the director of the Women's Health Research Program at the college in 2017.
"I am grateful for the opportunities that I have been afforded through meaningful collaborations with our clinical colleagues on the College of Medicine – Phoenix campus and in the obstetrics and gynecology department," she said. "Our clinical collaborations and transdisciplinary partners across Arizona have allowed us to conduct robust translational women's health research."
Founded in 1981, the ASRI's mission is to "foster the development of reproductive immunology research, increase intellectual exchange between clinical and basic branches of reproductive immunology and provide mentoring for new scientists interested in reproductive immunology."
This story was written by Nita Ramsundar, manager of Campus Communications and Publications at UArizona Health Sciences. It originally appeared on UArizona Health Sciences Connect website.
About the College
Founded in 2007, the University of Arizona College of Medicine – Phoenix inspires and trains exemplary physicians, scientists and leaders to optimize health and health care in Arizona and beyond. By cultivating collaborative research locally and globally, the college accelerates discovery in a number of critical areas — including cancer, stroke, traumatic brain injury and cardiovascular disease. Championed as a student-centric campus, the college has graduated 745 physicians, all of whom received exceptional training from nine clinical partners and more than 2,700 diverse faculty members. As the anchor to the Phoenix Bioscience Core, which is projected to have an economic impact of $3.1 billion by 2025, the college prides itself on engaging with the community, fostering education, inclusion, access and advocacy.