Eliminating Barriers to Health Care a Motivating Factor for Third-Year Medical Student to Pursue Rural Medicine
New Clerkship Provided Celina Virgen the Opportunity to Help Where It was Needed Most
COVID-19 forced everyone to pivot last year, including three third-year medical students who were members of the inaugural Longitudinal Integrated Clerkship (LIC) cohort in Payson, Arizona. The clerkship was created through  a collaborative partnership between the Rural Health Professions Program at the University of Arizona College of Medicine – Phoenix and the MHA Foundation to address the critical physician shortage in rural communities in Arizona, such as Payson. The clerkship is designed to embed medical students in the community for eight months as they learn about rural health and develop their skills.
What led you to participate in the Longitudinal Integrated Clerkship (LIC)?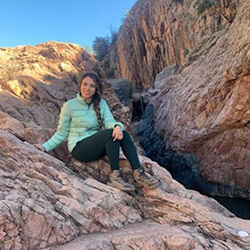 I was always interested in rural medicine, and I have a background in public health. It was really an opportunity to incorporate both of them — public health and the medicine track. I knew that this was something I wanted to continue — especially because I was very interested in communities that don't have the same access to health care as we do in a big city — and I really wanted to learn how to critically think and how to become better at my skills in the study.
Did you learn anything surprising about rural health — such as the differences in demographics? 
Payson is a very beautiful place to be and not only a great opportunity for students to learn, but also to explore. Something that I did learn there is that even though it's a rural community, we share a lot of the same medical problems that we do in the big city. You really had to think, "What if a patient couldn't receive their medical treatment? What can we do instead?" It gave me the opportunity to really think critically.
For example, in Phoenix we are working in hospitals where we have different specialists available to us. In Payson, we had a patient with cardiac problems, and we didn't have access to consult with a cardiothoracic surgeon or a cardiologist that was a specialist in what was going on with her. And that was challenging, so we ended up having to actually utilize telemedicine and consult with other physicians.
What was also very surprising to me was actually the relationship that the physicians had with their patients. It felt like they really knew each other, and they really had this bond and trust. It was very, very magical to see.
Do you have anyone in your family who lived in a rural environment?
When I was in middle school, right before starting high school, I moved to Mexico, and we lived in a very small town. There weren't any medical providers available. There was no clinic or hospital there in the town. If you needed to get treatment, you had to drive to the nearest city. My sister got stung by a scorpion, and she had a very bad reaction to it. We didn't have a vehicle to take her to the nearest city, so we had to find someone to drive us to the city. There were a lot of barriers in place, which made it difficult. Thankfully, she ended up being okay.
What was a new experience you gained from participating in the Payson LIC?
One of the things that I was very surprised about was there were plenty of opportunities to form relationships with your patients.
It's more of a tight-knit community where everyone knows each other. They (physicians) know everyone's kids, even if they are not necessarily their patients. There's just a different sense that you get. I feel like a lot of that also forms trust, helping build even stronger relationships. I definitely saw that the patients were very comfortable, very open to speak about their medical problems and felt comfortable that they were going to be taken care of. That is really good.
What were some of the more interesting experiences you had in Payson?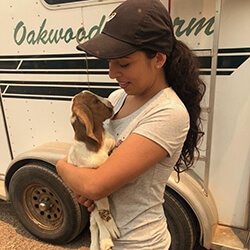 Well, I was the lucky student that got taken away to the vet. I really love animals and our preceptor, Judith Hunt, MD, she knew that I loved animals. I would always get taken along on the adventures that involved animals. She taught me about listening to the hearts of different animals and certain things to look for. I practiced giving vaccinations to goats and horses!
Also, there were wildfires near Payson, so close you could smell the smoke and definitely see it. It was affecting the surrounding communities. So, for a week or so, I stopped providing patient care, and I ended up going with Dr. Hunt's daughter to rescue and bring animals back from these communities.
Did you learn anything about yourself and how you will practice medicine as a result of participating in the Payson LIC?
I always had this interest in rural health. I find it interesting. And even though I didn't really have experience as a medical student in it, I felt like after I did the LIC, I would repeat it. I would do it again, just because the experience I received as hands-on in the education and training was a lot more than I ever expected. I definitely could see myself working in some capacity in rural areas. I learned a lot.
I feel that it's very unfair that some people can't receive medical treatment because of distance and where they live. There are so many barriers to access health care, and it just feels unfair. So, if I can be someone that can help close some of this gap, I'd be able to help out in that area. I feel like the LIC made a big impact in my medical education and training.
About the College
Founded in 2007, the University of Arizona College of Medicine – Phoenix inspires and trains exemplary physicians, scientists and leaders to optimize health and health care in Arizona and beyond. By cultivating collaborative research locally and globally, the college accelerates discovery in a number of critical areas — including cancer, stroke, traumatic brain injury and cardiovascular disease. Championed as a student-centric campus, the college has graduated 745 physicians, all of whom received exceptional training from nine clinical partners and more than 2,700 diverse faculty members. As the anchor to the Phoenix Bioscience Core, which is projected to have an economic impact of $3.1 billion by 2025, the college prides itself on engaging with the community, fostering education, inclusion, access and advocacy.