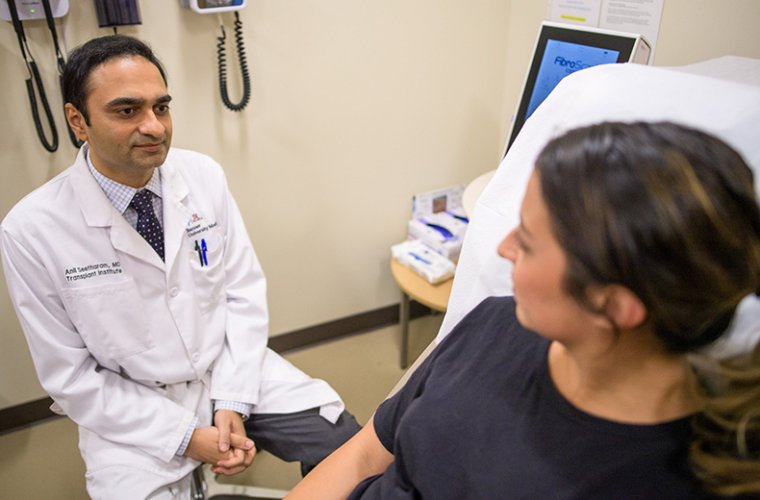 Faculty Profile: Anil Seetharam, MD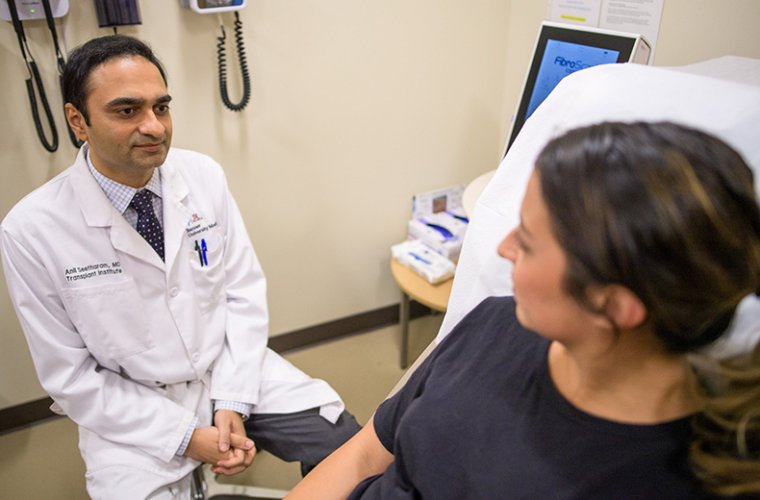 Clinician Treats Patients with Chronic Liver Disease, a Leading Cause of Death in Arizona
Anil Seetharam, MD, a clinical assistant professor in Internal Medicine at the University of Arizona College of Medicine – Phoenix, treats patients who suffer from chronic liver disease. As a transplant hepatologist and gastroenterologist, Dr. Seetharam cares for patients in the ICU, performs endoscopies in the gastrointestinal procedure lab and sees patients in the ambulatory outpatient clinic.
"I love connecting with patients and helping them navigate through complicated decisions," Dr. Seetharam said. "Often in transplant hepatology, there is no exact answer for management, and each decision influences the next decision or opportunities that follow. Helping educate patients on where they are, what options are available and which may be the right one for them is very gratifying. I feel very lucky to be part of that process on a daily basis."
According to the American Liver Foundation, about 8,000 liver transplant surgeries are performed each year in the United States. The Transplant and Advanced Liver Disease Center at Banner – University Medical Center Phoenix performed 120 transplants in 2018, ranking the center 15th in the nation in terms of number of transplants.
Dr. Seetharam is the co-director of the Transplant and Advanced Liver Disease Center at Banner – University Medical Center Phoenix. The hospital performed Arizona's first liver transplant in 1983. The Transplant Institute has continued to provide care to more than 500 transplant patients with advanced liver disease, including liver cancer. In 2016, they were one of the fastest growing liver transplant programs in the United States.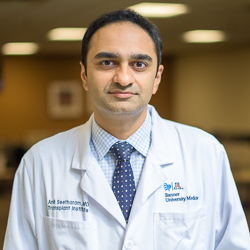 "The Transplant and Advanced Liver Disease Center at Banner is notable for both its breadth and depth," he said. "We are one of only a few centers in the region that sees all forms of liver disease across the entire spectrum. Our transplant volume continues to grow, as do essentially all of our chronic disease state programs. Our success is a function of a number of talented individuals across all disciplines in health care who have come together as a team."
Dr. Seetharam lectures second-year medical students on topics of cirrhosis and non-alcoholic fatty liver disease during the Gastrointestinal Systems, Metabolism, Diabetes and Obesity block. He also rotates with College of Medicine – Phoenix students, internal medicine residents and gastroenterology fellows on the inpatient hepatology and gastrointestinal consult services.
"In some way, I always saw myself as a teacher," he said. "One of the great joys of a career in medicine is that learning never stops. We don't really 'do' medicine, we 'practice' medicine. I am lucky enough to have great teachers who have allowed me to practice over the years, and it seems natural to do that for others."
Cirrhosis is a major public health issue that needs to be addressed in Arizona, according to Dr. Seetharam. It's one of the leading causes of death in Arizona with rates well above national averages. 
"If these issues are recognized and addressed early, there will be a significant dent made in the number of people progressing to cirrhosis," Dr. Seetharam said. "Recognizing and curing liver disease before progression to cirrhosis and need for transplantation is always our goal, even if it means I'm out of a job one day."
Dr. Seetharam completed his undergraduate degree in molecular biology and a doctorate of medicine at University of Wisconsin-Madison. He completed his residency in internal medicine and fellowships in gastroenterology and transplant hepatology at Barnes-Jewish Hospital at Washington University in St. Louis. He currently serves as chair of the Medical Advisory Committee for American Liver Foundation in the Southwest Region. On a national level, he serves on educational subcommittees of both the American Association for the Study of Liver Disease and the American Society of Transplantation.
Topics
About the College
Founded in 2007, the University of Arizona College of Medicine – Phoenix inspires and trains exemplary physicians, scientists and leaders to optimize health and health care in Arizona and beyond. By cultivating collaborative research locally and globally, the college accelerates discovery in a number of critical areas — including cancer, stroke, traumatic brain injury and cardiovascular disease. Championed as a student-centric campus, the college has graduated 669 physicians, all of whom received exceptional training from nine clinical partners and more than 2,600 diverse faculty members. As the anchor to the Phoenix Bioscience Core, which is projected to have an economic impact of $3.1 billion by 2025, the college prides itself on engaging with the community, fostering education, inclusion, access and advocacy.