Faculty Recognized for Outstanding Teaching
Students Honor Faculty for Exceptional Medical Instruction and Mentorship During Year Upended by Pandemic
The COVID-19 pandemic disrupted nearly every aspect of daily life, including teaching practices at medical schools and hospitals. Driven by the need to protect the health and safety of students, faculty and patients, medical educators redesigned the curricula and explored different modalities of instruction. They also mentored students through the most stressful experience of their medical school journey.
Students from the University of Arizona College of Medicine – Phoenix honored faculty who instructed and mentored them during the 2020–21 school year. Students from each class selected faculty who have demonstrated excellence in teaching, served as exemplary role models, and who went above and beyond to support them.
The awards were bestowed virtually June 7 by Steven A. Lieberman, MD, senior associate dean of Academic Affairs and student representatives, Abbie Cantwell, Class of 2023, and Krishelle White, Class of 2021.
"These awards mean a lot to our faculty as they are nominated and selected by the students," said Dean Lieberman. "The College of Medicine – Phoenix is student-centric. We encourage students to be actively engaged in their learning."
Stuart D. Flynn, MD, Master Educator Award
The Stuart D. Flynn, MD, Master Educator Award, which recognizes teaching excellence and extraordinary accomplishments in all aspects of education over all four years of medical school, was given to Laura Mercer, MD.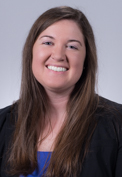 "Dr. Mercer has been such an integral part of our medical education. She is hands down the most organized, receptive and responsive person at our school. She is not only an excellent teacher and cares about our learning, but she supports us as whole people," read the nomination submitted by the Class of 2021.
Mercer serves as clerkship director for Obstetrics and Gynecology and director of the Intersessions Course during years three and four. The OB/GYN clerkship provides students with foundational experiences in women's health care and, of course, the opportunity to participate in bringing new life into the world. Intersessions provides students the opportunity to engage in structured didactic content that is best addressed while actively involved in patient care.
The course structure also offers an opportunity to reinvigorate during the challenging clinical years by engaging in new skills development while reconnecting with classmates. This year, Dr. Mercer and her team were challenged to create this important learning environment using virtual instruction. They engaged the students as they developed alternate methods to offer this valued training.
In keeping with tradition, the award was presented to Mercer by Guy Reed, MD, MS, dean of the College of Medicine – Phoenix, during the commencement ceremony held May 10.
Educator of the Year Awards
The Educator of the Year Award, also selected by fourth-year students, was given to Lisa Grimaldi, MD. Dr. Grimaldi serves as director of the Pulmonary, Renal and Acid-Base Block. She is a pediatric critical care medicine physician in the Pediatric Cardiovascular Intensive Care Unit at Phoenix Children's Hospital.
"Dr. Grimaldi is an excellent educator. She is passionate about teaching and even when she is post-call or on nights, she still finds the time to teach and is always open to questions. You can tell she truly cares about your learning," said the graduating class of Grimaldi.
A true testament to her exceptional skill as a medical educator, Marícela Moffitt, MD, was selected to receive the Educator of the Year award by both second- and third-year students.
"During the past year, where COVID-19 struck the world by storm and affected the education of millions of students, Dr. Moffitt always made sure to put our education first. She accommodated our health needs, never put us at risk, adapted in every situation and never lowered the standard of her teaching. The reason I am able to start third-year with any semblance of confidence is because of the rigorous coursework provided by Dr. Moffitt. She is a teacher I will thank for the rest of my career," said a student from the Class of 2023.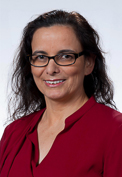 "Dr. Moffitt managed to move an almost entirely in-person course onto online in a matter of weeks. The move was pretty seamless, and we still were able to maintain and learn many of the necessary skills that we needed. She is a teacher whose judgement I absolutely trust and am thankful for all the work she has put in the past year," shared a student from the Class of 2022.
First-year students were tremendously impacted by the pivot to virtual medical education. The class of 98 students completed nearly all of their foundational year of training online, learning anatomy via Zoom and getting to know instructors through virtual interactions.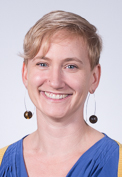 The first-year students recognized Evan Garofalo, PhD, as Educator of the Year. Garofalo is an assistant professor in Basic Medical Sciences and director of the Clinical Anatomy Block.
"Dr. Garofalo has made such a positive impact on our class through Clinical Anatomy course. She helped support us with her office hours and review sessions. She was great about sending emails with resources to help us learn the material," said the Class of 2024.
Excellence in Student Mentoring Award
The Excellence in Student Mentoring Award recognizes a faculty member who demonstrates altruism while providing mentoring, career advice, guidance, shares professionalism pearls, and helps students navigate challenges in research and other areas. This year's award was presented to Will Heise, MD. Heise is an assistant professor in the Division of Clinical Data Analytics and Decision Support at the UArizona College of Medicine – Phoenix.
"Dr. Heise is an incredible professor, CBI facilitator and SP mentor, but most of all, Dr. Heise is a good person and an incredible role model physician. He is a great mentor to me and many others. He is always there to answer my questions and is non-judgmental. He is the kind of physician I aspire to be," said a third-year student.
Excellence in Educational Innovation Award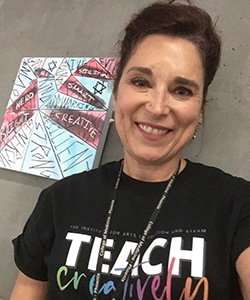 The Excellence in Educational Innovation Award acknowledges a faculty member who demonstrates outstanding initiative and ensures that active learning best practices are integrated within the session. The recipient of the award seeks novel and creative methods to integrate into sessions, models an open attitude toward innovation and inspires session improvements. The award was given to Cynthia Standley, PhD. Dr. Standley is a professor in the Department of Bioethics and Medical Humanism at the college. 
"Dr. Cynthia Standley was an incredible block director for Nervous System II (NSII). She constantly was adding different teaching techniques that were so helpful and innovative. She made NSII so understandable and truly seemed to be here for our learning. She respected our time, and she was our advocate during PBLs with other faculty," said a first-year student. "She is an incredible role model to me. I found it even more remarkable that she was able to incorporate such clinical information given that she is not a medical doctor. I really appreciate having a positive and strong female role model because it inspires me as a young woman in medicine to be strong and not afraid to tackle obstacles."
Topics
About the College
Founded in 2007, the University of Arizona College of Medicine – Phoenix inspires and trains exemplary physicians, scientists and leaders to optimize health and health care in Arizona and beyond. By cultivating collaborative research locally and globally, the college accelerates discovery in a number of critical areas — including cancer, stroke, traumatic brain injury and cardiovascular disease. Championed as a student-centric campus, the college has graduated 745 physicians, all of whom received exceptional training from nine clinical partners and more than 2,700 diverse faculty members. As the anchor to the Phoenix Bioscience Core, which is projected to have an economic impact of $3.1 billion by 2025, the college prides itself on engaging with the community, fostering education, inclusion, access and advocacy.