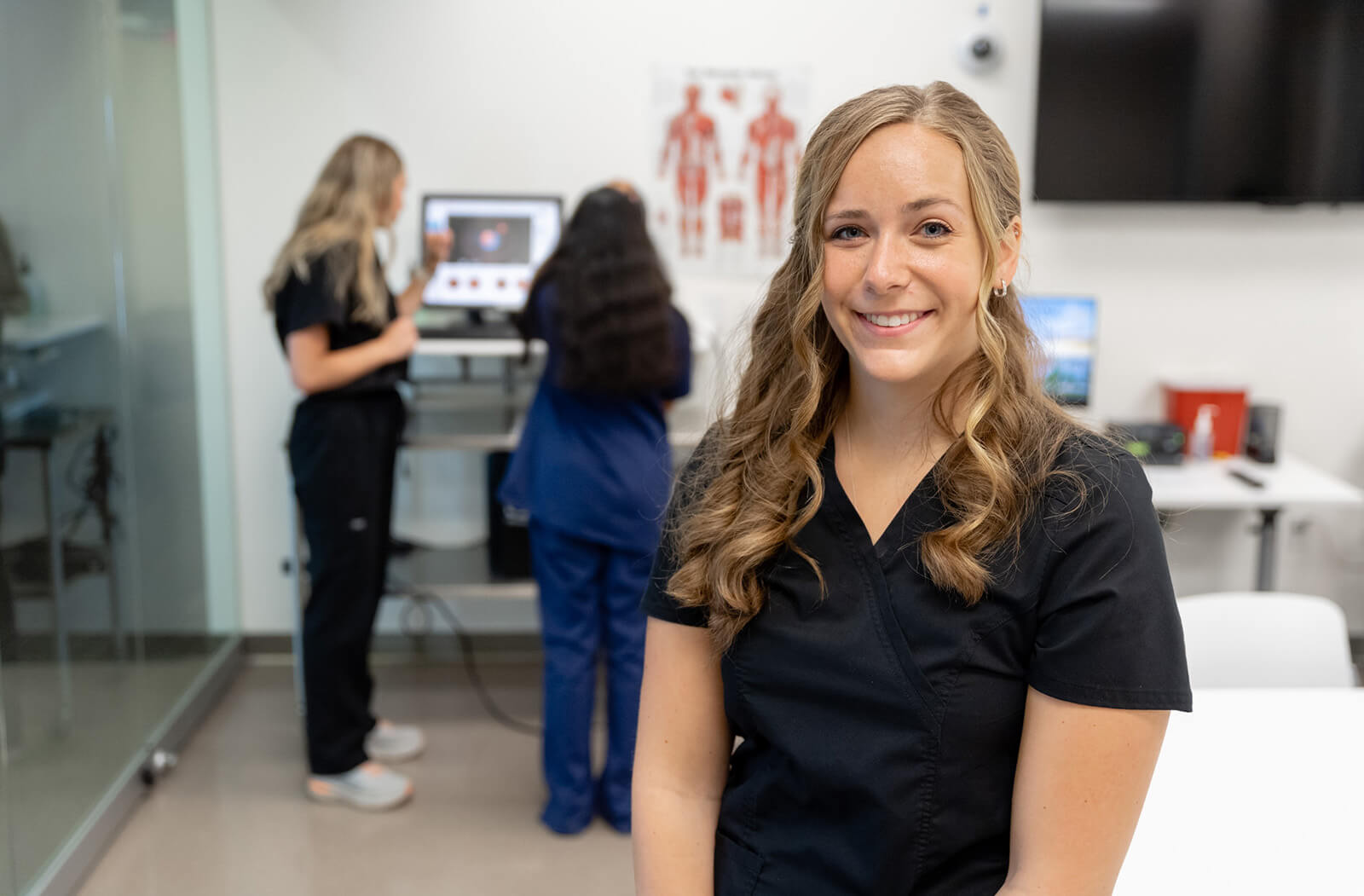 A Full-Circle Moment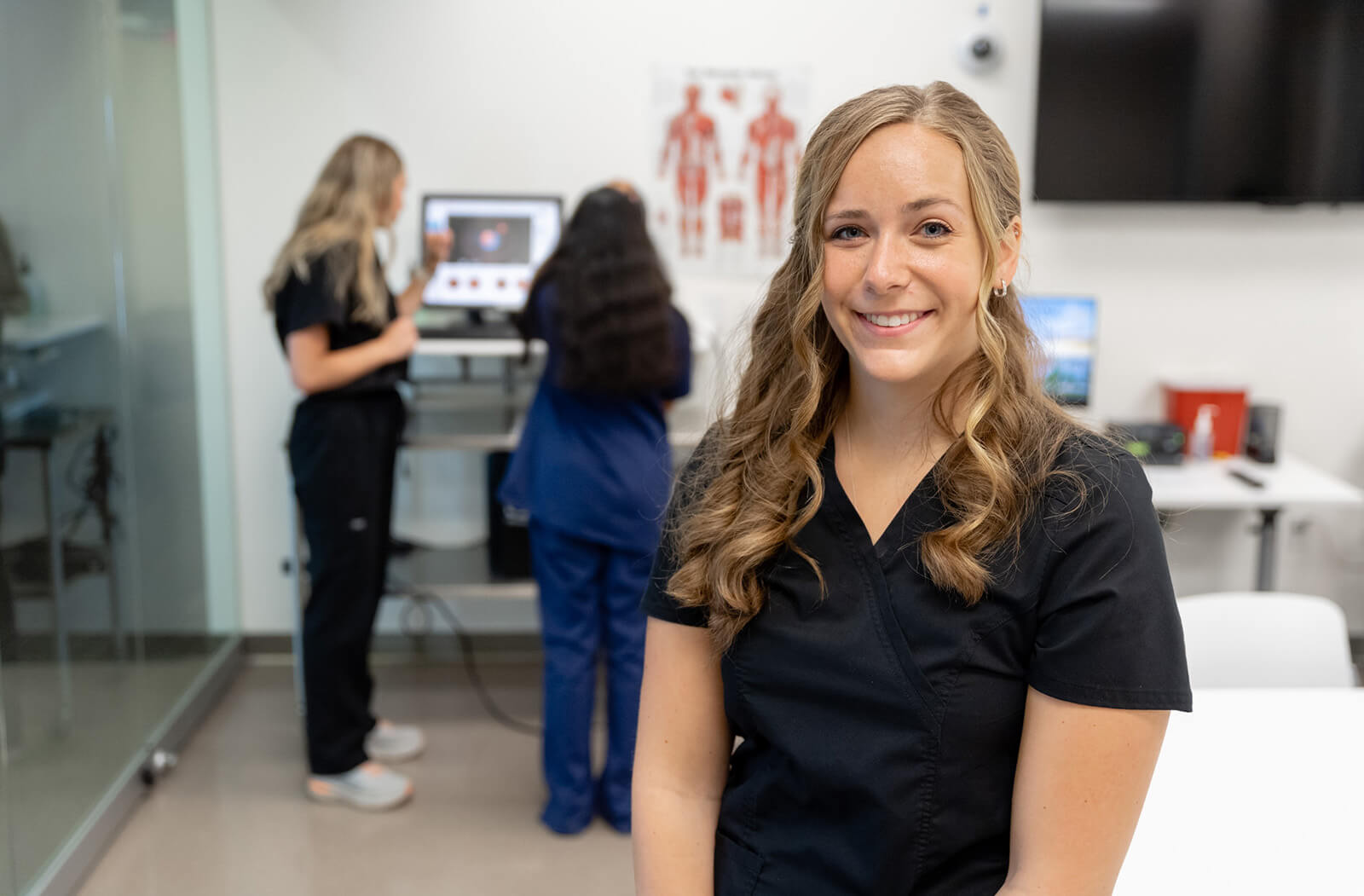 Michelle Goforth, MS2, volunteers as a counselor at Summer Scrubs years after being a Summer Scrubs student
Commotion can be heard among the hallways of the Health Sciences Education Building in June. Groups of young high school students enroll for the University of Arizona College of Medicine – Phoenix's Summer Scrubs program.
Inside the Center for Simulation and Innovation, students take turns using the various medical simulators and get hands-on lab experience. Among the students is Michelle Goforth, a second-year medical student at the college, who is dressed in black scrubs and has a bright smile and an enthusiastic attitude.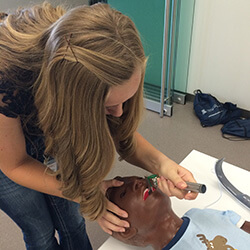 Goforth is one of the volunteer counselors for Summer Scrubs; she participated in one of the first Summer Scrubs programs as a high school student in the summer of 2015.
"This program really opened my eyes to the world of medicine and further confirmed for me that medicine was the field I was looking to pursue," Goforth said. "My memories of participating in Summer Scrubs… inspired me to never give up on my dreams of eventually getting into medical school and becoming a doctor."
For Goforth, being able to participate in Summer Scrubs as an adult is a surreal experience. In addition to helping in the simulation center, she's guiding young students through the anatomy labs and Q&A sessions.
"When I found out that I was accepted to the college, I was most excited about being able to participate and hopefully have an impact in Summer Scrubs," Goforth said. "This has been the most rewarding thing that I have been able to do so far in medical school."
Goforth grew up in Pinetop, Arizona, where she attended Blue Ridge High School. She then attended the Honors College at Arizona State University, earning a bachelor's degree in Biochemistry.
Goforth's introduction to the field of medicine was when she sought treatment for a congenital pars defect, a stress fracture of the bones in her lumbar spine.
Her interest in medicine further piqued when she went with her mom and grandmother to their oncologist visits after they were diagnosed with breast cancer.
"I loved seeing the relationships that they had with their doctors and their trust in the doctor's ability to help them through chemotherapy, radiation and surgery," Goforth said.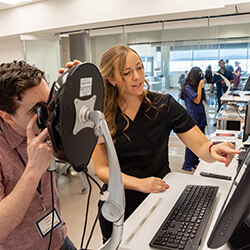 She was selected to participate in the Barrett-Mayo Premedical Scholars Program and did research in regenerative medicine at the Mayo Clinic.
Goforth believes events like Summer Scrubs are amazing for young students to start thinking about a career in medicine. The camp helps connect those students with mentors to ask questions about the medical school journey.
"For me, Summer Scrubs was the first experience that confirmed my excitement and passion for medicine and encouraged me to continue pursuing other opportunities to experience the medical field," Goforth said. "I also feel like being able to write about it [Summer Scrubs] on my application was one of the things that helped me stand out."
As a first-generation college student, it was important for Goforth to find mentors to help guide her through her goals of going into medical school.
"I found mentors in each of my experiences through professors, clinicians and older peers who had successfully applied to medical schools," Goforth said. "I am especially grateful to my parents and my partner who supported me through studying for my MCAT twice, as well as two application cycles."
About the College
Founded in 2007, the University of Arizona College of Medicine – Phoenix inspires and trains exemplary physicians, scientists and leaders to optimize health and health care in Arizona and beyond. By cultivating collaborative research locally and globally, the college accelerates discovery in a number of critical areas — including cancer, stroke, traumatic brain injury and cardiovascular disease. Championed as a student-centric campus, the college has graduated more than 800 physicians, all of whom received exceptional training from nine clinical partners and more than 2,700 diverse faculty members. As the anchor to the Phoenix Bioscience Core, which is projected to have an economic impact of $3.1 billion by 2025, the college prides itself on engaging with the community, fostering education, inclusion, access and advocacy.