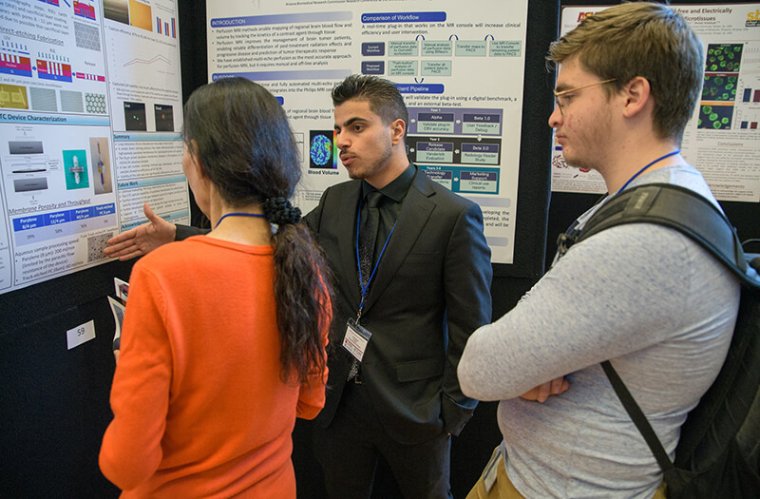 Funded Researchers from Across Valley Share Latest Discoveries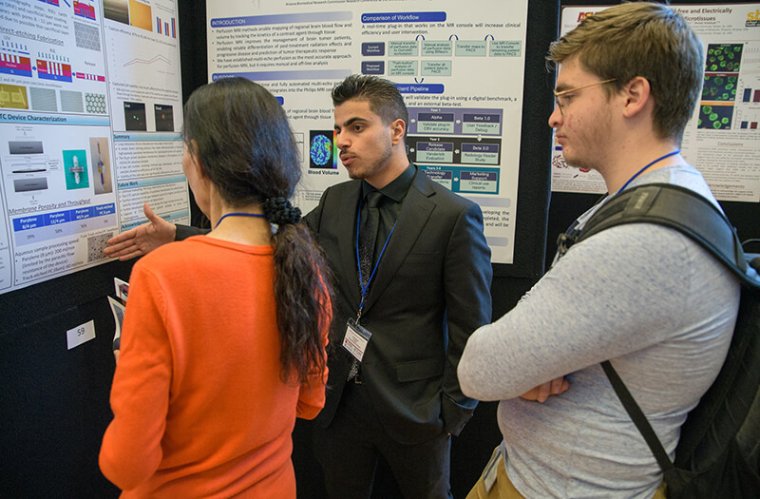 Medical School Hosts 5th Annual ABRC-Flinn Research Conference for Researchers Funded by ABRC, Flinn Foundation and VRP
Precision medicine, sex-specific lung disease, mutated genes in lung cancer, medical nutritional education and antimicrobial stewardship were among research areas highlighted at the University of Arizona College of Medicine – Phoenix's fifth annual ABRC-Flinn Research Conference Feb. 26.
The daylong conference displayed the work of grant awardees from the Flinn Foundation, Valley Research Partnership (VRP) and Arizona Biomedical Research Centre (ABRC).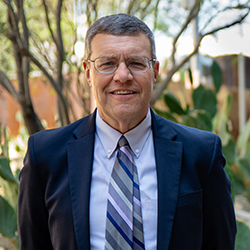 More than 190 participants heard presentations from 16 researchers on additional topics, including Valley Fever diagnostics, infectious disease surveillance, West Nile Virus and lung transplantation. After the oral presentations, the event concluded with poster presentations from 88 researchers.
"This is the fifth time we've hosted this research conference and every time, I'm amazed at the science and impactive work being done by all of our researchers in Arizona," Paul Boehmer, PhD, interim associate dean for Research said.
The conference included a keynote presentation from Steven Curry, MD, co-director of the Division of Clinical Data Analytics and Decision Support (CDADS) at the College of Medicine – Phoenix.
Dr. Curry discussed research activities and opportunities in precision medicine and clinical decision support. CDADS began at the College of Medicine – Phoenix in 2015. Since then, the CDADS division has undertaken several projects on subjects including sepsis, heparin-induced thrombocytopenia, pharmacogenetics, as well as long QT and sudden death.
"The electronic medical record has gathered all this information and made it available to physicians," Dr. Curry said. "Unfortunately, the electronic medical record is enormous. We attempt to monitor the electronic medical record in the background to detect abnormalities or do things that will improve decision making by physicians and therefore, improve patient outcomes, decrease mortality and decrease cost."
The event also included a special presentation from Marilyn Glassberg, MD, chief of the Division of Pulmonary, Critical Care and Sleep Medicine at the college. Dr. Glassberg discussed her research on sex-specific lung diseases.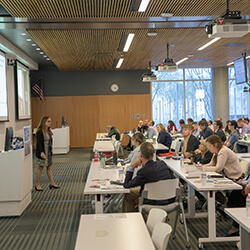 "The lungs typically were not thought to be an organ that really had much display with hormone receptors," Dr. Glassberg said. "There is an increasing recognition that sex hormones have biological and pathophysiological actions in peripheral, non-reproductive organs."
Dr. Glassberg provided examples of sex-specific lung disease research with asthma, COPD, idiopathic, autoimmune related pulmonary fibrosis, lung cancer, pulmonary hypertension and pulmonary arterial hypertension.
Here are three funded researchers who presented at this year's conference:
Timothy Marlowe, PhD
Funded by: The VRP
Title: "Therapeutic Use of FAK Inhibition against KRAS-Driven Lung Cancer"
Dr. Marlowe discussed his lab's research in investigating clinical stage FAK inhibitors in lung models. Specifically, Dr. Marlowe's team is studying three major types of mutated genes in lung adenocarcinoma, the most common form of lung cancer. The genes are KRAS, TP53 and LKB1. Lung cancer is the number one cause of cancer deaths among both men and women with 25 percent of all cancer-related deaths due to lung cancer.
"Understanding these genes is critical, because unfortunately, there are no good therapeutics that really target these proteins," Dr. Marlowe said. "The thought here with this project is that we can target other proteins and other pathways activated by the genomic alterations of these three different genes."
Dr. Marlowe's lab focuses on focal adhesion kinase (FAK), a protein tyrosine kinase that regulates how a cell adheres to the extra-cellular matrix. FAK expression is elevated in lung adenocarcinoma tissue, while minimally expressed in a normal lung. There is previous data that FAK expression is correlated with lower disease-free survival in lung cancer. This key data started the collaboration that there could be a correlation between FAK and lung cancer.
Carol Johnston, PhD, RD
Funded by: The Flinn Foundation
Title: "Medical Nutrition Education Initiative for Health Care Providers"
With the support of the Flinn Foundation, Dr. Johnston created an online master's program in medical nutrition education at Arizona State University. This is the only medical nutrition degree in the country.
The program involved the collaboration of PhD dieticians, who worked on the curriculum, and medical doctors at Mayo Clinic, who helped provide topics that should be addressed based on patient's needs. Dr. Johnston said it is an opportunity to help physicians better care for their patients.
Diet can potentially prevent one in every five deaths globally, and a suboptimal diet is responsible for more deaths than any other risks globally, including tobacco smoking, Dr. Johnston said. Only one in five patients receive nutrition counseling.
"Doctors need a basic understanding of nutrition, so they can talk to their patients," Dr. Johnston said. "Patients typically go on the web for dietary information, but there is a lot of nutrition information out there that is inaccurate, so we really needed to formalize nutrition training. We saw this opportunity and developed that."
Katherine Ellingson, PhD
Funded by: The ABRC
Title: "A Qualitative Study of Antibiotic Stewardship Implementation at Arizona Skilled Nursing Facilities"
Dr. Ellingson's lab studies health care-associated infections, antibiotic resistance and antibiotic stewardship. Her ABRC research identifies barriers and facilitators to implementing antibiotic stewardship in Arizona's urban, suburban, rural and border facilities.
According to Dr. Ellingson, antibiotic stewardship is a reaction to the global antibiotic resistance crisis. In the U.S. alone, there are 2.8 million infections with antibiotic resistant bacteria and more than 35,000 deaths.
"Most of the stewardship research and antibiotic stewardship is defined by prescribing the right antibiotic with the right dose for the correct infection for the correct duration," Dr. Ellingson said. "Most of the research has been done in acute care facilities or hospitals, so there really is a dearth of research in skilled nursing facilities and out-patient clinics, which is where we are focusing our work."
Dr. Ellingson's lab is implementing a stewardship intervention in 16 skilled nursing facilities. They are helping collect pharmacy, microbiology and clinical data, repackaging it with a back-end program and giving these metrics back to the facilities. They plan a longitudinal study to understand the quantitative impact of the intervention. However, before that, they conducted a qualitative study to identify where people were at baseline with their understanding of antibiotic use, the risk factors and understanding of stewardship.
Topics
About the College
Founded in 2007, the University of Arizona College of Medicine – Phoenix inspires and trains exemplary physicians, scientists and leaders to optimize health and health care in Arizona and beyond. By cultivating collaborative research locally and globally, the college accelerates discovery in a number of critical areas — including cancer, stroke, traumatic brain injury and cardiovascular disease. Championed as a student-centric campus, the college has graduated 669 physicians, all of whom received exceptional training from nine clinical partners and more than 2,600 diverse faculty members. As the anchor to the Phoenix Bioscience Core, which is projected to have an economic impact of $3.1 billion by 2025, the college prides itself on engaging with the community, fostering education, inclusion, access and advocacy.