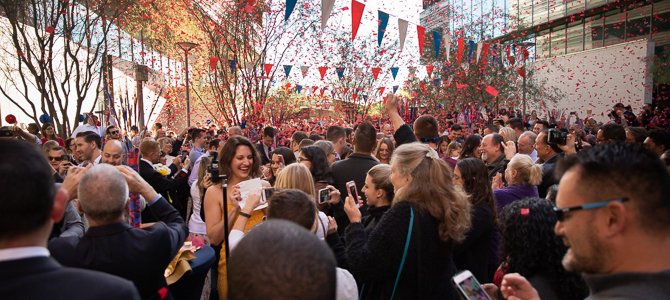 Future UA Doctors in Phoenix Learn Next Step at Match Day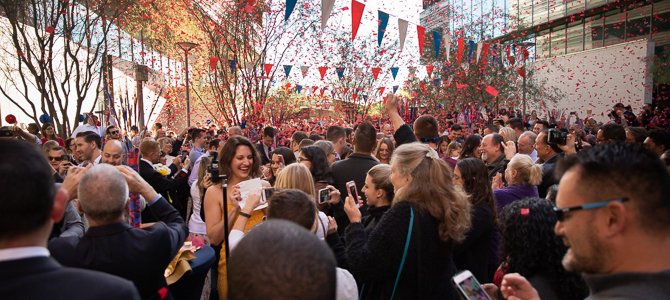 Fourth-year medical students will begin residency training in the summer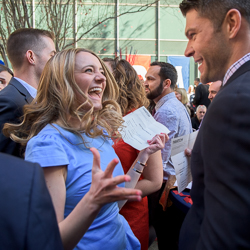 Sixty-seven University of Arizona College of Medicine – Phoenix fourth-year students celebrated Friday with streamers, confetti, a flash mob and hugs as they found out where they will spend the next three to seven years on their journey as physicians-in-training.
Match Day 2019 capped five months of interviews and travel for the students, who hoped to match with a residency program in their chosen specialty. It was an emotional morning, as friends and family members watched with anticipation as the students opened their envelopes precisely at 9 a.m.
They were among the 18,925 seniors at U.S. allopathic medical schools who entered the Match program.
Of the graduating UA College of Medicine – Phoenix students, 50 percent will pursue primary care fields such as family medicine, internal medicine and pediatrics. Arizona's physician shortage is one of the worst in the nation, with the state ranking 44th of 50 states in the number of primary care physicians. Twenty-four students will stay in Arizona for their entire residency. Overall, the students will continue their studies at programs in 25 states.
UA College of Medicine – Phoenix Dean Guy Reed, MD, MS, congratulated the students, sharing that they are on the road to success, "capable of great distinction in clinical medicine, research education and service."
"We believe in you and know that you will make the world better with your talent and your commitment," he said.
Eleven students received residency placements at the University of Arizona College of Medicine – Phoenix and Tucson programs at Banner University Medical Centers. Another 11 students matched with local programs at Phoenix Children's Hospital, Dignity St. Joseph's Hospital and Medical Center, Mayo Graduate School of Medicine in Phoenix and Creighton University affiliated hospitals.
In addition to matching locally, students placed into prestigious programs at Johns Hopkins All Children's Hospital in Florida, Dartmouth-Hitchcock Medical Center in New Hampshire, Rush University Medical Center in Chicago, Yale New Haven Hospital in Connecticut, New York Presbyterian-Weill Cornell Medical Center, University of California San Francisco Medical Center, The Ohio State University Medical Center, Children's Hospital Los Angeles, University of North Carolina Hospitals, Santa Barbara Cottage Hospital in California and the Cleveland Clinic.
Susan Kaib, MD, associate dean of student affairs, said the Class of 2019 is everything the college's leaders and faculty hoped for in a class. "You helped us through LCME accreditation," she said. "You redefined student government interest groups. You spent 8,456 hours volunteering in the community while going to medical school. You have completed rotations at 30 rural sites and 77 rotations in 59 hospitals. You have traveled far in order to get your education to be here today."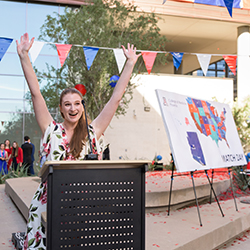 Laura Hamant matched in pediatrics at Phoenix Children's Hospital, her first choice.
"I'm really happy to be staying in Arizona," she said. "Today has been a whirlwind. I am very excited for all my classmates and those staying here in Phoenix with me."
She expressed gratitude for the training she received at the UA College of Medicine – Phoenix.
"The college prepared us well for this moment," Hamant said. "We received a great education, support and help from advisors throughout our time here. Overall, we had everything that we needed to be able to match successfully."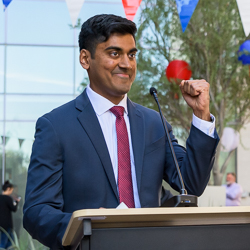 Roshan Panchanathan matched in interventional radiology at Emory University School of Medicine in Georgia.
"It feels like all the years, long days and long hours paid off, and I cannot be happier for myself and my classmates," he said, adding that Match Day, which he had anticipated for four years, surpassed his expectations.
"It is always amazing to see the underclassmen, faculty and administration come out to support us, as they have throughout our journey," he said. "It's an amazing moment."
He praised the college for expertly preparing students for the next stage of their careers as physicians. "The administration from day one was so supportive of the students. The students are always number one. Everything I wanted to do along the way I was able to do, so I couldn't have made a better choice for medical school."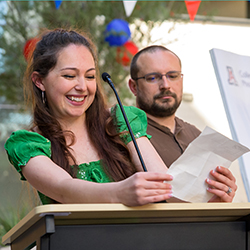 Savanah McMahon was looking forward to relaxing a bit before her residency begins in July. She matched in pathology at Yale New Haven Hospital in Connecticut.
"We were all very anxious for today," she said. "But the day was absolutely amazing. I'm surrounded by the people I love. Match Day was everything that I wanted and more."
In February, students submitted their list of choices in order of preference at the same time residency program directors submitted their rank-ordered lists of preferred candidates to the National Residency Matching Program headquarters in Washington, D.C. An algorithm matched each student to the residency program that was highest on the student's list and that offered a position to the applicant.
Residency programs vary in length from three years for general medicine/family practice specialties to seven years for the most specialized surgeons.
The UA College of Medicine – Phoenix admits 80 students per class and has graduated 433 MDs. Last year, it received more than 5,900 applications. The medical school's mission is to prepare its students for the first day of residency and ensure that they will be compassionate physician scientists. Match Day is the culmination of four years of hard work in the classroom and in clinical training.
Commencement for the Class of 2019 is at 3:30 p.m. Monday, May 6 at the Orpheum Theatre, 203 W. Adams St., Phoenix. Banner Health President and CEO Peter Fine will deliver the keynote address.
About the College
Founded in 2007, the University of Arizona College of Medicine – Phoenix inspires and trains exemplary physicians, scientists and leaders to optimize health and health care in Arizona and beyond. By cultivating collaborative research locally and globally, the college accelerates discovery in a number of critical areas — including cancer, stroke, traumatic brain injury and cardiovascular disease. Championed as a student-centric campus, the college has graduated 593 physicians, all of whom received exceptional training from nine clinical partners and more than 2,400 diverse faculty members. As the anchor to the Phoenix Biomedical Campus, which is projected to have an economic impact of $3.1 billion by 2025, the college prides itself on engaging with the community, fostering education, inclusion, access and advocacy.