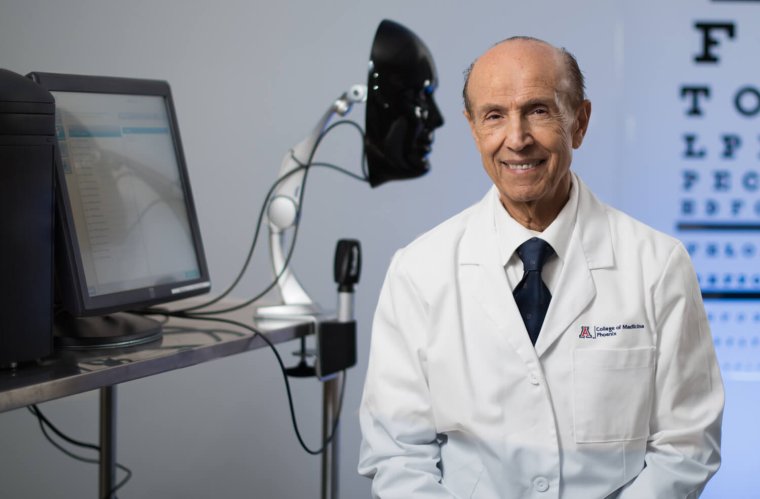 Gholam Peyman, MD, Honored with Lifetime Achievement Award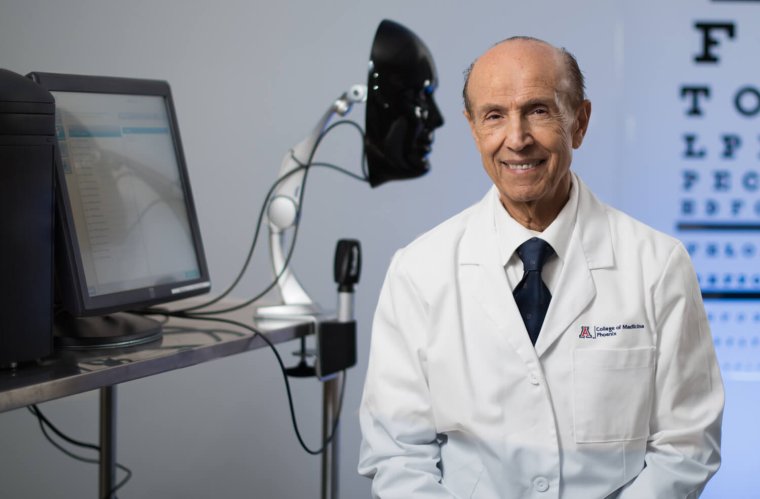 Gholam Peyman, MD, University of Arizona College of Medicine – Phoenix professor of Ophthalmology and Basic Medical Sciences, received the Arizona Bioindustry Association's 2021 AZBio Pioneer Award for Lifetime Achievement for his pioneering vision innovations, including his role in developing the LASIK surgical technique.
"It is always very gratifying to develop a procedure or a methodology that makes so much of an impact in the lives of so many people," Dr. Peyman said. "Millions of eyes have undergone the LASIK procedure, and it has changed the lives of pilots, military personnel, professionals, athletes, entertainers and ordinary people. I thank the organizers of this award for honoring me. It means a lot to me and my co-workers and encourages us to do more."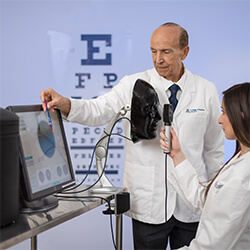 Dr. Peyman is an educator, retinal surgeon and inventor. He currently has more than 215 patents ranging from novel medical devices, drug-delivery systems and surgical techniques, as well as new methods of diagnosis and treatment. These inventions have included fluidic lenses, an adjustable lens that can control astigmatism, and a stereoscopic operating microscope that provides a view of a patient's eye for both the surgeon and an assistant.
The LASIK procedure reshapes part of the cornea to correct refraction errors. Dr. Peyman filed a U.S. patent for the procedure in 1985, and it was granted in 1989, but it took several more years of clinical investigation before it was approved by the Food and Drug Administration in 1996. Since then, an estimated 15 million people in the U.S. and more than 40 million people worldwide have had LASIK.
In addition, Dr. Peyman, who is also an adjunct professor at the Wyant College of Optical Sciences, has been inducted into the American Society of Cataract and Refractive Surgery Ophthalmology Hall of Fame in 2005 and received the American Academy of Ophthalmology's Lifetime Achievement Award in 2008. In 2011, he was awarded the National Medal of Technology and Innovation by President Barack Obama for his groundbreaking inventions, including the LASIK surgical technique.
The Arizona Bioindustry Association supports life science innovation and innovators. It aims to advance life-changing and life-saving health innovation in Arizona and globally. The AZBio Pioneer Award for Lifetime Achievement is the highest honor awarded by Arizona's bioscience community to a person whose body of work improves the lives of others. The award was presented to Dr. Peyman during the AZBio Awards, which celebrates Arizona's leading educators, innovators and companies during Arizona Bioscience Week.
This story originally appeared in University of Arizona Health Sciences Connect.
About the College
Founded in 2007, the University of Arizona College of Medicine – Phoenix inspires and trains exemplary physicians, scientists and leaders to optimize health and health care in Arizona and beyond. By cultivating collaborative research locally and globally, the college accelerates discovery in a number of critical areas — including cancer, stroke, traumatic brain injury and cardiovascular disease. Championed as a student-centric campus, the college has graduated 665 physicians, all of whom received exceptional training from nine clinical partners and more than 2,500 diverse faculty members. As the anchor to the Phoenix Bioscience Core, which is projected to have an economic impact of $3.1 billion by 2025, the college prides itself on engaging with the community, fostering education, inclusion, access and advocacy.